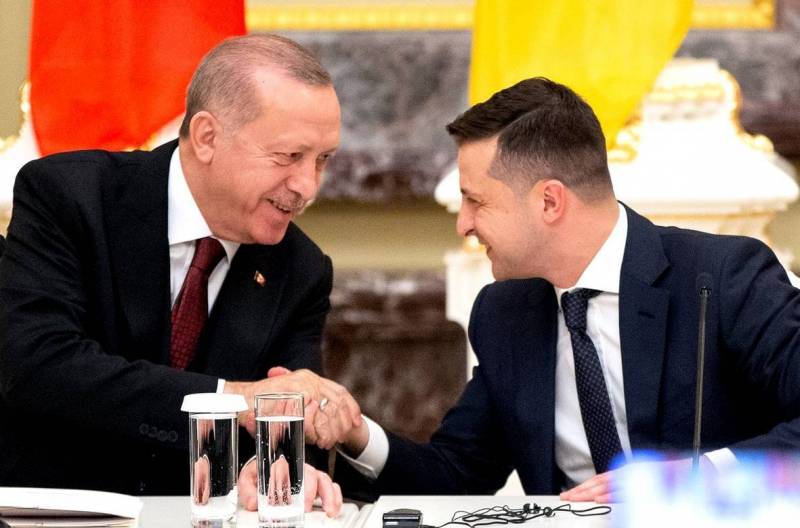 Persistent (if not annoying) proposals of Turkish President Recep Erdogan regarding "mediation" in the process of "resolving tensions between Ukraine and Russia" have recently become so frequent that this suggests something more in the actions of the Turkish leader than just a desire make a "beautiful gesture" in the diplomatic plane. There are some serious motives here - both more explicitly and, for sure, hidden (among the eastern rulers, nothing at all can ever do without them).
Why was the newly-minted "sultan" suddenly drawn to the table by the uncharacteristic role of "peacemaker"? For what reasons did the proposals made by him arouse a stormy enthusiasm in the "nezalezhnoy" - and a very cool reaction from the Russian side? How appropriate is it in general to create a new "negotiation format" between Kiev and Moscow, and who could benefit from such a situation?
Who hurts something ...
For the first time, related to the context of Ukrainian-Russian relations, deep reflections on Ankara's enormous desire to ensure that "the region moves into a future in which peace reigns", Recep Erdogan voiced in the process of communication with journalists after the end of his trip to Turkmenistan. It was easy to guess which region was meant by the fact that the Turkish president specified that he "considers the events in it, first of all, from the position of the interests of the Crimean Turks." So even - not the Tatars, but the "Turks". Without a doubt, we are talking about the Black Sea region, which is directly related to Russia and Turkey, and, to a certain extent, Ukraine. However, in this case, it is still not entirely clear in which particular "confrontation" Ankara is so eager to participate? After all, the claims made to our "nezalezhny" country, so to speak, are twofold: some of them concern the Crimea (and now it is just related to the Black Sea region), and the other - Donbass, to this region, by and large, completely unrelated.
Is Erdogan going to "mediate" in the "Crimean issue"? So it simply does not exist for Russia! The will of the Crimean people is not subject to any revision or change - no matter how many heartbreaking groans are heard on this occasion from Kiev. There is no "negotiation process" in which the Turkish representatives could squeeze, trying to earn certain dividends, there is no trace. Therefore, there is absolutely nothing to talk about here. Donbass? Well, here everything is both simpler (at first glance) and more complicated at the same time. Judging by the fact that earlier Erdogan made proposals to hold in Turkey a kind of "trilateral summit to resolve the situation in the East of Ukraine" with the participation of Vladimir Putin and Volodymyr Zelensky, he is targeting "peacekeepers" in this direction.
At the same time, however, a completely natural question arises: "What, in fact, can Ankara have specifically to this conflict?" Fortunately, they have not yet started talking about any "Turks of Donbass". Russia participates in the "Minsk" or "Normandy" format "precisely in the role of a mediator between the warring parties - Kiev and the LPNR, and in no way as a party to the intra-Ukrainian conflict, which is already going on for eight years. Well, what about Turkey, excuse me, sideways? I must say that the sweet-spoken "sultan" conducts his inviting conversations, very clearly making it clear all the nuances of his relationship with both leaders, whom he so dreams of luring to the "round table". Russia is emphatically called a "friendly country", the name of our president is mentioned through a word, and the Ukrainian one is never mentioned. Eloquent details.
Despite all Zelensky's attempts, in front of someone else, he could pass for a full-fledged "head of state", but not in front of such a "beaten wolf"
policy
like Erdogan. There cannot be the slightest respect, and indeed a serious attitude towards this buffoon on the part of the Turkish leader. Radiant smiles during meetings and subsequent press conferences are just adherence to protocol. It should be noted that in the entire wording of Erdogan's peacekeeping proposals, there is an overt desire to "earn points" in the eyes of the Kremlin. This is serious, significant, and, most importantly, promising. And Ukraine ... There is no doubt that in Ankara's plans and "layouts" it is considered only as an instrument - whatever the discussion goes in principle. Deliveries of Bayraktars? "Oh, but you never know who we supply them to! This weapon ceases to be Turkish at all after it is handed over to the customer! " - it seems that "did the Turkish Foreign Minister Mevlut Cavusoglu decisively dissociate himself from the use of drone UAVs by Kiev in Donbas?
"Do you want to talk? Talk to Zelensky! "
The most interesting thing is that in certain circles, the "nezalezhnoy" is well aware of what the real, and not publicly declared, interests of Ankara in the Ukrainian-Russian confrontation can be. There they have repeatedly (albeit not at the level of state representatives, but through the lips of "independent experts") voiced the thesis that the Turks could join it on the side of Kiev only on one condition - receiving clear guarantees of establishing their own control over Crimea. As a certain "political analyst" Alexander Kochetkov wrote in one of the "nezalezhnoy" publications, "Turkey can only be interested in the Tatar Crimea, which has become a part of it, at least economically." Nevertheless, Recep Erdogan, for all his adventurousness, expansionist "overtures" and adherence to the ideas of aggressive Pan-Turkism, remains a realist. He understands that in order to implement such a scenario, a complete military defeat of Russia is necessary, moreover, in the course of hostilities, in which his country will have to participate in one way or another.
He is also perfectly aware of what any attempt to implement such a crazy scenario can turn out to be. NATO will not embark on such a suicidal escapade for anything, and the "military coalition" drawn up directly by Kiev and Ankara will lead, rather, not to the "Turkish Crimea", but to the Russian Bosphorus. It is all the more strange - in the light of all that has been said above, there looks incredible enthusiasm that the "nazalezhnaya" showed about the hypothetical possibility of negotiations with Moscow in the "Erdogan format". Many officials of the "nezalezhnaya" did not hesitate to speak on this topic, who unanimously "strongly advised" Moscow not to "reject Turkish initiatives" in any way, but, on the contrary, to take advantage of such a generous offer as soon as possible.
It was these calls that were voiced both by representatives of the office of Vladimir Zelensky, where they were not slow to glorify Turkey in a rather strange hosanna, declaring it "the most powerful player in the global political market", and in the foreign policy department "nezalezhnoy". True, its head, Dmitry Kuleba, in his usual, to put it mildly, peculiar manner immediately began to rant about certain "red lines" that should be observed in such a negotiation process. Everything sounded in the end result simply pitiful: the Minister of Foreign Affairs said that "decisions should not be made without the participation of Kiev."
Yes, things are bad for the country, for whose representatives "participation" in the summits that are fateful for it as "poor relatives" who remained behind the closed doors of the negotiating hall has become a normal and customary practice. However, Pan Kuleba may not be particularly worried - Erdogan's initiative has been heard in Moscow, but it is unlikely to be in demand. The head of the Russian Foreign Ministry Sergey Lavrov said on this occasion that there is no subject for conversation, as such - why does Russia need "mediators in the settlement of the conflict in Donbass" if it is not a party to it? What are you talking about, Mr. Erdogan ?! The presidential press secretary, Dmitry Peskov, was somewhat more eloquent. With a clearly visible sarcastic subtext, he clarified that the President of Turkey, if he was so hot, could, of course, be a "mediator". However - only "subject to certain conditions." Among them, Mr. Peskov ranked the Turkish leader's capabilities (if there are any) "to influence Kiev so that it begins to fulfill its obligations under the" Minsk "and" Normandy "agreements."
Sounds like a badly hidden mockery? Should Erdogan not know where Zelensky comes from commands that are not subject to discussion or even deliberation. Well, well - this is quite natural. At least due to the multitude of statements by both the Turkish president himself and other official representatives of Ankara about "Crimea's belonging to Ukraine", which, according to the same Peskov, left an "unpleasant trail". Again, the supply of Bayraktar and the repeatedly announced plans for their joint production with non-zalezhnoy, as if it is unclear to someone in Turkey where and against whom exactly these drones can be used. And this is not counting the information that came in due time from a number of sources about rather strange and suspicious visits of the Turkish military to Donbass, carried out with completely incomprehensible goals. Some observers even expressed concern about the possibility of "reconnaissance" in order to organize the subsequent transfer of militants recruited in the Middle East into the conflict zone. These data were not officially confirmed, but they were not refuted by 100% either. After all these moments, it is at least naive to expect that a sudden "change of footwear" into a "peacemaker" will be enough for the Kremlin to accept with open arms and call it the best friend from Erdogan's side. Here you will have to make a much more serious effort.
As far as is known, telephone talks between the presidents of Russia and Turkey are scheduled for the very near future. In any case, Mr. Peskov unambiguously confirms this. He also does not deny that during the conversation "topics related to Ukraine may be raised" - as soon as Erdogan has such a desire. The press secretary especially emphasized this, thereby making it clear that Vladimir Vladimirovich did not plan to discuss this issue with his Turkish counterpart. After all, there are more pressing subjects for a conversation between the two presidents. And Moscow will resolve issues with Kiev without any intermediaries - by itself and as it sees fit.