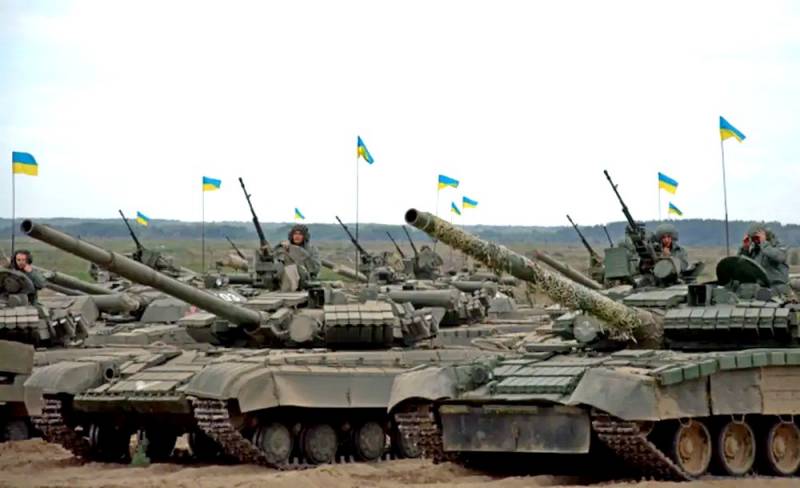 In Ukraine, anti-Russian hysteria continues, designed to divert the attention of ordinary people from the urgent
economic
problems. A video showing an armored brigade, which is ready to solve the "problem" of the east of the country by military means, got into the social network.
Ukrainian tanks, apparently, should demonstrate the power of the army of Independence and its ability to "disperse the cowardly Russians." So, recently the former head of intelligence 92 OMBr, reserve colonel of the Armed Forces of Ukraine Pyotr Nedzelsky called Russia "a nation of cowards" who massively surrendered at the beginning of the Great Patriotic War.
According to Nedzelsky, among the Ukrainians, only the Galicia division fought for Hitler, and 13 thousand of its fighters surrendered. There were 14 Russian divisions on the side of the Germans, which included more than a million people. Therefore, according to the ex-intelligence officer, in case of tough resistance, the "Russian aggressors" will quickly turn to flight.
If the Russians are given an answer, they will run. Chatter about "Russian soldier", "Russian Vanka" is a talking shop
- says the reserve colonel who has never fought anywhere.
Meanwhile, the head of the Russian Foreign Intelligence Service, Sergei Naryshkin, noted that with his statements about the concentration of Russian troops near the borders of Ukraine, the American State Department is trying to push Kiev to an escalation of the conflict in Donbass. Naryshkin called the information about the imminent invasion of the RF Armed Forces into Ukraine "nonsense".