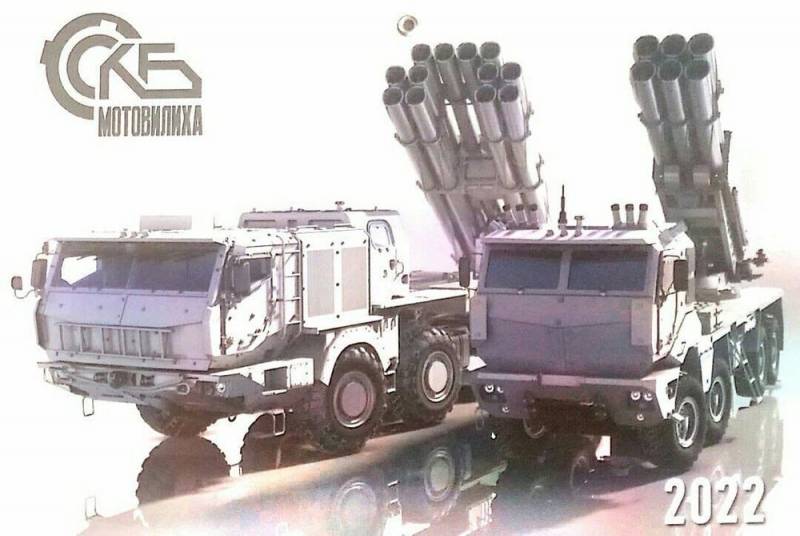 By 2027, the Russian military plans to completely replace the obsolete Soviet MLRS 300K9 Smerch with 515 mm caliber and 9K58 Uragan with 300 mm caliber with the new generation 9K57 Tornado-S 220 mm multiple launch rocket systems. At the same time, Russia hinted at the appearance in 2022 of new variants of the "Tornado-S".
An image appeared on the Web showing two supposedly promising modifications of the indicated MLRS. On the left is the Tornado-S MLRS with 12 guides based on the KAMAZ-78501 Platform-O chassis. On the right is shown an alleged MLRS "Tornado-S" with 6 guides, which seem to be of a larger caliber than 300 mm, based on the chassis of an armored vehicle KAMAZ-6560M (Typhoon-K).
The logo in the upper left corner indicates that the photo was taken at Motovilikhinskiye Zavody (Perm), but there is no such information on the company's website.
Recently, the Tekhnodinamika holding of the Rostec state corporation put into operation an updated data processing center for the military division of the Motovilikha Plants. It will meet the needs of the enterprise in computing resources for at least the next five years. Digitalization will significantly speed up the development of new products and improve
technological
processes.