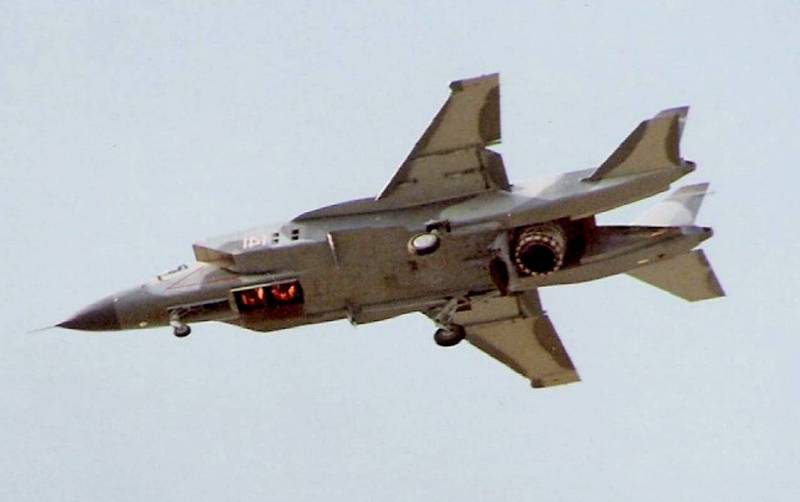 In 2017, the profile Deputy Prime Minister Yuri Borisov said that work on vertical take-off and landing aircraft, which could be based on aircraft-carrying ships of the Russian Navy, was resumed in Russia. However, a lot of criticism immediately appeared that vertical take-off and landing aircraft would always yield in performance characteristics to conventional horizontal take-off and landing aircraft, and therefore there is no need to add an unmeasured amount of budget billions to a "dead-end" project. There is some truth in this, but is everything as clear-cut as it seems at first glance?
Obviously, we are talking about the development of the concept of the Soviet project SKVVP Yak-141, which was ahead of its time, and then was undeservedly forgotten. We'll come back to this plane later, but for now let's talk about what is the "bottleneck" in aviation. Surprisingly, this is by no means the design and serial production of aircraft. The hardest part is preparing combat pilots for them.
Robots, not people, do their work.
Training takes many years and is very expensive. An experienced pilot is worth its weight in gold, especially a carrier-based aircraft pilot who has to sit on the swinging deck of an aircraft carrier, even in adverse weather conditions. Military pilots have to train for a long time before they turn into effective combat units, and then they retire on a well-deserved retirement, and everything has to start over. The loss of an aircraft in a battle or in a plane crash is always a disaster, but the loss of a pilot is an irreparable tragedy in every sense.
For this reason, one of the most promising areas in the aircraft industry is the drone drone programs. UAVs are always cheaper than manned aircraft:
At first
, they save the lives of pilots, and at the same time save huge amounts of money on their many years of training. For remote control of the drone, an ordinary operator with a joystick may be sufficient.
Secondly
, due to the absence of a living organism in the cockpit of the aircraft, the safety and comfort of which must be taken care of, UAVs can theoretically be operated with powerful accelerations and overloads during maneuvers, which increases their performance characteristics beyond the capabilities of the human body.
Thirdly
, UAVs can be quickly reproduced and put into operation, compensating for losses, which cannot be done promptly in manned aircraft.
Today, there are three main directions for the development of unmanned aircraft: remote control of the operator, the "faithful follower" format, and the use of artificial intelligence (AI). The latter is technically the most difficult and poses serious ethical problems. However, the first concept is already being successfully used, and the second is being actively tested, including in our country. In Russia, this is a program of interaction between the fifth generation Su-75 fighter and the S-70 Okhotnik heavy attack UAV, which serves for reconnaissance, target designation and fire support, increasing the power of the slave aircraft. Boeing Australia is testing a Loyal Wingman UAV with similar functionality.
Unmanned fighters?
A recent video advertising the capabilities of the fifth-generation Su-75 light fighter has prompted some pretty interesting considerations. A completely unmanned version of the aircraft was demonstrated there, even without a cockpit for the pilot. Of course, this is the future, but very promising. Let's say Rostec masters a fully unmanned version of the Su-75. What will it give?
A lot: it will be possible to use the fifth-generation Su-75 heavy fighter and the Su-75 fifth-generation light unmanned fighter in tandem, where the second will act as a "loyal wingman." Or not one, but several Su-75s at once. It turns out that just one Su-57 pilot will be able to take several planes into battle at once, loaded to capacity with missiles and bombs, which are not so scary to lose due to their unmannedness and relatively low cost. Imagine how much the effectiveness of the actions of the RF Aerospace Forces will increase then.
Very tempting. Alas, there are some limitations. For aircraft with horizontal take-off and landing, a good runway is required. In the event of the outbreak of active hostilities, military airfields will be destroyed first. If we talk about the use of an unmanned fighter in the fleet, then a horizontal landing on a relatively small deck of a ship swaying on the waves may become too difficult a task for automation and even for a remote control UAV operator. However, things can change for the better if you "marry" the option of "faithful slave" and remote control with vertical / short takeoff and vertical landing.
Here we again return to the Yak-141. Indeed, a vertical takeoff aircraft has the worst performance characteristics, since it spends a lot of fuel on such takeoff and landing, which reduces its combat radius and combat load. It would seem, why bother with them at all? But no. Imagine that on the basis of the Yak-141 a completely unmanned SKVVP fighter is made with the functions of a "faithful slave" and remote control of the operator. What will it give? Much. Very, very much.
First of all, by removing the pilot with the entire cockpit and life support systems for him, we will seriously lighten the fighter itself. This will allow you to save fuel and at the same time perform the most extreme maneuvers of the aircraft. The option of short or normal horizontal takeoff instead of vertical takeoff can also reduce fuel consumption. But at the same time, the Yak-141 can still be lifted into the air and planted vertically on almost any patch. This will allow it to be used as a front-line unmanned fighter, if airfields and highways are destroyed, and also as a carrier-based one. The remotely controlled Yak-141 can be made to take off in a shortened scheme with a TAVRK or UDC, and then safely land in vertical mode. Automation or AI will be able to cope with this. The "faithful wingman" option will allow the use of UAVs in conjunction with manned fighters, which will increase the effectiveness of Russian aviation.
If you "marry" unmanned control systems and
technology
short / vertical take-off and landing, this will open up a lot of new opportunities for the RF Ministry of Defense.