Against the background of aggravated relations between Russia and NATO, all combat-ready Russian nuclear submarines of the Pacific Fleet of the Russian Navy left the naval base in Vilyuchinsk on Kamchatka. This is reported with some degree of concern by The Lookout, which studies military events.
As evidence, a satellite image of the Russian submarine base taken on November 23, 2021 from the Sentinel-2 spacecraft (a family of Earth remote sensing satellites of the European Space Agency) is cited. It is alleged that the nuclear submarines of projects 955 "Borey", 955A "Borey-A" and 949A "Antey" began to quickly leave their permanent base and go to sea, being lost in the vastness of the World Ocean from the beginning of this month.
Therefore, as they think in the West, there is a possibility that one nuclear submarine 949A Antey (NATO codification Oscar-II), fixed at the berth, will also go to sea in the near future. What it is specifically connected with is not specified. However, the actions of the Russians are reminiscent of the measures taken during the threatened period. At the same time, it is noted that nuclear submarines can be in autonomous navigation from 90 to 120 days, depending on the stocks loaded on board.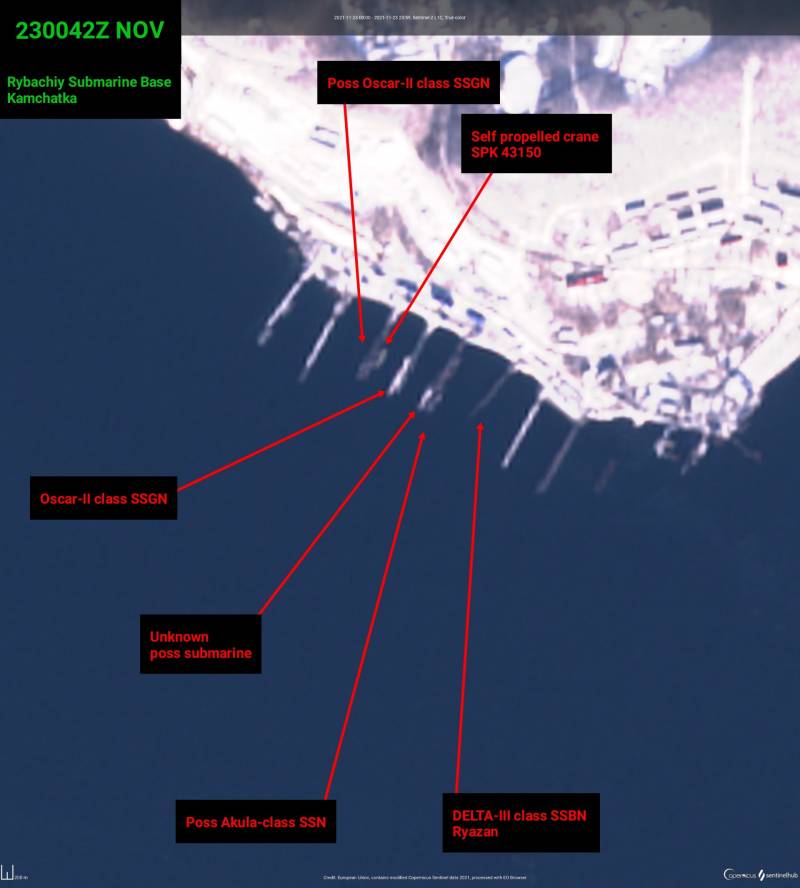 According to data from open sources, it is known that the Pacific Fleet of the Russian Navy includes 7 nuclear submarines and 8 diesel-electric submarines: 3 strategic missile submarines (SSBN), of which 1 project 667BDR Kalmar - K-44 Ryazan and 2 project 955 " Borey "- K-550" Alexander Nevsky "and K-551" Vladimir Monomakh "; 3 nuclear submarines with cruise missiles (SSGN - nuclear submarine with cruise missiles or APRK - nuclear submarine missile cruiser) of Project 949A Antey - K-150 Tomsk, K-186 Omsk and K-456 Tver; 1 Project 971 Schuka-B multipurpose nuclear submarine - K-419 Kuzbass; 5 torpedo diesel-electric submarines of project 877 "Halibut" - B-187 "Komsomolsk-on-Amur", B-394 "Nurlat", B-464 "Ust-Kamchatsk", B-494 "Ust-Bolsheretsk", B -190 Krasnokamensk; 3 missile-torpedo diesel-electric submarines of project 636.3 "Varshavyanka" - B-274 "Petropavlovsk-Kamchatsky", B-603 "Volkhov", B-602 "Magadan".