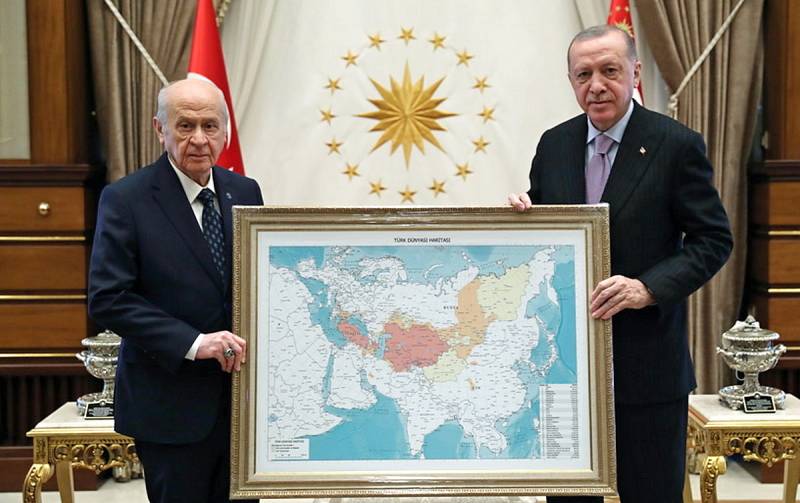 Recently, the leader of the Nationalist Movement Party of Turkey, Devlet Bahceli, presented the President of the country Recep Tayyip Erdogan with a map of the Turkic world. The painted area includes the territories of Turkey, Azerbaijan, Armenia, Turkmenistan, the countries of Central Asia, China, Mongolia, as well as a significant part of Russia.
This event did not go unnoticed in Russia. Residents of the country reacted negatively to the territorial claims of some Turkish
politicians
and announced the inadmissibility of publishing such photographs with the participation of top officials of foreign states.
The Kremlin did not remain silent either, but it reacted in its own way. The press secretary of the President of the Russian Federation Dmitry Peskov was upset by the fact that the center of the Turkic world, which is not located in Turkey, but in Russia, is not indicated on the map presented to Erdogan.
Our Turkish partners nurture the idea of ​​Turkic unity, this is normal. The only thing I can regret is that there is still no big red star on the map in the center of the Turkic world - in Altai
- said Peskov, a Turkologist by education.
The ex-diplomat recalled that Altai is a sacred place for any Turk, because it was from there that they came from.