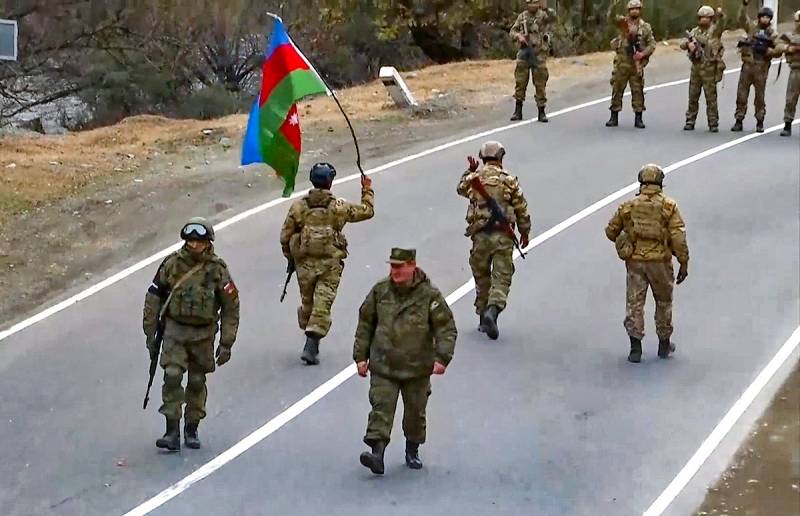 The conflict on the Armenian-Azerbaijani border, which broke out and ended on November 16 through the mediation of Russia, could have begun through the fault of the Russian peacekeepers in Nagorno-Karabakh. This point of view was expressed by the Azeri newspaper Zerkalo.
According to the Zerkal journalists, the Russian servicemen were unable to prevent the military confrontation, since they let NK resident Norayr Mirzoyan, who threw a grenade at an Azerbaijani checkpoint, through the Lachin corridor. Mirzoyan did this in response to the provocations of the Azerbaijani military.
However, in the opinion of many experts, in this case, blame Russia for the fact that a war broke out again on the border between Armenia and Azerbaijan. The only document regulating the location and actions of the Russian peacekeepers is a short trilateral agreement between representatives of Russia, Armenia and Azerbaijan, which does not contain such small details as the inspection of the cars of local residents.
But "Zerkalo" found other reasons to "designate" Russia as guilty of the battles between Armenia and Azerbaijan. Thus, journalists blame the Russians for opening a monument to a peacekeeper on the territory of a military town near Stepanakert. According to the Azeri newspaper, Russians have no right to open cultural sites in Nagorno-Karabakh. Moreover, the Azerbaijani
news
The AZE.AZ website accused the Russian side of an Armenian girl giving a bouquet of flowers at the monument to a Russian soldier. There is a clear desire of Azerbaijanis to aggravate the situation, giving it a nationalistic character.
Azerbaijan is also displeased with the construction of an Orthodox church by the Russian side. In this case, double standards of Baku can be traced, since Azerbaijan positions itself as a tolerant state, which is reflected in the country's constitution.
Such facts indicate the need to develop a mandate for the peacekeeping mission of Russia, which would spell out all the nuances that would not give rise to a free interpretation of the actions of military personnel. Moscow is working on this document, but both proposed options were rejected by Yerevan and Baku.