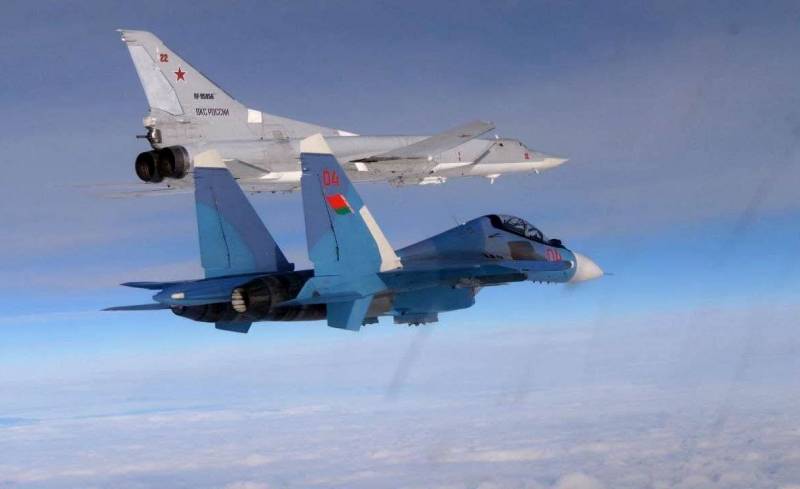 The Russian military department reports on the verification on Wednesday, November 10, by two long-range supersonic Tu-22M3 bombers of the anti-aircraft forces of Belarus. The planes flew through the territory of the country, interacting with the command posts of the armed forces of the Russian Federation and the Republic of Belarus.
The Russian Ministry of Defense noted that in this way the bombers participated in checking the actions of combat teams on duty as part of the protection of the airspace of the Union State of Russia and Belarus. At the same time, the Tu-22M3 was accompanied in flight by the Belarusian Su-30SM fighters. According to the press service of the Ministry of Defense of Belarus, flights to patrol the air borders of the Russian Federation and the Republic of Belarus will now be carried out regularly. The reason for such measures, as reported in the Belarusian military department, is the aggravation of the situation along the perimeter of the Belarusian border.
Meanwhile, the concern of the Belarusian military is not accidental. So, in recent days, the situation with migrants who are trying to break through from Belarusian territory to Poland has become more complicated. There are now about 2 thousand illegal immigrants from Africa and the Middle East, among whom there are women and children, in front of the border barriers.
Restless and at the air borders of Belarus. According to the Commander of the Air Force and Air Defense Forces Igor Golub, Minsk is alarmed by the increase in the intensity of NATO combat and reconnaissance aircraft near the Belarusian border lines.