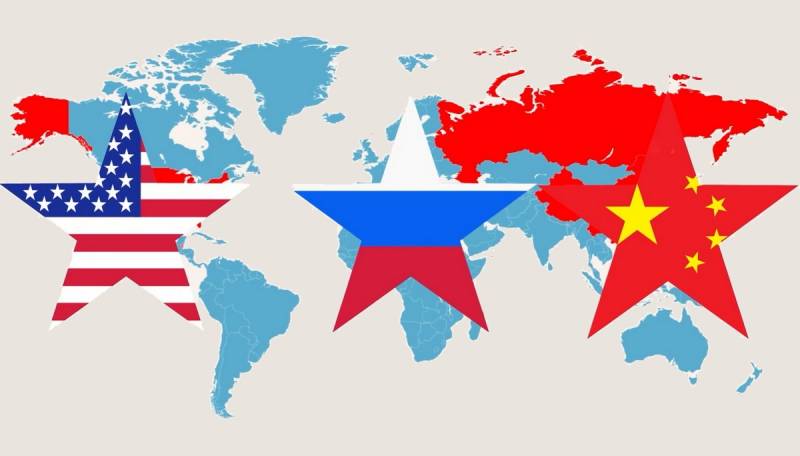 The collapse of the USSR became a real geopolitical catastrophe, the waves from which are felt to this day, 30 years later. It also meant the collapse of the bipolar world system based on the confrontation between two superpowers with diametrically opposed social
economic
habits. But nothing lasts forever under the moon. Today in Washington, they state the restoration of not even a bipolar, but a three-polar world. What changes does this bring to all of us?
It is noteworthy that the United States did not start talking about a new geopolitical reality.
policy
, and the high-ranking military. This was stated by General Mike Milli, head of the US Joint Chiefs of Staff, adviser to the President, the National Security Council and the US Secretary of Defense:
The United States, Russia and China are great powers. In my opinion, we are entering a tripolar world that will potentially be more unstable from a strategic point of view than what we have seen in the last 40, 50, 60 or 70 years. Therefore, a dialogue is needed between us.
Now numerous military experts and political scientists of all stripes, both in Russia and abroad, are trying to understand what exactly the American military leader wanted to convey to the general public. But is it worth it to strain so much if everything has long been invented and written before us?
Dystopia today
Anyone who is at least a little familiar with the work of his kind of genius writer George Orwell will undoubtedly see in the concept of a three-polar world a reference to his famous novel, written in the genre of dystopia, entitled "1984". It is believed that the Briton depicted a satire on the totalitarian Soviet Union, but the author of these lines has a different point of view. This work contains a semantic double bottom ("doublethink"), where the vices of the Western world are very subtly and latently ridiculed. But back to tri-polarity.
In the novel, the whole world is divided by three superpowers, which are fighting among themselves for the so-called disputed lands, which include the territories of the countries of North and Central Africa, the Middle East, as well as a number of countries of Southeast Asia. Sounds familiar, isn't it? And then everything is even more recognizable.
Oceania is an Anglo-Saxon superpower that has swallowed up North and South America, Great Britain, Australia and South Africa. Well, how can you not remember the "Five Eyes" and the new military-political bloc AUKUS?
"Eastasia" is an Asian superpower that has absorbed China, Korea, Japan, as well as parts of Mongolia, Tibet, India and Manchuria. Note that in 2020, the PRC signed a Comprehensive Regional Economic Partnership (RCEP) with 14 countries of Southeast Asia.
"Eurasia" is in the world of the novel "1984" a conglomerate of the USSR, Europe and Turkey, occupying the territory from the Bering Strait to "former Portugal".
These three superpowers are at war with each other, competing for contested lands, but neither side has the strength to achieve decisive success. Therefore, once every few years, they enter into alliances with each other, changing the balance of power in this isosceles triangle. At the same time, the fundamental question is that no one has a total preponderance. With unenviable regularity, ocean propaganda has to change shoes, explaining why they are either fighting with Eurasia or not fighting.
Satire is simply brilliant in its own way. Written in 1948, at the very beginning of the Cold War, George Orwell's novel anticipated what we will achieve in 2021.
Not as written
Alas, there is one very important difference. If "Oceania" and "Eastasia" really took shape, then there are big problems with "Eurasia". Instead of the USSR, with its 23% of world GDP, there is the Russian Federation with about 2%. Europe and Turkey are members of the western anti-Russian NATO military alliance. This means that there are already two almost equal poles, but the third is not. And this entails a lot of trouble for us.
If in a three-polar world, according to Orwell, "Eurasia" could act as an independent actor and conclude equal military-political alliances in turn with "Oceania", then with "Eastasia", then in the realities of 2021 we are objectively the weakest link. The temptation to knock him out for the other two players may be too strong. Let's take a look at possible alliances.
№ 1
... Russia + Eastazia vs. Oceania. Let's say right away that this is the best option for us. With a relatively weak economy, we will act as a junior partner in relation to China, but, thanks to the presence of a "nuclear shield" and the remnants of a high-tech industry, Moscow has something to offer Beijing in order not to become essentially its "vassal".
№ 2
... Oceania + Russia vs. Eastazia. The option is not so unrealistic, in fact. If pro-Western liberal forces come to power in our country, then with them Washington will gladly use Russia as an additional ram against the PRC. There will be plenty of reasons right away: some will remember the disputed territories, old grievances, if necessary, new grievances will appear. By joining a coalition with Oceania against Eastasia, Moscow will reaffirm its loyalty to the Anglo-Saxon world and take its place as a raw materials colony.
№ 3
... Oceania + Eastazia against Russia. This is a real nightmare, the probability of which is nonzero. We cannot resist the US coalition, the NATO bloc in general, and the PRC. Why should Beijing and Washington "zero" Russia? Why not? Remove the weakest player from the board, dividing his territory and resources to prepare for a real war between Eastasia and Oceania. In this case, our country may face the fate of Eastern Europe on the eve of the Second World War.
What conclusion can be drawn? The three-polar world, apparently, has already arrived. Consequently, Russia needs to actively engage in the economy and industry, strengthen the army and navy, promote integration alliances and create its own internal market for at least 400-500 million people in order to stop being the weakest link in the chain.