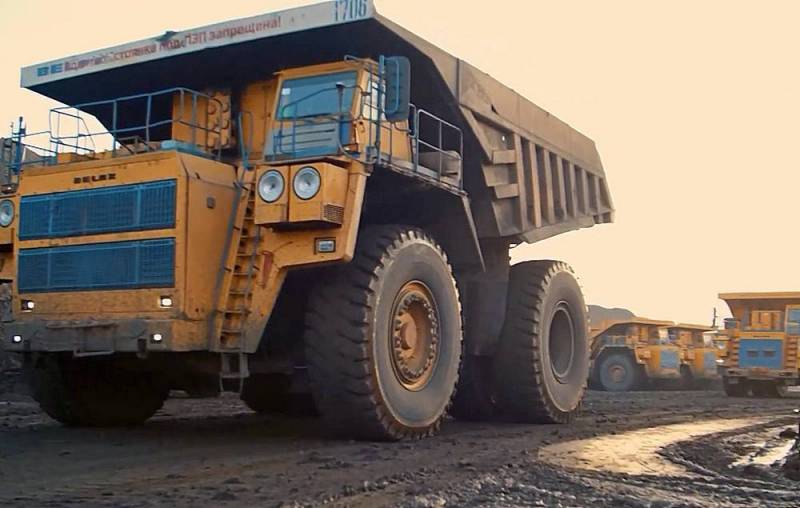 "There will be no keen - the electricity has run out!" - it is with this phrase from the genius Soviet comedy film, which has long been turned into a "winged" aphorism, that exactly 100% can describe the current catastrophic state of the "nezalezhnoy" energy industry. There, however, not only electricity is running out, but also the raw materials needed both for its generation and for the normal heating season. However, let's not get ahead of ourselves. We were talking primarily about kilovolts and megawatts due to the fact that literally from yesterday Ukraine seriously expected to receive them from those countries towards which for some time now its officials have been spitting with the intensity of overeating camel soap.
At the same time, Kiev firmly believed that Russia, contrary to common sense and its own interests, would selflessly rush to save the mischievous "non-brothers", completely forgetting about all the dirty tricks they said and did in their own address. No, why ?! After all, this has already happened, and more than once ... So why did not it grow together this time? Let's try to figure it out.
Nothing personal just business?
"Wonderful"
news
Andriy Gerus, the head of the Verkhovna Rada's Committee on Energy and Housing and Utilities, said that from November 1, supplies of energy brands of coal to Ukraine will stop, and the export of electricity, contrary to all expectations, will not start. According to him, a double blow has been inflicted on the energy sector, which is "nezalezhnoy", which is already breathing on its own. How significant was the role of Russian coal in it is evidenced by at least the official figures for its deliveries for 9 months of this year - 10.3 million tons. By the way, less was imported for the whole last year. Contrary to all the sheer nonsense about "Russian aggression", Kiev was ready to buy this raw material further - and in as large a volume as possible. However, the quotas previously allocated for its importers were suddenly "cut" - and to a complete zero.
In the domestic Ministry of Energy, such a decision was explained so simply and intelligibly that you can't dig into: "We do not have enough ourselves!" Well, not that not enough, but, as noted in the department, they intend "in the autumn-winter period to give priority attention to the unconditional satisfaction of domestic Russian needs for thermal coal." And what can you say? Our coal: we want - we sell, we want - we heat! For Ukraine, whose TPP warehouses as of mid-late October had no coal for two weeks of work, and it was burned faster than it was brought up, the picture is, of course, sad. In particular, taking into account the fact that the deficit of anthracite threatens to stop not only thermal power plants, but also a number of "nezalezhnoy" thermal power plants. It was in this connection that they wanted to save it for heating, having bought electricity abroad. However, here, too, completely unforeseen complications of the most unpleasant nature arose.
On October 27, the state company Ukrenergo held an auction for the right to access the interstate section of power transmission lines in the Belarusian and Russian directions. The subject of the auction was colossal volumes of supplies - 900 megawatt-hours from Minsk and 2200 megawatt-hours from Moscow. At the same time, it should not be forgotten that the very same management of "nezalezhnoy" earlier (from the spring of 2020) decisively refused to purchase both Russian and Belarusian electricity. Subsequently, the ban on their import was extended several times, and even accompanied by disgusting
political
"Dancing", as well as ranting that "a country following the European course" in no case can consume electricity generated in the "aggressor country" or "under a dictatorial regime." In the end it turned out - maybe, and how! If there is nowhere else to go.
The deficit of electricity on the Ukrainian energy market has recently reached the level of 1.5 thousand megawatts (at peak values). But winter has not yet begun. According to the available data, the heads of the presidential administration were scratching their heads, and they gave the go-ahead for the "energy zrada", allowing the holding of auctions and the purchase of "totalitarian" megawatts. But it suddenly turned out that no one was going to sell them to Kiev. The "electric" auction announced by the domestic Inter RAO on October 20 was canceled literally the next day. They did the same in Belarus. The motivation is the same everywhere: "You yourself have previously refused supplies, we don't owe you anything, energy is required by internal consumers, and in the event of an excess of it, finding richer and better buyers is not a problem at all. In the current conditions ... "And there is nothing to cover - Kiev has driven itself into a trap with its own hands.
Donbass, Bayraktar and Reznikov's appointment?
Some of
economic
experts stubbornly continue to believe that everything that happens has purely mercantile reasons. They say that electricity, that the raw materials for its production, are much more profitable to sell to Europe, where prices are at least one and a half to two times higher, and they are "ripped off" there, as they say, "with hands". This is evidenced, for example, by the fact that the volume of coal supplies to the EU from our country in the first half of the year alone increased by almost 2.5%. That is so, but earlier in such cases, Moscow has invariably put the task of supporting the "fraternal people" above material gain. And the fact that Minsk, which previously always played the role of an absolutely reliable economic partner for the "non-profitable" role of an absolutely reliable economic partner, refused to Kiev in the supply of electricity in sync with Moscow, also suggests that in this case everything is far from simple. In no case can it be denied that the current energy blockade "non-existent" (namely, it, if you call a spade a spade, is now beginning), was preceded by quite definite steps of its leadership.
Analysts call the extremely arrogant actions of the Armed Forces of Ukraine, which defiantly used the Bayraktar strike UAV in Donbas, as the notorious "last straw" that overflowed the Kremlin's patience. In fact, this demarche became the final withdrawal of Kiev from the negotiation process on the peaceful settlement of the conflict and marked the transition to a course towards its "forceful" resolution. If anyone had any last doubts about this, they were completely dispelled by the announced intention of Volodymyr Zelensky to replace the head of the Ukrainian military department.
The point here is, first of all, in the candidacy of a new candidate for this post, according to available data, has already been approved by both the president-clown and his pocket "parliamentary faction". They plan to put at the head of the Ministry of Defense no one other than Alexei Reznikov, who literally until yesterday held the posts of Deputy Prime Minister of Ukraine for the reintegration of the temporarily occupied territories and the representative of the "non-foreign" in the working subgroup on political issues of the Minsk Trilateral Contact Group. By education and professional experience, this character is a lawyer who has never had a relationship with the armed forces in his life (with the exception of military service in the Soviet army). By way of thinking and "ideology" - a typical Galician Nazi with miserable misanthropic views. It was Reznikov who said that the residents of Donbass are "mentally ill people". And this region itself is "a tumor on the body of Ukraine, with which it does not know what to do." Then, I remember, he argued that in this case he was in favor of "therapy." Well, how such a "therapy" looks like, the world at one time perfectly demonstrated Herr Himmler, whom Pan Reznikov looks like in some photographs so that it becomes already creepy.
Obviously, a particularly strong inner ugliness still leaves its mark on the "mirror of the soul". What could Zelensky have in mind when appointing such a subject to the post of Minister of War ?! It is your will, but it is simply impossible to imagine other directions for his activities in this post, except for the armed "de-occupation" of Donbass. They are not and cannot be, how not to say! In fact, Kiev signs its intentions to unleash a war in Donbass and is taking quite real steps towards this.
What goal is pursued by such demarches by a crazy comedian is completely unimportant. Does he want in this way to correct his own rating, rushing to the level of statistical error with the speed of an avalanche, is he trying to win the approval of the owners from Washington, proving his own absolute loyalty and readiness to serve as an even more aggressive "icebreaker" in Russophobic affairs than his predecessor? All these are the problems of Zelensky himself and his entourage. In this case, Moscow should be concerned about only one thing - the price of these pathetic attempts will be human lives in one way or another. And first of all, the lives of those people who, for seven years now, not in word, but in deed, have confirmed their commitment to the "Russian world", paying for belonging to it with their own blood. The threat of certain power outages hanging over Ukraine and its inhabitants, the collapse of the remnants of industry and infrastructure, an economic collapse - all this, of course, is scary. Alas, not only those residents of the country who in 2014 jumped on the "Maidan" or subsequently "heroed" in the ATO will suffer, but also those who were and remain categorically against all this. Those who did not choose either Poroshenko or Zelensky, or the terrible future towards which the country is now heading in full swing.
Nevertheless, we have to admit that the "coercion to peace" of Kiev through the most severe economic sanctions against it, with the help of depriving the gang, ruling today in the "non-foreign", a purely physical opportunity to attack someone, "reintegrate" and "de-occupy" ", Is far from the most tough way of solving the" Ukrainian question ". Perhaps (and even most likely) this should have been done much earlier, but this was not done. On the other hand, right now such actions have the greatest chances of being crowned with success in the form of not a cosmetic, but a cardinal change of power in Kiev, and, accordingly, its foreign policy and domestic policy. Ukraine today does not have to rely on any "material assistance" from the West (there is definitely no excess coal and gas), or even on any significant attempts to somehow "put pressure" on Moscow, which marked every one of the similar Russian-Ukrainian crises ... This time everything will really be decided one-on-one, here and now. As it should be.