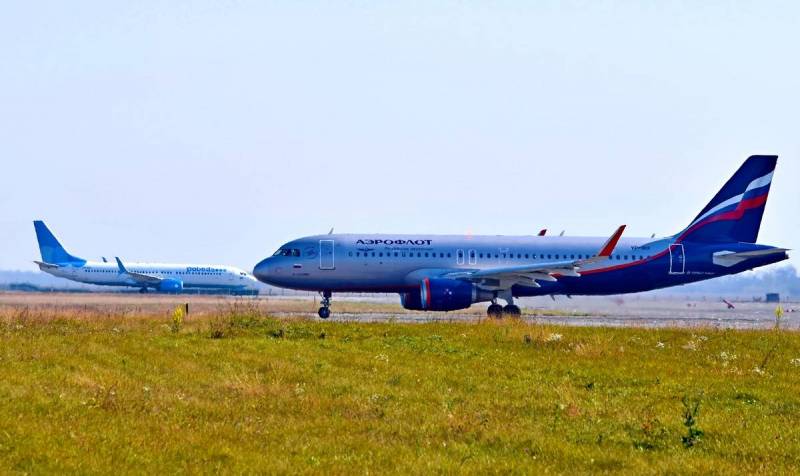 Rosaviatsia launched another attack on Bermuda and Ireland. It's no secret that the vast majority of aircraft operating in our country are of foreign production - American and European. But not everyone is aware that, among other things, these airliners are also registered abroad, in these two "aviation offshores." Will the officials be able to "Russify" the domestic aircraft fleet, and is the problem solely in the stubborn resistance of the owners of the carrier companies?
To understand the scale, it is necessary to cite a few figures: out of the total fleet of 30 largest national air carriers with a total of 997 aircraft owned by Russia, 725 are registered abroad, in Bermuda and Ireland, and most of them are in Her Majesty's British Isles. Why there? Industry officials explain that the Irish and British have been able to provide a convenient tax haven where planes get the very best.
technical
service according to international standards, because Russian companies prefer to register abroad. However, if you look closely at the situation, it will turn out to be somewhat more complicated than it seems at first glance.
Why not in Russia?
On the one hand, a fair share of the blame falls on the domestic bureaucracy:
At first
No matter how absurd it may sound, according to the current Russian legislation, the aircraft is recognized as real estate, therefore the corresponding tax must be paid for it. This outright stupidity has to be bypassed by registering airliners in those regions where the real estate tax has been zeroed, namely: in the Ulyanovsk and Voronezh regions, the Yamalo-Nenets Autonomous Okrug. For comparison, aircraft registered in Bermuda or Ireland are not subject to such a tax burden. The question is, who needs it then?
Secondly
, the frankly delusional "property tax" for aircraft is not limited to. Also, air carriers have to pay also transport tax on rented liners, and the payment itself is included in the lease. For understanding, for the short-haul "Superjet-100", registered in the Moscow region, something about 2,5 million rubles a year comes out. Also a lot of money.
Thirdly
The Russian regulatory framework for aircraft maintenance regulations is not "harmonized" with the international one. Since the country of registration of the liner is responsible for airworthiness, this is a big problem, and below we will explain in detail why.
On the other hand, neither the air carriers themselves nor the lessor companies are interested in the transition to the Russian jurisdiction. Our foreign partners are strenuously pretending that they "do not understand" exactly how flight training and inspection of the technical condition of airliners take place in Russia, supporting the myth of the "incompetence" of domestic specialists. For this reason, the aircraft flying in our country are a priori discriminated against, and they can then be sold on the secondary market only at a large discount. It is because of this position of foreign partners that Russian air carriers try to avoid registration in their country, preferring Bermuda or Ireland. If it is necessary to do this, then only with respect to nationally assembled aircraft, such as the Superjet-100, or very old Boeings and Airbuses, which will not be resold to anyone.
Why is it still necessary to do this?
So, we smoothly approached why, despite a lot of legal and organizational difficulties, we still need to transfer the domestic aircraft fleet to our jurisdiction.
First of all, one must be aware that three-quarters of the aircraft flying in the Russian sky are registered in countries that are part of the hostile NATO bloc. These are Ireland and Bermuda, which are British overseas possessions. The agreement with Bermuda was signed back in 3, and from that side it was signed by the United Kingdom, which is openly unfriendly to Russia. And London, if it wants to, can arrange a lot of serious problems for Moscow.
In particular, the place of registration of an airliner, as a rule, is directly prescribed in the lease agreement, and the lessor company can directly prohibit the aircraft from being registered in Russia, which is usually done. If we decide to really massively transfer all aircraft to domestic jurisdiction, then foreign lessors have the right to withdraw aircraft from our market. Considering their share of the total fleet, the country risks a collapse of air traffic. In fact, this means that London is holding the lion's share of Russian air travel "hostage". Such is the British "soft power".
And now what i can do? Obviously, it is necessary to revive the national aircraft industry so that the medium-haul MS-21 and short-haul Superjets no longer depend on the goodwill of foreign partners. You should also take advantage of the difficult market situation in which foreign aircraft manufacturers find themselves and put pressure on leasing companies to agree to re-register in our jurisdiction for fear of losing their Russian clients. And so there is something to think about.