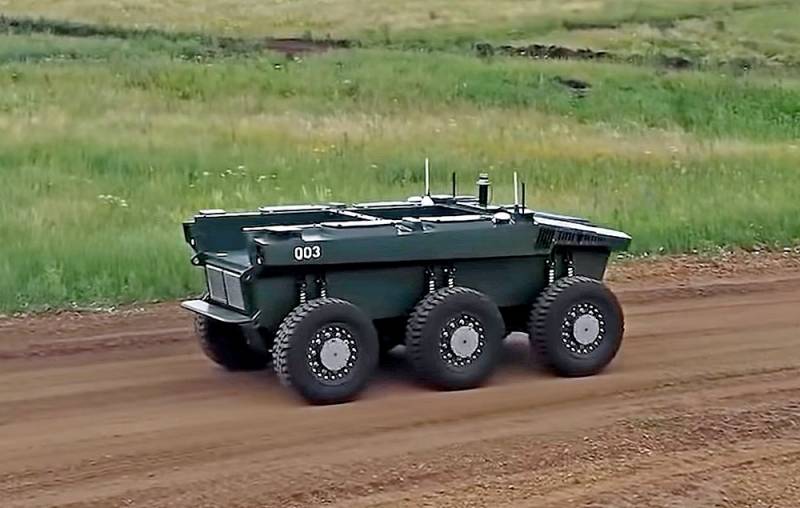 Recently, another stage of testing of the Marker robotic unmanned platform has been successfully completed in Russia. Samuel Bendett, an American expert on Russian unmanned systems, described the event as follows: "The Russians chose a different path, and they succeeded." So what is so remarkable about the domestic robot and why did it receive such a "flattering" review?
During the aforementioned tests, the Marker robotic unmanned platform made a 100 km march (60 km on unpaved roads and 40 km on absolute off-road). It took a couple of two Russian robots just over 5 hours to overcome this route.
However, the main feature of the tests was not the length and complexity of the march-throw, but the fact that the "Markers" overcame it absolutely independently. The robotic platform received only the coordinates of the end point, and the onboard system laid the optimal route in the direction of travel.
But that's not all. "Knowing" that a meeting with the enemy could take place on the way, the vehicles performed more than 20 launches of onboard drones in order to reconnoitre the terrain and select a covert route.
Thus, the "marching" tests that took place in the Chelyabinsk region, together with the firing tests carried out in 2018, show that our robotic unmanned platform is almost ready for use by the troops.
Returning to Samuel Bendett, it is worth noting that the expert was "alarmed" by two points. First, the ones worked out on the "Marker"
Technology
can now be used on other platforms, including the latest T-14 Armata tank. And, secondly, the Pentagon is still only conducting research in the field of robotic combat systems, while in Russia they are almost ready to be put into service.