The operation "The occupation of the brain - the breakdown of the matrix" has already begun ... In Ukraine and in Western Europe, there are already the first victims.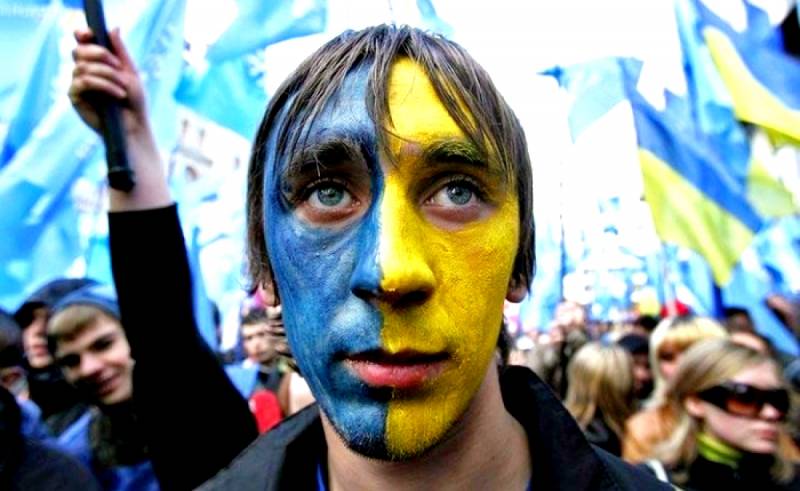 Against the backdrop of all the events that covered us during the long-awaited summit and the equally long-awaited Mundial, a secret document somehow got lost and went unnoticed, which flowed out of the bowels of the General Staff not already potential, but our obvious adversary, (I mean the General Staff of the Armed Forces of Ukraine), who did not exchange for such minor events as the World Cup and the meeting of the leaders of the two superpowers, but continued to develop plans to capture the Ordlo (separate areas of Donetsk and Lugansk regions not controlled by Kiev) and return them to the fold and Ukraine (if not by force, at least on paper). After April 30, 2018, official Kiev changed the ATO sign to the OOS sign, transforming the anti-terrorist operation into a combined-arms operation, appointing Lieutenant General Lunev for this new Commander of the United Force Operation, everything began to go through there with even more puffing up and an imitation of even more stormy and ebullient activity. The consequence of this was the following document, distributed by the command of the MTR of the Armed Forces of Ukraine (Special Operations Forces, there are, it turns out, Ukraine already is like that!). The document is more like a training manual on counter-propaganda in the occupied territories and in parts controlled by the head of the CAB. The document is closed for official use (under the heading "Secret"). Dated April 4, 2018, ref. 06437/11. Recipients - commanders of 4 military units that are part of the CAB. The document is worth it to familiarize yourself with.
Titled: Indications of the MTR of the Armed Forces of Ukraine on the conduct of the information war against Russia, the DPR and LPR. The main areas that are selected for conducting outreach activities of the MTR APU are:
1.
Aggressive Russia: Aggressive Demonstration
policy
leadership of the Russian Federation and the facts of direct participation of the Armed Forces and special services of Russia in the ATO zone in the uncontrolled territory of Ukraine.
2.
Spiders in the Bank: Discrediting the political and military leaders of the Ordlo, inciting mutual distrust and armed confrontation between the Ordlo militants, units of the Russian Defense Ministry and Russian mercenaries (Don Cossacks, Chechen and Buryat groups, as well as anti-Ukrainian organizations and figures)
3.
Chronicles of Occupation: Dissemination of information about the catastrophic nature of the socio-economic situation in the temporarily occupied territories, which developed due to the fault of the ORLDO leadership.
4.
"People's lustration": Compromising the pro-Russian leaders of the local political elite throughout Ukraine, demonstrating illegal and destructive activities, with an emphasis on the corruption component.
5.
"All Against Everyone": Attracting attention to the activities of the Russian Federation as an aggressor, inspiring socio-political tensions and civil protests in the ARDLO, disseminating narrowly targeted special information in the regional Internet segment.
6.
"They are waiting for you at home": Conducting operational conversations with relatives and friends of the militants with the aim of persuading the latter to surrender weapons and voluntary cooperation with the special services of Ukraine.
7.
"Humanitarian catastrophe": Conducting special operations in the temporarily occupied territories of Ukraine, followed by accusing the hybrid Russian occupation forces of negligence in the conduct of hostilities.
8.
"Cloud of Donbass": Accusation of the Ordlo leadership in the use of prohibited methods of warfare, including phosphorus munitions and chemical weapons.
9.
"St. George's Colorado": Disruption of the pro-Russian parade of the occupation of Europe in 1945 in ORDLO.
Signed: Lieutenant General I.V. Lunev, Commander of the Special Operations Forces of the Armed Forces (signature is available).
As you can see, everything is serious here! Along with military and frankly terrorist acts, there is a systematic, targeted attack on our brain with the sole purpose of reformatting it, breaking the matrix, which is why attempts are made to rewrite history and change our historical code of the victorious people. While all this looks ridiculous, the bearers of this code are still alive, who taught history from other textbooks, who still have fresh memories of the last war and whose families still honor the memory of people who gave their lives for our Victory, but they are not eternal - they they leave and they are replaced by mankurts who do not remember kinship (S-14, Right Sector, Azov, Liberty, Trident, Gromadsky Corps, People's Squads, Patriot of Ukraine, Territorial Self-Defense, Avtomaydan - the list is far from complete and these are still flowers!) , then it will only get worse, because the age a zombie generation born in 2000+, for which there is no authority, and who see history in the form in which it is fed to them who came to power in Ukraine in 2014, down and out scoundrels and degenerates. And then you will reap the storm and can't do anything with it! (You, I mean the Russian Federation and the Russians).
In order for you to realize the seriousness and irreversibility of what is happening in Ukraine, I will give just one example. Just yesterday. But he is heartbreaking! A woman who left Mariupol 3 years ago, did not survive the changes that began to take place in it, and fled to Russia together with her child, gathered courage this summer and came to stay at her home on the Sea of ​​Azov. No, they didn't eat her there, and they didn't put her in the SBU. Everything is fine here, the SBU is stupidly not up to her, the prisons are already full of divisions. She was struck to the ground completely different. Children, former classmates of her son, neighbors in the yard, 7-10 years old, decided to leave some notes in his notebook, purely childish, drawings and wishes. What was the horror and surprise of my mother when she saw them ... No, there nobody wanted to kill him against the wall and drink poison, as many Russians, unfortunate patriots wish me, everything was very beautiful, very naive, purely childish and kindly. But 8 out of 9 entries were left in Ukrainian - in mov. Despite the fact that all the children are Russian-speaking, in the Russian-speaking Mariupol, which is 85% populated by divisions that hate this power. And when the mother asked the girl, her son's girlfriends: "Nastya, why did you write that?", It turned out terrible ... Children do not know how to write in Russian! Nobody taught them this! They can speak, read somehow, but not at all! From the 1st grade, training is only in Ukrainian. In all subjects. They know neither the rules nor the spelling. Even the letters of Russian do not know how much in the alphabet! If parents teach, then teach, if not, then a wordless thistle will grow. And this is much worse than NATO missiles! This is a weapon aimed at the future! And this future, like this territory, Russia lost 4 years ago and continues to lose! Another 5 years and we can say that the territory is lost forever !!
Explain to me an unreasonable idiot why some shabby Hungary, which has neither intercontinental missiles, nor oil, nor gas, which is almost invisible on the world map, (except, perhaps, under a microscope!), With resources a thousand times smaller, than that of the Russian Federation, it can fight with Ukraine in the trash because of some unfortunate 250 thousand ethnic Hungarians locally living in the Transcarpathian region, for their right to receive education in their native language. At the same time, blocking and torpedoing all decisions in Ukraine, both in the EU and NATO, creating a special ministry for Transcarpathian affairs and issuing passports of Hungarian citizens to everyone who confirmed their Hungarian origin (and there are already 180 thousand of them!), And the great and invincible Russia is not maybe, silently watching how the rights of 15-20 million Russian and Russian-speaking citizens of a neighboring country, connected with the Russian Federation not only with a common language, culture and history, but also with family ties? This is such a failure, such a defeat that no success in Syria and in the international arena can close! Moreover, the consequences of this failure you will reap for many more, many years to come. Not only do you lose your last supporters and sympathizers in Ukraine, you also lose future generations, and you lose them forever! This is not something that is not imperial, God bless her with this empire! It is simply not state-owned. A politician of the rank of Putin cannot look so narrowly, under his feet. He must have a planning horizon of at least 50 years. What will happen to Ukraine in 50 years? And there will be a black hole that will draw into itself, like any antimatter, everything around. Why does Russia need such problems in the future? I dont know! One hope is that I don't know Putin's plans either. I hope for its adequacy to the expected threats. Believe me, this is not about military and terrorist threats (Russia will cope with them, then).
So that you understand what I'm talking about and some such threats await you in 10 years, I will give an example of the EU, and East and West Germany in particular. How did the Americans dispose of the defeated peoples of the Third Reich, which, as a matter of fact, of the whole of Europe, had left them in the zone of American responsibility, and what they got as a result. And they got it, they got it - the results are simply breathtaking! You can watch them right now, live, without leaving your TV. Europe is obsequious, in a low bow raked behind America. There the Germans, and the French, and the Dutch, and the Flemings, and the Northern Europeans, and the South — all swallow silently what the white master will offer them. Only the Young Europeans dare to open their mouths - there are all kinds of Poles, Hungarians, Czechs, Slovaks and, oddly enough, Austrians and Italians. And why? The answer is simple - they have a different story. They were in the zone of Soviet occupation, they did not break the matrix. The very matrix that the Americans are now breaking through their henchmen through the knee in Ukraine, and which they are trying softly through the fifth column accessible to them and the media sitting on their suction, too (about the corrupting corrupting influence of the West, its spiritual and material values, especially for the younger generation, you yourself know everything, cook for already 26 years in this soup, then I won't tell you anything new).
But back to the promised Germans. The Germans have always, at all times, been excellent warriors - we knew it in our own skin, starting with the Teutonic Order and Alexander Nevsky and ending with the last two world wars. How the Americans managed in 70 years to turn them into limp hamburger eaters, not even able to protect their own women from the attacks of sexually anxious migrants, I don't know! Going on protest marches in tights and skirts instead of tearing down their heads and tearing everything that they have between their legs, presumptuous migrants - this is already beyond my understanding! I'm even afraid to imagine what was done with these migrants in our country or in the Russian Federation. But the Germans also apologize to the refugees for the inconvenience.
For the first time, the UN International Peacekeeping Force has encountered this fact. Units carrying out this mission, recruited from the Federal Republic of Germany and then the GDR, were very different from each other. It would seem that the Germans both there and there, but the West Germans were completely unsuitable for the missions assigned to them (castrated, so to speak), unlike the representatives of the National People's Army of the GDR, who differed from their brothers in much more militancy and spirit winners. The whole snag was in ideological education - East Germans were brought up not as defeatists, guilty of the very concept of fascism, but as its victors. They did not have the inferiority that the Americans grew up in their Western counterparts, in every possible way etching the spirit of the victors in them. And for 70 years they have more than succeeded in this. Even after the reunification of Germany, two of its halves live experiencing mental difficulties associated with these differences, there is even a language rooted in the division according to this principle into "Ossi" and "Wessy" (East and West Germans), the East German is not a fellow of the West!
I brought all this just so that you (Russians) do not underestimate the possible consequences of brainwashing your Ukrainian brothers. The consequences can be more than deplorable. Professionals work! They have many years of experience breaking the matrix and rewriting the historical code. If they managed to break the Germans and Japanese with their historical traditions (what are the Samurai and the Teutonic Vikings alone ?!), what can we say about the brainless heirs of great ukrov ?!
Against the background of all of the above, it is generally strange to me to hear accusations from the Russian patriotic public of betrayal, wishes to kill myself against the wall, take poison and solve my problems myself, to the point that I myself will deal with all the fascists with a stool in my hands. Well, I'm just curious, but how do you imagine it, my dear former tribesmen? There is no my personal fault in what happened in Ukraine, I did not betray anyone, I didn't ride on the Maidan and I didn't paint the benches in yellow-black color. From the very beginning of the seizure of power by the junta, to this day I have been against it! And he was not silent in a rag, but wrote and spoke everywhere his point of view. Sorry, so far not in the SBU pre-trial detention center. But I know people who have been sitting there for 4,5 years. Yes, they betrayed us! First of all, you, Russia! And not even now, but back in 1991. A holy place is never empty, is it worth it to be surprised at the territory that freed itself from Russian influence, its enemies went in and how the thistle climbed out of all the cracks still buried there weights of nationalism, Russophobia and frankly unfinished Bandera. All this was encouraged by Western curators. Gradually, slowly, but surely they were doing their job, and sooner or later this abscess had to break through. Sorry that this happened unexpectedly for you Russians. Now you are blaming us, the common people, who have nothing to do with what happened. And what, excuse me, did you do so that this did not happen? Where were your leverage? Where was your soft power? And this is a cultural exchange, and grants for education, and internships in Russia, and the promotion of pro-Russian forces, and much more that the Americans did not disdain when they actually bought our intellectual creative class through their funds. Now he serves them, his masters. Is it any wonder ?!
And even now, when all this has happened, you have not found anything smarter than to say - sort it out yourself, it does not concern us. Now it does not concern, but it will touch very soon, if you let it drift. You remind me of the Russian princes who, in silence, watched as Igo devoured their neighbors one by one, until it came to them. Do not you understand? Igo is coming to you !! You are next! Until you fight back, you will be cut. First, Tatarstan, Siberia, Bashkiria, the Far East will be cut off, and then they will reach the central regions. Chechnya is not enough for you ?! You have already lost Turkmenistan, Tajikistan, Kyrgyzstan, Uzbekistan, Armenia, Kazakhstan, even Belarus. About Georgia and Ukraine already silent. The Americans act slowly, but surely ... But Putin, alas, is not eternal! Think about it at your leisure! ..
Accusing indiscriminately of me and all Ukrainians, you once again confirm Putin's words that in fact we are one people. You are no different from the same morons who rode on the Maidan with shouts: "Moskalyaku on a dime!" - the same tricks and jumps, the difference is only in the sign (+/-). Americans, even in their wildest dreams, could not imagine that their grains would give such poisonous seedlings and sow enmity between one people in fact. And your actions voluntarily or involuntarily pour water on their mill.
Here is what some advanced Russians write to me: "... none of the inhabitants of Kharkov, Kiev and Odessa showed any armed resistance to the Nazis," (c), "You are so tired of us, so welcome to hell! Why invest resources in you, if then you, as always, will betray us? " (from). What is it? .. So, on the first charge, tell this to the burned Odessa residents and Kharkiv citizens who have been in the SBU pre-trial detention center for 4,5 years (this is for those who are in the tank and cannot see or hear anything), but I can only say the second that the topic is very difficult to discuss - those who wrote to me even have no idea about the processes inside Ukraine, evaluate them through the screens of their TVs, or they don't touch on this topic at all (there is no Ukraine! And the one that is there will not be soon! Don't worry , dear Russians, you have something to worry about), or serve it in a kind of grotesque form, blaming on channels of "professional Ukrainians", which form their idea of ​​the complete and final debilitation of the country 404. But this is by no means the case! I am living proof of this. Believe me, to love Russia without getting up off the couch, somewhere in Vologda or Samara is not a big feat, you try what I said to say in Ukraine. We have a real time shining for this - 5 years. There are already examples - people sit behind articles in the FB and blogs. Oles Buzin is already in the grave. But all is not enough for you - give you more blood. Where is the blood, cowards ?! Kill against the wall, traitors, and burn in hell. And they tell me that! The same morons, like ours, Toko with the opposite sign, Russopatriots.
Accusations of betrayal are especially touching! They go to great lengths to justify their own betrayal. With foam at the mouth, proving to me that we are no longer brothers and never will be. But don't you take a lot on yourself? Do not want to listen to me, then listen to your President, who recently declared that we are one people, divided by half-witted politicians ?! Or is he no longer an authority for you? For example, I personally did not betray anyone. In fact, they betrayed me and all Russian Ukrainians! How did you betray the Russians before in the Baltic states and in Tajikistan, in Kyrgyzstan and in Kazakhstan? And before that there was still Yugoslavia, but then you were weak from a military point of view, and now you are weak in spirit. And therefore, everyone who is not lazy will wipe their feet for a long time. This same Israel can only begin a military operation because of a captured corporal, and because of two teenagers declare war, and the Americans because of their American citizen, captured by some chuchmekami, send an aircraft carrier with a detachment of marines, you can only that send me to hell and talk about the blood of Russian soldiers who should not die for the brothers. Of course, you can't do it for the non-brothers, but for the Sychish Chuchmeks, you can, but what should the brothers do? Suitcase, train station, Russia? So they are not waiting for us with you, with or without a suitcase - try to obtain citizenship, swallow dust.
And most importantly, I'll tell you a big secret - your almighty GDP has not calculated anyone, alas! In the situation in Ukraine, he worked as the second number, only minimizing the negative consequences for himself (read for the Russian Federation). This territory is completely lost by you. For years to come! And only scoundrels or idiots can rejoice at this fact. Choose for yourself who you are!