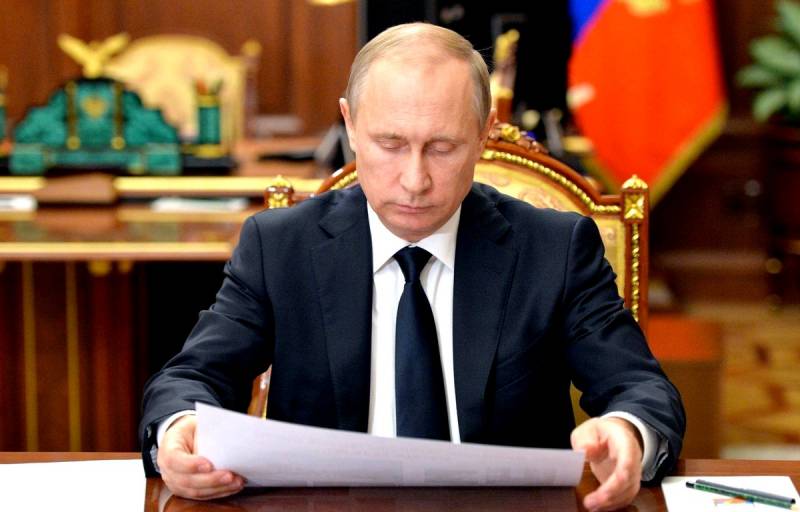 Vladimir Putin's article dedicated to Russian-Ukrainian relations in their historical retrospective, published on July 12 on the official website of the head of state (and, which is typical, both in the original language and in translation into Ukrainian), cannot but be considered interesting and significant in a number of aspects. Its thoroughness and deep argumentation cannot be denied even
policy
and officials of the "nezalezhnoy", who are obliged to react to this work solely as to "the intrigues of enemy propaganda" is obliged by their very position.
Also, all more or less attentive readers of the presidential speech note that it clearly belongs to the category of "programmatic" and is a pronounced "message" addressed not only (but rather not so much) to official Kiev, but to a much wider audience. At the same time, the question remains open regarding the final meanings that Vladimir Vladimirovich wanted to convey to the "city and the world" by taking up the pen. Like any Putin speech, the article on Ukraine is multifaceted, far from monosyllabic, and requires deep reflection. It is worth pondering over it - at least in order to understand: what exactly does it stand for?
"Brotherly peoples"? No - one people
Perhaps the most revolutionary thesis of the article, which we have to talk about, is Vladimir Putin's decisive refusal from the usual paradigm, which originates in the days of early Soviet "proletarian internationalism", which, by the way, he does not remember with a kind word. The concept of "three fraternal peoples" - Russian, Belarusian and Ukrainian, which denied the age-old idea of ​​"Great, Little and White Russia", inhabited by only slightly different representatives of one ethnic group, was born and more than actively implemented just in this one, quite a controversial period. The Little Russians disappeared precisely during the semi-violent Soviet "Ukrainization", and not earlier or later, and this was a huge mistake. As it turned out later - not on a local, but on a geopolitical scale. It is this mistake that Putin is striving to correct today, openly declaring not just the inextricable link between the Ukrainian and Russian people, but about the artificiality and far-fetchedness of their division, as such.
We must pay tribute to Vladimir Vladimirovich - he, practically, in full mentions in his speech all those difficult milestones that have gone through "a single spiritual and historical space", today torn apart into different (and moreover, warring) states with capitals in Kiev and Moscow ... At the same time, all of the president's historical excursions have a very easily caught subtext. Its essence lies in the fact that any attempts to create a "Ukrainian quasi-statehood" were, firstly, unsuccessful, and, secondly, they were inspired from abroad by the enemies of the Russian people. What is most interesting is that Vladimir Vladimirovich, seemingly not denying the very concept of "Ukrainians", several times speaks very specifically about the fact that "there have never been and could not have been historical grounds to consider them separate from the Russian people." Such maxims in the mouth of the leader of a world power are not at all abstract speculations, but, first of all, a refutation of the entire state ideology of today's Ukraine. Secondly, it is, most likely, the basis of a completely new state ideology and policy of Russia. In Kiev, by the way, they understood and understood this very clearly.
"Russia was simply robbed"
From the thought that Russians and Ukrainians are not just "brothers", but one people, divided and disunited by sheer misunderstanding and by virtue of someone else's evil and hostile will, the following programmatic thesis of the article follows very smoothly. And here he is, the current Ukrainian authorities cut the ears and instills fear much more than a very well-reasoned refutation of their delusional "cultural" and "historical" ideas. The point is that Vladimir Vladimirovich, not at all embarrassed, raises the question of the fact that a fair part of the territories "non-existent", in fact, does not belong to her at all by right. And it's not just about Crimea or even Donbass. Recalling the history of the Donetsk-Kryvyi Rih Republic, which saw itself as a part not of Ukraine, but of the RSFSR, Putin makes it clear that in the future, the question may well be "raised" as to which state should be only Donetsk and Lugansk, and, for example , and the Dnipropetrovsk region with the native to the current president of the "nezalezhnaya" Kryvyi Rih. These are not territorial claims yet - but a very specific hint that they may arise.
And the reference to Sobchak's words that, by destroying the USSR, the republics that became "non-brotherly" at once (and Ukraine was one of the first here) would have to move into their new limits "with what they came from" confirms this assumption in the very fully. With his inherent ability to "sort out" any question, Putin also reminds the Ukrainian leadership that it "blew and squandered" all the legacy it inherited in 1991, created by the labor of many generations of Soviet people, and not the "labor" of nationalists ... And this - despite the "weighty support" in the field
economics
provided by our country, first of all - by deliveries of energy carriers at unrealistically low prices. A simple statement of fact or a reminder of debts that would not be bad to pay in the end? Vladimir Vladimirovich's words that as a result of the voluntaristic distribution of territories, and, consequently, resources - from natural to human, Russia was "simply robbed" at one time, can also be perceived and interpreted in different ways. Loot, as you know, should be returned. Isn't that what we're talking about?
In the "bottom line" ...
In any case, the most impressive and most directly relevant to the present day (and tomorrow, of course) is probably the part of the article that speaks of the current Ukraine being "under direct external control" and turning it into "anti-Russia". These passages, in fact, are just a continuation and further development of all the provisions that Vladimir Putin expressed on the same issue in his recent interviews and public speeches. Moscow will never "accept" the fact that Ukraine is increasingly becoming a "springboard" for hostile actions directed against our country and its people. The assertion that Russia "will never tolerate the use of its historical lands and people close to it" sounds especially strong against it. He will not agree that "the Russian people may decrease by millions" because of the "policy of forced assimilation" pursued by Kiev today. The events of 2014 are openly called a "coup d'état", the current president is "nezalezhnoy" - a worthless liar. Generally speaking, in the text we are considering, an unusually many things are called by their proper names, and this inspires some hope.
Yes, Vladimir Putin in his article finally states the fact that from the change of persons in power in Ukraine in its current state "nothing changes" (and cannot change!), That the oligarchs there (who, let's face it, Moscow made an erroneous bet for many years and decades) are a company of crooks who are "ready to sell their mother." Such "insight", albeit rather belated, should be welcomed. However, after reading a beautifully written article to the end, you suddenly feel that the wise and very weighty words spoken in it are, in fact, "hanging in the air." In the last phrases - again an expression of readiness for "dialogue" ... With whom, about what, when ?! Assurance that "Russia will never be" anti-Ukraine ". Sorry, but Ukraine will never be anything but "anti-Russia"! And what do you want to do with this ?! Vladimir Vladimirovich, in fact, contradicts himself - after all, his brilliant speech ends with the words that "what Ukraine should be is for its people to decide." However, just a few paragraphs earlier, the president himself stated that "millions of people" for whom Russophobia is categorically unacceptable were "driven underground and deprived of the right to vote" in Ukraine, that they were "not allowed to raise their heads." You can't do much from the underground ...
Will deed follow the word?
Vladimir Putin's article "On the Historical Unity of Russians and Ukrainians" can be viewed in very different ways. It makes no sense to consider the reaction of the official representatives of Kiev and the local pro-government politicians to it, ranging from angry hysteria to powerless clowning (performed by Zelensky). By the way, some of the Ukrainian "patriots" seek to use the speech of the Russian leader solely as a pretext for immediate mobilization and strengthening of militaristic and Russophobic tendencies in the country. There are others - somewhat more sane, who perceive the article as a message not only to Ukraine, but also to the entire "collective West" that supports it, as an extremely concentrated list of "red lines" that are outlined, quite possibly, for the last time. Hence - and such a high level at which they are voiced. Someone sees in the written "verdict" for the Kiev regime, which in Moscow was finally recognized as incapable of negotiation and unworthy of any form of personal communication. According to those who adhere to this point of view, Vladimir Putin has officially launched the introduction of completely new standards in relation to Ukraine, the most stringent and uncompromising.
The impression was made, and on a very large scale. Vladimir Vladimirovich was heard both by those who are now desperately trying to neutralize the effect of what he wrote with their wretched "answers", and those who are still keeping silent, preferring not to enter into discussions, but to act. The main thing in this case is what concrete actions arising from the program provisions of the presidential speech will follow. There is no doubt that both Kiev and its Western "partners" will provide more than enough reasons for a response in the very near future. If this happens in the usual format of "expressions of deep concern" and the like, the speech of our leader, which has every chance to be included in the history books, risks turning into something that it should not be categorically - into an empty phrase. This will be a "loss of face", the negative consequences of which cannot be overestimated.