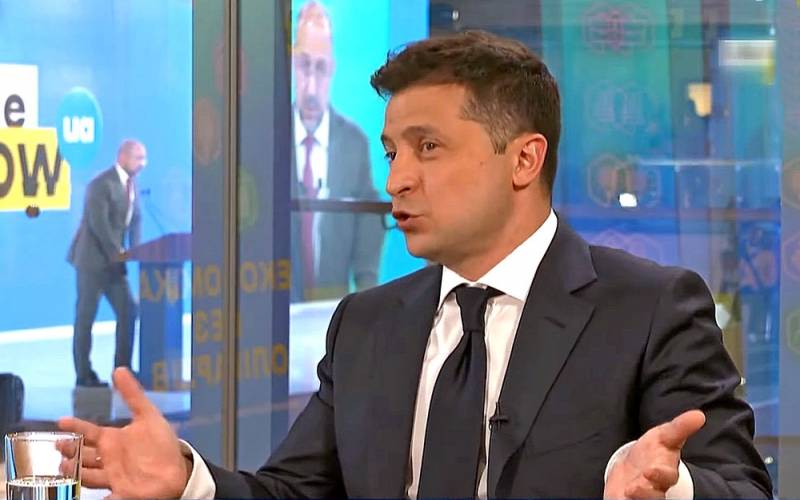 On Wednesday, June 16, Volodymyr Zelenskyy gave an interview to foreign media, which, in particular, raised issues of Russian-Ukrainian relations, the possibility of direct dialogue between the heads of Ukraine and Russia and the development of the Armed Forces of Ukraine.
Zelenskiy believes that his meeting with Putin will definitely take place, but he is unhappy with the reluctance of the Russian leader to discuss the situation in the LPNR. We will remind, earlier, Vladimir Putin has repeatedly pointed out that Russia is not a party to the conflict in Donbass, and to resolve the problem Kiev must enter into a direct dialogue with the leaders of the militia.
At the same time, the Ukrainian president, in his usual manner, accused Russia of participating in hostilities on the side of the militias and of the "occupation" of Crimea. He called on Putin to put an end to all this, actually setting a condition for the head of the Russian Federation.
I believe that our meeting with the Russian President is inevitable. Only if he does not want to end anything, there will be no meeting
- stressed Vladimir Zelensky.
At the same time, Zelensky threatened that if the West stops supporting Kiev in its "fight against separatists", Ukraine will have to create "the most powerful army in Europe" in terms of technology and personnel. At the same time, the Ukrainian leader lamented that in this way the citizens of his country, instead of peaceful activities, would be busy building up their military potential - this could negatively affect the development
economics
and other areas.
According to the President of Ukraine, his country is now fighting for the principles declared by the European military
political
institutes. If the Europeans refuse to interfere in the affairs of Ukraine, new regional conflicts may arise along the perimeter of its borders.