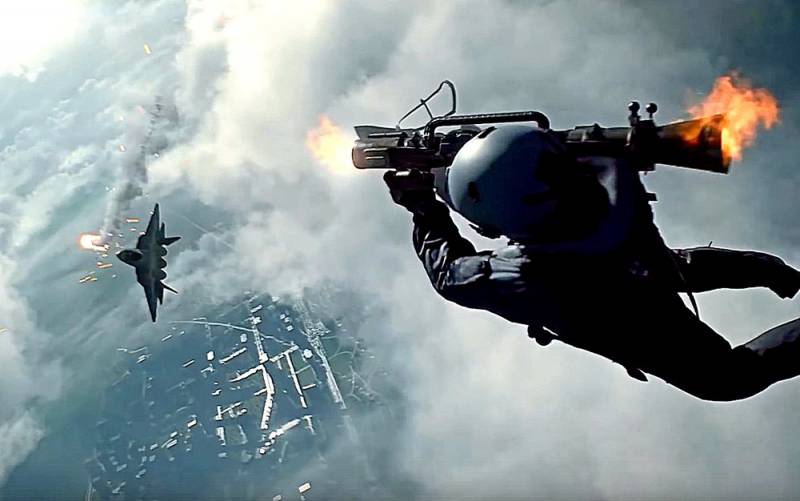 A render of a new part of the Battlefield game has appeared on social networks. The video shows one of the most "epic" moments of the action - the destruction of a Russian warplane by the Americans. Moreover, the "hero" acts in a very unusual way for such a situation.
The video demonstrates how the pilot of the American F-35 fighter watches the Russian Su-57 flying from behind. Then the American is ejected from the flying machine along with an anti-tank hand grenade launcher, directs it in the air at the "enemy" plane flying by and destroys the target. The F-35 pilot then returns to his fighter jet and flies away with a sense of accomplishment.
Let's leave the ridiculous trick of jumping out of an airplane flying at high speed and returning to it on the conscience of the Battlefield developers - a game is a game.
Russian users were critical of such destruction of the Su-57, here are some comments:
In the new version of the "Battles", the Russians were again exposed as a devil with their Su-57 and "Armata", and the brave Americans are winning all?
- asks Ilya Karpukhin.
The US Army vs. US Army in films / games. And you also laughed at the Indian militants. They say you can't jump on a tractor
- Vladimir Krechetov drew an analogy.
It will be cooler than any Indian film masterpiece!
- Ilya Karpukhin echoes him.
So this is the only way to shoot down another plane with the F-35.
- Alexey Plotkin notes ironically.
Along the way, he was ejected without a chair ... Although, maybe he just "left", the devil only knows, is it possible ...
- Vladimir Vladimirov is trying to understand what happened in the video.