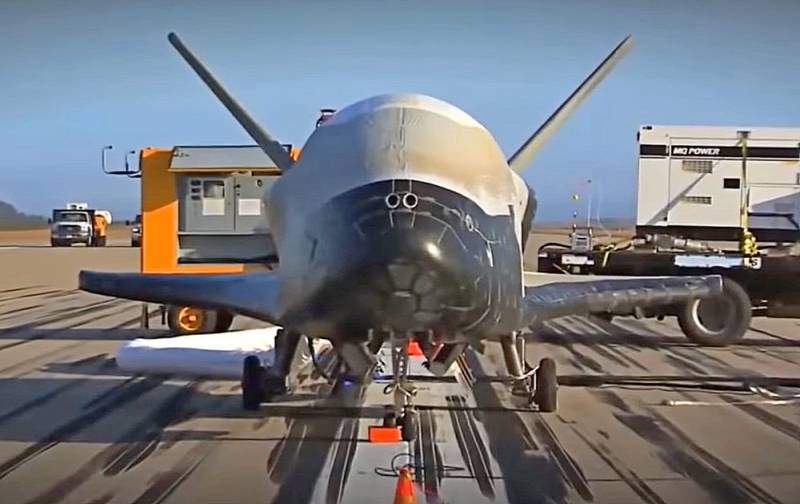 The United States is very close to realizing the idea of ​​placing strategic nuclear weapons in space. An unmanned spaceplane of the Boeing X-37B type, capable of being in orbit for years, is considered as the most likely carrier. The head of the Almaz-Antey concern, Yan Novikov, stated earlier that projects of this kind pose a potentially serious danger to Russia. However, the Pentagon separates a number of serious technological problems from the full implementation in practice of such plans.
To begin with, in accordance with Article IV of the Treaty "On the principles of activities of states in the exploration and use of outer space, the Moon and other celestial bodies" of 1966, the creation of such weapons is expressly prohibited:
The states parties to the Treaty undertake not to launch into orbit around the Earth any objects with nuclear weapons or any other types of weapons of mass destruction, not to install such weapons on celestial bodies and not to stir such weapons in outer space in any other way.
Is it any wonder what a negative reaction the American Space Shuttle program provoked from the Soviet leadership? It was quite rightly suggested that the space shuttles would be used as carriers of nuclear weapons or for the abduction of Soviet military satellites and orbital stations. The press today mockingly emphasizes that Moscow was seriously mistaken then, and Washington's intentions were the most peaceful. As "convincing evidence" is the fact that in the open documents of the Pentagon, NASA and the US Congress, allocating funding for such projects, there is no mention of the "bombing" purpose of the "Shuttle".
That is another argument, let's face it, especially when you consider that this would be a direct violation of the US's international obligations. About the so-called "
Technology
dual-use "no one has heard? Now the same story is repeating itself with the new American mini-shuttle. It seems that Novikov, head of the Russian defense concern Almaz-Antey, once again made a "mistaken assumption", stating the following:
It is officially stated that these devices are created for scientific purposes, and of intelligence. But we understand that, having such capacities and opportunities, according to our estimates, a small device can carry up to three nuclear warheads, a large one - up to six.
Forever us, Russians, history teaches nothing, right? Or does he teach? Let's call a spade a spade: The Boeing X-37B is a dual-use spacecraft that can be used for both peaceful research and military purposes. In the future, it can be turned into an orbital strategic bomber. First, however, the Americans will have to solve a lot of technological problems.
At first
, this UAV cannot be called "invisible". Even simple civilian astronomers can observe it. The Don-2N Russian centimeter-range radar can see such objects at a distance of up to a thousand kilometers, and the Voronezh early warning radar system will see it several thousand kilometers away. The Ministry of Defense of the Russian Federation is able to block the sky over all key protected objects.
Secondly
, the impact potential of this space UAV is significantly limited by its size. If necessary, the Boeing X-37B can accommodate several W-80 thermonuclear warheads, with a capacity of 5 to 150 kilotons, but first the warhead will have to be seriously upgraded, since it was originally developed for atmospheric flights. New guidance systems and a maneuvering unit will be needed to overcome the missile defense. All this will significantly increase the size of the thermonuclear ammunition, therefore, in a relatively modest in size "mini-shuttle" they can fit no more than three pieces.
Thirdly
, it is necessary to develop the very mechanism of "orbital bombardment". It's not just that: the Boeing X-37B is in orbit over Moscow, drops the bomb, and then it hits the bull's-eye. With intercontinental ballistic missiles, everything is much simpler, since all possible trajectories have long been calculated in advance, there is a task for a flight from point A to point B, which is performed after launch. In space, everything is in continuous motion, so the UAV needs constant dynamic correction, and this is an extremely difficult technical task. The creation of such a dynamic control system will take a lot of time and will cost fabulous money. The task could be simplified by bringing the spaceplanes to pre-calculated sections of the orbit that are optimal for delivering strikes. However, this will also simplify the task for a potential adversary, who will keep them in the crosshairs of their missile defense system. And this makes space UAVs more vulnerable to incapacitation by various methods, for example, by means of radio-electronic impact or an explosion in orbit of a nuclear warhead.
The tasks are non-trivial. It is possible that the Boeing X-37B is only an intermediate step in the implementation of a more ambitious US space weapons program, which is being used to test advanced dual-use technologies. It is possible that the Pentagon will consider it expedient to use developments in the field of artificial intelligence, as well as to increase the size of its drones so that more thermonuclear warheads can be loaded into them.