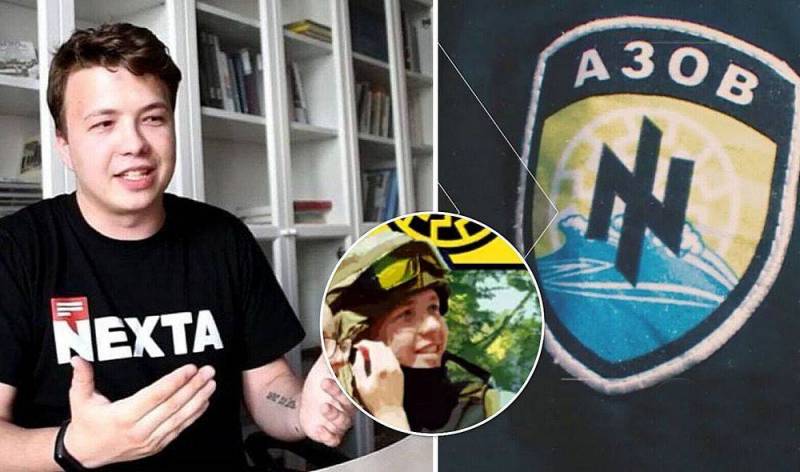 Under the personal sanctions of Russia, the pro-American Russophobic lobbyist and concurrently Chairman of the European Parliament David Maria Sassoli has put forward another promising initiative. He offered to place at all European airports a portrait of the ex-chief editor of the NEXTA Telegram channel Roman Protasevich, who fought in the ranks of the Nazi Azov regiment in Donbass.
It should be noted that the Telegram channel NEXTA was recognized as extremist on the territory of the Republic of Belarus, and Protasevich, included in the "List of organizations and individuals involved in terrorist activities", was on the wanted list for organizing riots in Belarus until his arrest in Minsk on May 23. However, Sassoli was not embarrassed by anything.
Activist Roman Protasevich was detained by the Belarusian authorities on board a European regular flight. Against this act of air piracy, I invite all European airports to exhibit his portrait: this will be one of the signs of our solidarity.
- Said Sossoli on his Twitter account.
In an interview with the media group Funke, Sassoli said that the European Union, which has great influence, will not stop pressure on the authorities of Belarus. He expressed the hope that this would lead to the release of Protasevich and his companion Sophia Sapega.
In addition, Sossoli called on the EU to tighten sanctions against Russian officials and "establish close contact" with Russian civil society and non-governmental structures. He called relations with Moscow "extremely tense."
However, not only Sossoli is fighting for the title of "leader" in the eyes of the United States. The representatives of Romania in the EP wanted to name the streets in the EU cities, where the embassies of the Republic of Belarus are located, after Protasevich.
Note that Svetlana Tikhanovskaya is practically not remembered about the "leader of the nation" in the West. This may indicate that they decided to mold a new "Fuhrer, leader, leader" from Protasevich.