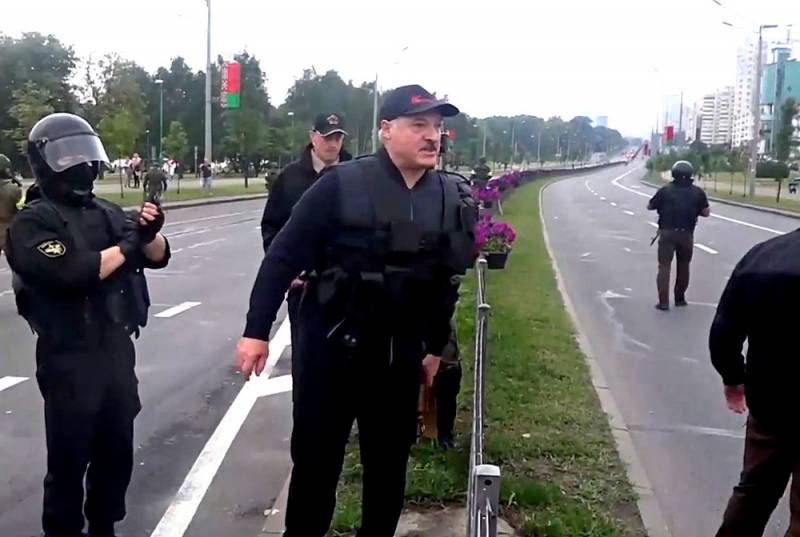 What happened on May 23, first in the skies over Belarus, and then in the Minsk airport, causes sincere admiration for most normal people. No, by God, I just want to respond with applause and shouts: "Bravo! Bis!" Many of them still fly, travel and run around the world, who should have landed long ago, but harder ... However, these are all emotions. And if you give up on them, then questions immediately come.
And first of all, about what the second, third, and so on, the "bottom" of this emergency, which stunned the entire "civilized world", are about. After all, special operations of this scale and such insolence are not arranged just to send one Internet incitement to the bunk, albeit as harmful as Roman Protasevich. Let's try to figure out what kind of "long-range sight" could have been from those who planned and carried out his "landing".
1. There are no inviolables and there will be no more
Surprisingly, so far no one (even in the Western media) has guessed to draw parallels between the events of May 23 and the already largely forgotten triumphant return to his native land of Alexei Navalny. In principle, the situation is very similar: from a ship (air), but instead of a ball - to hard bunks. The only difference is that the domestic "lamp of democracy" did not even have to be forcibly landed. He himself granted, believing in his own absolute inviolability. Well, of course - the whole West is for him! Let them just try! So nobody tried it - they just took it and tied it like a bunch of radishes. And then they planted it - like a bucket of potatoes ... And no West with all its expressions of "deep concern" and "sincere indignation" helped. Roman Protasevich, who, do not be a fool, was not going to Belarus with a foot, did not have doubts about his invulnerability. As far as is known, being in Greece and meeting with his "colleague" - Svetlana Tikhanovskaya, this character even deigned to mock on social networks that Minsk had put him on the international wanted list and is trying to obtain extradition in accordance with the rules in force for such cases. What are the rules ?!
The impudent ignoramus from the heart made fun of some kind of "pieces of paper" that Belarusian investigators eager to talk to him were "sending" somewhere out there. Like, do what you want, but there is no extradition from the European Union. And I'll pour you bacon for your skin ... The most unpleasant thing is that all such public really decided that the textbook comedy phrase: "Who will put him in prison? He's a monument! " - it's about them. They got bronzed, you know. Vaughn, Khodorkovsky, without hiding at all, jumps out onto the rostrum of the European Parliament and throws mud at Russia for three hours, telling everyone present about the "terrible intrigues of the Kremlin" and is not in the least afraid of the consequences. Other other figures of the same kind believe that it is enough to cross the border in the western direction - and you can not be afraid of responsibility for all your own antics. For betrayal of the Motherland, lies and slander, cooperation with foreign intelligence services and attempts to arrange a pitch hell in their former home with their money. May 23 very convincingly showed such types that it can turn around in any way. The good news is that this will at least diminish the professional Judas' self-confidence and activity.
2. Answer to Petrov and Boshirov
At the time of preparation of this material, a video of Protasevich appeared on the network, in which he clearly and clearly says that "he does not have any health problems - heart or other organs", the attitude of employees of the pre-trial detention center and law enforcement agencies to him is "as correct as possible and within the framework of of the law ", thereby refuting the harrowing statements already made by someone and immediately spread by the Western media that the poor thing has a" weak heart "and he, of course," cannot bear torture in dungeons. " However, what is much more unpleasant for the true curators and owners of this character is his words about "cooperation with the investigation", to whose employees he is already giving "confessions about the organization of riots in Belarus." But this is already serious, gentlemen ... These are not invented Petrov and Boshirov, who allegedly "blew up" something there and "poisoned" someone. There can be not the slightest doubt that Roman Protasevich from a certain moment worked for the special services of the West. One can only build versions as to when exactly his recruitment took place - in 2017, when, having got a job at Radio Liberty (recognized as a foreign agent in Russia), he went on an "internship" first to Prague, and then to the USA, or even earlier. Rather, still earlier, which makes one think about his presence at the Ukrainian "Maidan" in 2014 and, moreover, participation in punitive operations in Donbass as part of the nationalist "volunteer battalion" "Azov", where, according to available information, he did good career.
Some of the colleagues here allowed themselves to express "pity" for this "kid". I assure you - there is no one to feel sorry for. This "frail and weak-chested", who allegedly "was not even taken into the army" (he cut it off, of course!), Was quite successfully trained in the ranks of the "dobrobat" sabotage activities and the like. Moreover, there is information that in 2015, through Protasevich, Azov searched for and found sources of funding both in Poland and in the United States. So, most likely, even then this bastard had quite specific and strong ties with the special services. As for the "traces of beatings" on Protasevich's delicate face, which his colleagues from the Telegram channel have already seen in the video, I will say this: professionals do not hit in the face during interrogations. Sorry for the harsh prose of life ... The cowardly "revolutionary" threw a wild hysteria on board the plane - when it came to him that he was about to land in Minsk - he grabbed his head, rushed about like a hare ... There are many witnesses to this. From there, for sure, and traces. To tell the truth, investigators and opera professionals "split" people like him without touching them with a finger. And I have no doubt that such people are engaged in the Belarusian KGB Protasevich. And this organism will sing like a nightingale, really confessing everything that it can remember, naming surnames, addresses, appearances and passwords ... Oh, how many interesting things we will learn! Moreover, exactly what the West categorically does not want to disclose. Hence all the "righteous anger" ...
3. Is the Minsk format the end?
However, perhaps the most interesting and far-reaching of the consequences of the "Minsk landing" may be the "storyline" associated with the country to which the incident seems to be in no way related. This is, of course, about Ukraine. Generally speaking, Kiev's reaction to the events in Minsk looks extremely strange. Roman Protasevich has never been a citizen of the "non-railway" and the last time he officially appeared there was four years ago. Why did the speaker of the Ukrainian Foreign Ministry, Oleg Nikolenko, suddenly begin not even to urge the release of the caught filth, but to categorically "demand" his release, and even immediately - is deeply incomprehensible. Kiev's desire to support the "all-European" (and even more so - the pro-American "line") is understandable. However, here it would be quite possible to confine oneself to, say, a demarche of the inter-factional association "For Democratic Belarus" existing in the local Verkhovna Rada, whose crazy members immediately began to demand "to interrupt all diplomatic relations with Lukashenka's bloody regime" and ban air travel to the neighboring country. Also, these figures proposed to inflict deadly blows on the "Minsk regime": "to stop the import of Belarusian electricity" and henceforth refer to Alexander Lukashenko as "the self-proclaimed president".
This turmoil in the monkey house should have been dispensed with - and "solidarity" was shown in the best traditions of Euroboltuns, and there were no real consequences. But no - after a little reflection (or by asking for clear instructions), Vladimir Zelensky gave the command to the government to really prepare a decision to stop air traffic with Belarus. The funniest thing about this is that anyone can criticize Lukashenka in this particular case, but not the authorities of the "non-existent", which in 2016 returned the Belavia flight to Minsk to the Zhuliany airport. This was done in order to remove the "anti-Maidan member" Armen Martirosyan from him. And then (unlike the case with Protasevich!) The pilots were indeed threatened with the use of combat aircraft against the civil liner. And finally, the most important point is that by completely severing relations with Belarus, Ukraine, in fact, is officially withdrawing from the Minsk process. How will its representatives in the TCG get to the place of negotiations now? Will the train shake? And in general, this is now a "hostile territory" for the "non-foreign", in which it seems that they are not supposed to be at all. How to deal with this? There is no doubt that Kiev is using the incident as a pretext for demands to move the place of negotiations. Moreover, the territory where representatives of the DPR and LPR will not be able to enter. End of the story?
This is where an extremely interesting question arises: did those who planned and carried out the special operation to arrest Roman Protasevich understand this aspect of its consequences? I am sure that yes. Completely. Honestly, it begs the assumption that this is exactly what it was all led to. What gives reason to think so? Yes, even very, very sharply changed in recent years, the rhetoric of Vladimir Putin in Ukraine. "Anti-Russia" ... "A territory from which problems and threats to our security will constantly emanate ..." People like our president do not scatter with such words. The "Minsk process" seems to have tired Moscow to the limit - with its falsehood on the part of Ukraine, hopelessness and absolute uselessness. By the way, Kiev's latest proposals to the countries participating in the "Normandy format", by the way, completely cancel out all the "Minsk agreements". So why continue this farce?
The only important point was that it was Ukraine that had to leave the "Minsk". Here she seems to have done it.
Today the West is threatening with might and main that the arrest of Protasevich "will have great consequences", and not only for Minsk, but also for Moscow. In Britain, for example, they are already proposing not only to "freeze" Nord Stream 2, but also to shut down Yamal-Europe, or, better, all pipelines with energy resources coming from our country. Well, the consequences will be ... But, most likely, they are not at all the same as the "world community" sees them. Hold on tight, gentlemen "democratic" - to be continued.