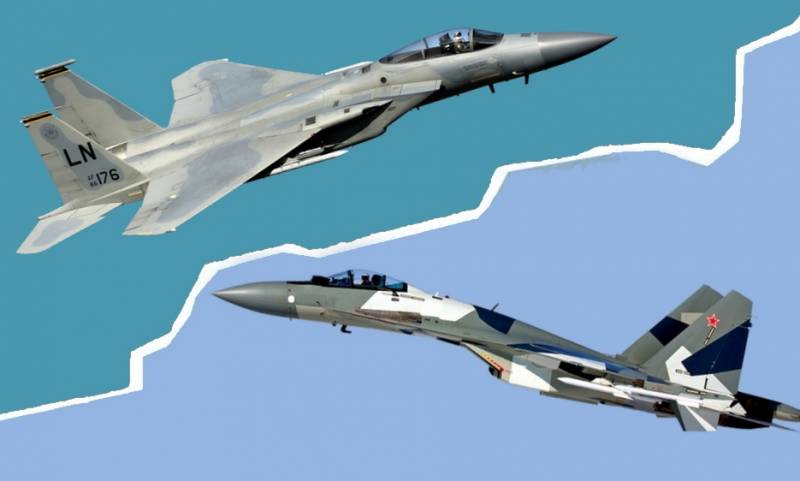 The Indian Air Force has announced a tender for the purchase of a heavy fighter. Russia and the United States have traditionally become the main competitors in the struggle for a lucrative contract. However, already now some experts are "predicting" a victory for our Su-35 over the American F-15EX, since the latter allegedly does not meet modern challenges and does not provide a solid defense.
Based on the technical characteristics, the "American" is a little faster and more versatile, and our aircraft is noticeably more maneuverable and modern. But how are things really?
The F-15EX is capable of a maximum speed of Mach 2,5, while the Su-35S is capable of Mach 2,25. At the same time, the Russian fighter is 35% more maneuverable than its foreign competitor.
In terms of armament, the F-15EX takes in quantity (22 missiles versus 14), but inferior in quality. The maximum range of the American AIM-120D missiles is 180 km, while our R-37s will reach a target at a distance of 400 km.
But the main advantage of the Russian combat aircraft is its onboard electronics. The latest American phased array radar is capable of seeing a target at a distance of 145 km within plus or minus 60 degrees in azimuth, and our Irbis-E radar will detect the "enemy" at a distance of 300 km at plus or minus 120 degrees along the course and 145 km within plus or minus 270 degrees. The S-35 is also better in terms of target designation: 8 targets versus 6 for the F-15EX.
In general, our fighter outperforms its American competitor in most parameters. At the same time, the Su-35 is almost half the price of the F-15EX. However, the Indians still have to choose, so it is difficult to say who will win this tender.