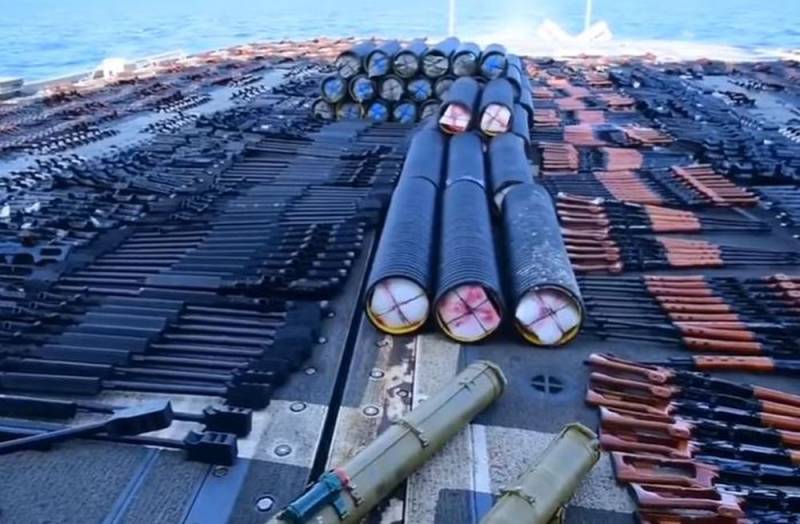 The USS Monterey (CG-61) Ticonderoga-class missile cruiser encountered an unidentified vessel in the northern Arabian Sea (unmarked). In the process of inspecting and establishing the ownership of the vessel, the American military found on it a solid batch of weapons, ammunition and equipment of Russian and Chinese production. The public was informed about this in its Twitter account by the press service of the Fifth Fleet of the US Navy.
The message specifies that the unloading (withdrawal) of the mentioned cargo, taking into account its quantity, took two days (May 6-7, 2021). After interrogation, the ship's crew was released. The owners of the vessel and the final point of its voyage will still be established.
Dozens of modern ATGMs made in Russia, thousands of Type 56 assault rifles from China, hundreds of PKM machine guns, sniper rifles and telescopic sights, grenade launchers and other military equipment were discovered.
We remind you that on April 21 in Brazil, the special police unit Polinter detained one of the largest arms dealers in the world - João Filipe Barbieri. On the eve of law enforcement officers arrested his companion, João Victor Rosa.
In early 2020, the US Central Command (USCENTCOM) released information about the detention in the Arabian Sea of ​​a vessel carrying weapons from Iran. Among the seized were 150 Dekhlavie ATGMs (an analogue of the Russian Kornet ATGMs). Among the cargo were three Iranian surface-to-air missiles, thermal imaging sights, components for UAVs and surface ships, and various ammunition.