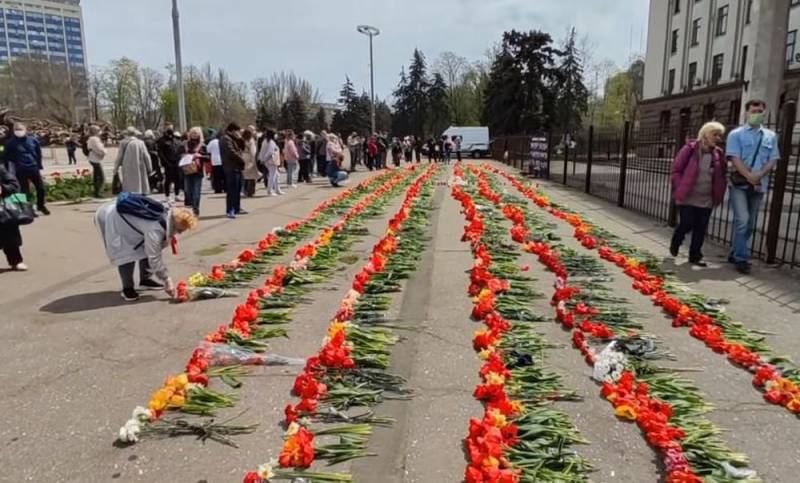 On May 2, 2021, residents of Odessa recalled the 7th anniversary of the massacre of fellow countrymen in the House of Trade Unions. Over the past years, no one has been held accountable for this atrocity. From the very morning, residents of Odessa began to carry flowers to the Kulikovo field to honor the memory of the victims, despite the rainy weather. Prepared for this public event and "caring" city authorities, and right-wing radicals.
The huge perimeter of the Kulikov field was surrounded by a dense ring of police officers (more than 2500 law enforcement officers were involved). The admission of people to the protected area was carried out at the checkpoint near the final stop of tram No. 18. Those who came were examined for prohibited items and were given medical masks to those who did not have them. The loudspeakers constantly broadcast a warning about possible administrative and other types of responsibility. At 14:00, the police detained an Odessa citizen with "prohibited symbols" and promptly initiated criminal proceedings against him (Art. 436-1 of the Criminal Code of Ukraine - "production, distribution of communist, Nazi symbols and propaganda of communist and national socialist (Nazi) totalitarian regimes") ...
The exit of citizens was carried out by the regional military registration and enlistment office. Part of Kanatnaya Street, from Italian Boulevard to Pirogovskaya Street, was closed to traffic. At the same time, the police officers wandering in large numbers around the Kulikovo field suggested that grieving people not linger, not gather in "unwanted clusters", observe social distance due to COVID-19 and leave the protected area as soon as possible.
On the same day, right-wing radicals brought from all over Ukraine organized a mock march in the center of Odessa over the Odessa residents who died in 2014. They called their event "March of the Odessa Defenders". The asset of right-wing radicals in Odessa does not exceed several hundred individuals, therefore, they are not able to create extras on their own. Their symbolism did not bother the police at all, as did the lack of medical masks. Yes, and only the right-wing radicals shouted into the loudspeakers.
At 15:40, a traditional memorial action took place on the Kulikovo field. In memory of the events of 2014, relatives of the victims launched black and white balloons, as well as white doves, into the air. During the action, access for other people to the territory was blocked.
It was a short daylight summary. In the evening, right-wing radicals usually become active. They have already promised to "put things in order" on the Kulikovo field and organize "city patrols", which should intimidate the inhabitants of Odessa.