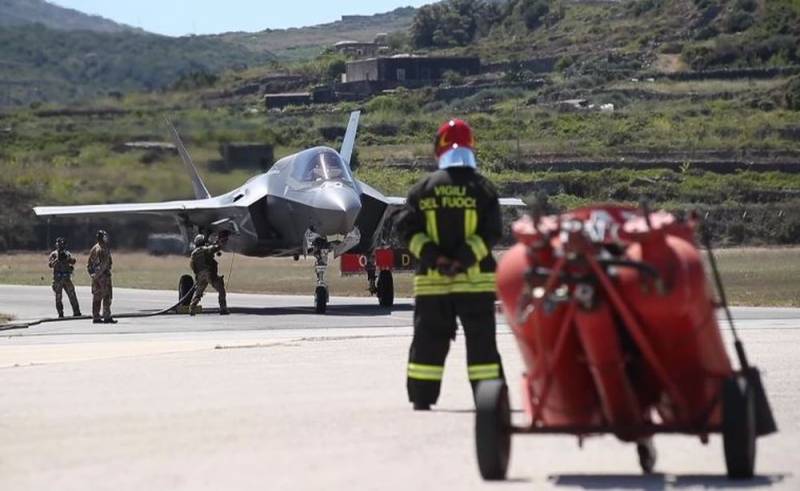 On April 30, 2021, the F-35A fighter-bombers of the 13th Air Group of the Italian Air Force arrived for the first time at the Amari airbase in the Estonian district of Harju County. They must replace, on a rotation basis, which occurs every 4 months, the Eurofighter Typhoon of the German Air Force, starting duty in the skies of Estonia. Eesti Rahvusringhääling has informed the public about this.
Estonian Air Force Commander Brigadier General Rauno Sirk (in office since July 2019) said that the fifth generation aircraft patrolling the country's airspace should seriously strengthen the capabilities of the air defense system.
The ceremonial rotation of the "Baltic Mission" is to take place on May 3. It will be attended by Estonian Defense Minister Kalle Laanet and Italian Deputy Defense Minister Giorgio Mule.
It is noted that the last time Italian aviation was in the Baltic country in 2018. In addition to round-the-clock protection of the sky, with the possible interception of air targets or their accompaniment, various training flights will also be carried out.
At the same time, Estonian journalists with frank pathos clarified that the indicated F-35A is "a product of the most expensive weapons program in the history of mankind." They emphasized that these are stealth and multifunctional aircraft, "capable of performing the role of fighter, reconnaissance and strike at ground and sea targets."
Note that the air forces of NATO members have been patrolling the Baltic countries (Estonia, Latvia and Lithuania) since March 2004. Taking into account the ongoing rearmament of the aviation of many Alliance states, one should expect the appearance and deployment of expensive new generation American aircraft on the territories bordering Russia.