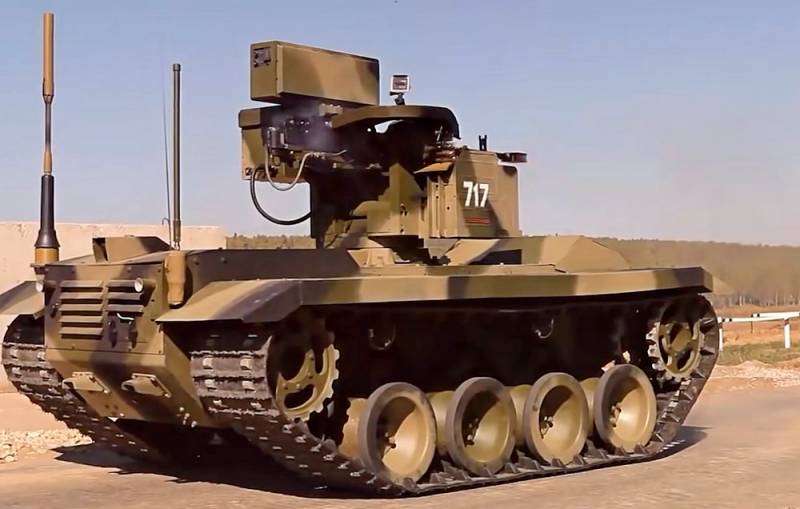 Russia continues to work on autonomous infantry support combat vehicles. Along with the Uranus program, Russian engineers are working on the Nerekhta robotic complex.
The above project was first presented in 2017. Despite the fact that this complex is inferior in its characteristics to the machines created under the Uranus program, they did not abandon it.
Outwardly, "Nerekhta" looks "rustic" and resembles a tracked platform with a 7,62-mm machine gun. Nevertheless, the complex has a number of advantages. In particular, the car turned out to be compact and secretive. The main mode of movement is carried out by an electric power plant, which makes the robot quiet. The batteries are recharged from the onboard diesel engine, which is started by the operator through the control panel or by means of a program.
Today there are two variants of the vehicle: machine gunner and scout. The latter is equipped with a modern complex of optical-electronic equipment and is able not only to detect targets, but also to rank them according to the degree of danger and guidance.
In general, it turned out to be a tandem capable of identifying and destroying targets within a radius of up to a kilometer. But that's not all.
Thanks to the use of elements of artificial intelligence and modern electronics, the robot has a high degree of autonomy. The fire is still being conducted at the command of the operator, but the option of self-destruction of objects is already being worked out.
In daytime conditions, the complex is able to detect and identify a target at a distance of 5 and 3,5 kilometers, respectively. The detection distance of the thermal imager at night is 4 km.
It is worth noting that one operator can control ten scout-machine gunners. At the same time, robots "know how" to interact with each other, forming a whole swarm of ground-based drones that control an area of ​​up to 50 square meters. km.
At the moment, effective control of the Nerekhta complex can be carried out at a distance of up to 5 km. However, in the future, the developers plan to "distance" the operator from the drones by 20 km.