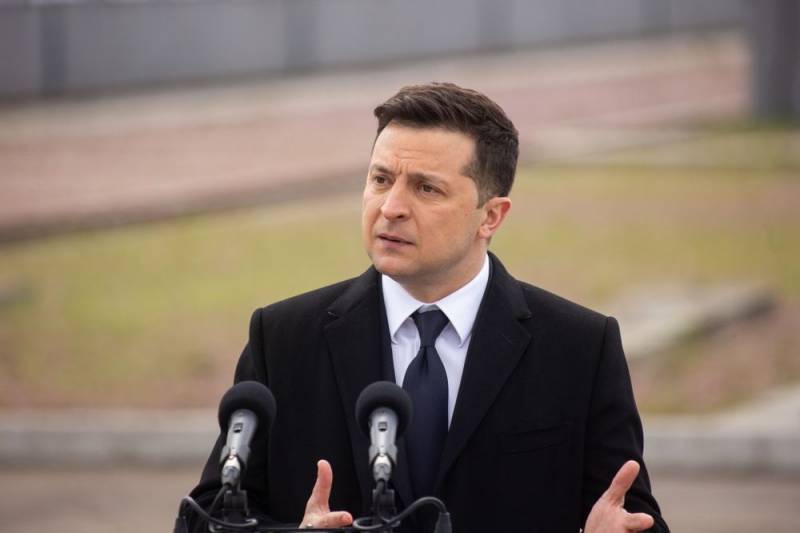 Morality is not a tool in
policy
, but the President of Ukraine Volodymyr Zelensky in a short time managed to get into the number of low-respected persons in international politics. On April 26, 2021, on the air of the Epicenter talk show on the Pershy Nezalezhny TV channel, Mikhail Pogrebinsky, a well-known Ukrainian political scientist, founder and director of the Kiev Center for Political Research and Conflictology, stated this via video link.
According to the expert, the scale of the personality of the Russian leader Vladimir Putin did not allow him to invite Zelensky to Moscow. It is simply impossible to talk seriously with the Ukrainian president. But, despite this, the President of the Russian Federation stepped over himself and invited a colleague to discuss the restoration of Russian-Ukrainian relations, because the existing problems interfere with the life of both Russia and Ukraine.
I am absolutely sure that (Putin's - ed.) Proposal to come and talk about bilateral relations is quite serious. This is really a proposal for Zelensky to make a choice, moreover, based on his (the President of Ukraine - ed.) Words when he went to the presidency
He explained.
The political scientist believes that Moscow and Kiev have common themes, even without the question of Donbass and water for Crimea. Starting from transport and ending with energy. In addition, Ukraine is now on the verge of a total shortage of fuels and lubricants. Therefore, the first persons have something to talk about - the agenda is rich. Moreover, "Moscow did not bring down or chop anything."
Pogrebinsky drew attention to the fact that at first Zelensky absolutely tactlessly threw out the phrase that he was ready to meet with Putin in the Donbass. The response of the head of the Russian state was clearly unexpected for the Ukrainian leader. But the Ukrainian president has probably forgotten who he is talking to. Experience, apparently, was not enough.
Something like how Joe Biden could have said to Zelensky: "You come to my dacha, we'll talk to you." That was the tone he (the president of Ukraine - ed.) Spoke in (inviting Putin - ed.). It's just that a person does not understand, the people who teach him, they do not tell him how to talk in general with older comrades, and so on. <…> This is another vidos for show, to show that he is doing something to find the world. He does nothing to find peace. Everything he does ultimately leads to the loss of Donbass
- summed up the political scientist.