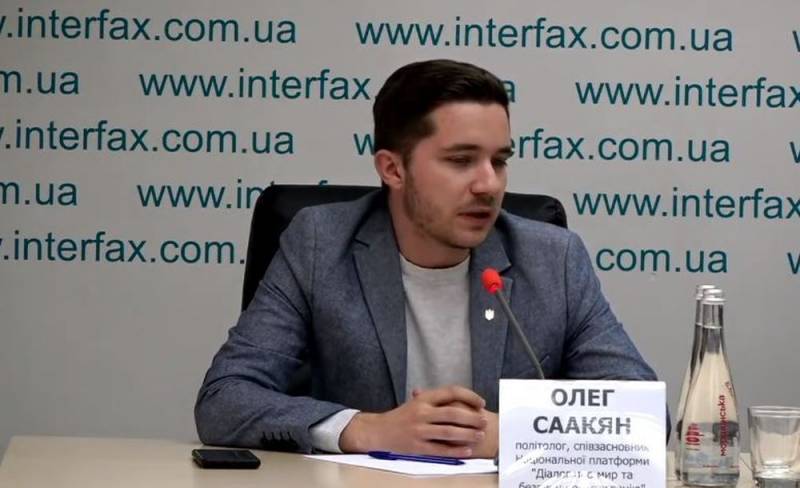 In some capitals of the EU countries, the local establishment is already inclined to think that Ukraine should be given to Russia. About this on April 21, 2021 at the press center of the Interfax-Ukraine news agency in Kiev, during a press conference on the topic "Growth
political
tensions - internally and externally. What's in store for Ukraine soon? " said Oleg Sahakyan, a professional grant expert.
It should be noted that Sahakyan, who made a resonant statement, is the chairman of the Platform for Social and Humanitarian Initiatives and Innovations "United Coordination Center", co-founder of the National Platform "Dialogue for Peace and Safe Reintegration", as well as one of the leaders of the "Donetsk is Ukraine" movement. This is an uncompromising fighter for banknotes, actively opposing "Russian aggression".
Sahakyan specified that part of the European elite supports Russian leader Vladimir Putin. These people have no doubts about the strength of the Russian Federation, so they are ready to "sacrifice" Ukraine so that there is no big war. Their ranks are confident that as long as Moscow "digests" Kiev, which will take more than one decade, nothing will disturb them from this direction.
The expert explained that some Europeans have nostalgia for their own imperial past. Therefore, they perfectly understand the Russian leadership, because once they did something similar and could now do the same if possible.
At closed meetings of European elites, they say the following phrase: "Well, Russia can be understood." Because they also have their own imperial past and so on ... If you dig a hundred years ago, then, in principle, the Europeans did just that.
- he accused the Europeans, receiving money from the Americans.
According to the political scientist, if Ukraine shows "worthy" resistance to Russia, then a multimillion-dollar flow of refugees could overwhelm Europe, where they fear serious social
economic
and other related problems. He believes that Europe is not ready for such a development of events.
The situation when Ukraine is toughly defending itself - this is a large-scale war, a flow of refugees, the need for a specific response from the West - is undesirable for Europeans.
- summed up Sahakyan, worried about the happiness of the Ukrainian people and does not consider what is happening in the Donbass a civil war.