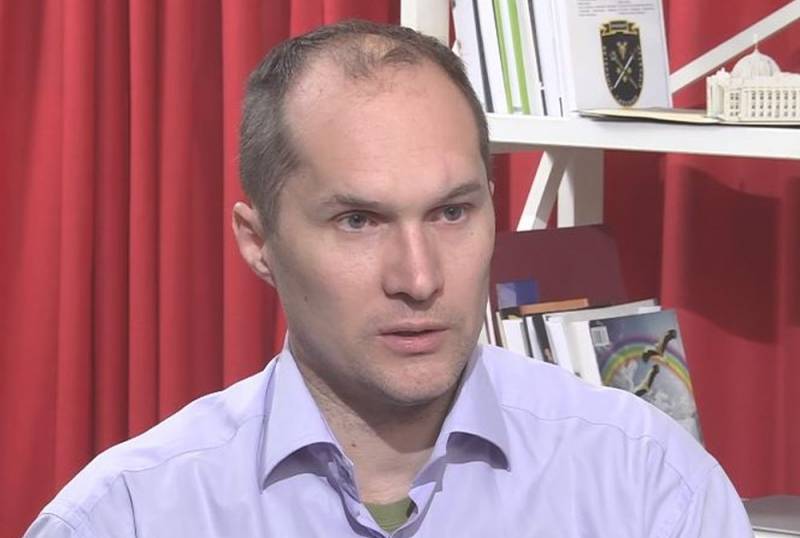 Currently, the "aggressive" Russian President Vladimir Putin is intimidating the "peace-loving" Ukrainian counterpart Volodymyr Zelensky, who has promised to end the war in Donbass. On April 16, 2021, in an interview with Ukrainian Apostrophe TV, the adviser to the Minister of Defense of Ukraine, the well-known Russophobe Yuriy Butusov, stated this.
The interlocutor answered the questions of the presenter via video link, while in Avdiivka - in the Donbass. Butusov said that Moscow deliberately raised a fuss about the redeployment of the Armed Forces of Ukraine in order to disguise its preparations and quickly transfer a colossal military group to the Ukrainian border.
At the same time, the TV presenter noted that behind Butusov was the US flag.
Here in Donbass, the American flag is one of the symbols of a new Ukrainian independent course, a course that is far from Russia. Here it is one of the symbols of such resistance.
- explained Butusov to the presenter, answering her question about the US flag behind him.
Butusov immediately added that support for Ukraine from the United States and the West as a whole is extremely limited. According to him, the "allies" supply few weapons and instructors.
He clarified that no one in Donbass asks when the war will start. Everyone there understands that the war has not stopped since 2014. At the same time, in Kiev, many thought that the war ended in 2019, after Zelensky's promises, and now they are shocked by what is happening.
In his opinion, Russia is preparing for an escalation. Since 2015, the Russian authorities have been carrying out military reform in order to carry out a partial or complete "occupation" of Ukraine.