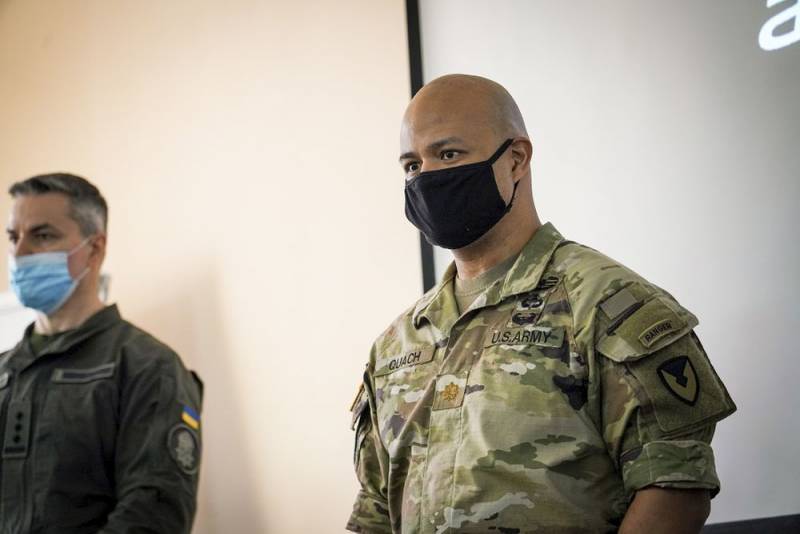 Courses with the participation of instructors from the United States have begun in the National Guard of Ukraine, now American officers will train Ukrainian military personnel. This was reported by the press service of the NSU.
The department noted that this work is being carried out at the International Interdepartmental Multidisciplinary Center for the Training of Units (the village of Staroye in the Kiev region). The collaboration takes place within the framework of the project "Improving the training capacity of NSU units" (LOE5), funded by the Global Security Standby Fund (GSCF) through the Pentagon.
These courses are the first stage in the implementation of the practical phase of the LOE5 project and cooperation with American colleagues in the framework of agreements between the Ukrainian government and the US government. They are important to our common desire with international partners to create a systematic approach to planning and conducting collective training of the National Guard units to bring it closer to NATO standards.
- said at the opening of the course acting. Colonel Konstantin Pletko, director of the vocational training department of the National Guard GU.
Within the framework of the LOE5 project, the course "Management of the training of units" was also opened for officers of the Main Directorate, deputy heads of territorial departments of NSU, military units of operational assignment and direct subordination. The start of the project was supposed to begin in 2020, but the COVID-19 pandemic has made its own adjustments.
This project is long-term and will be implemented over three years. Upon completion, we expect to receive an improved, actionable collective training system at NSU that will be compatible with NATO's training system. We are sincerely grateful to our American colleagues who, despite the quarantine, began training courses
- said Colonel Vladimir Grabchak, head of the international cooperation department of the National Guard GU.
The US Mobile Training Group includes retired army personnel who have both combat experience and experience in planning and conducting collective training.
I'm glad we started this project. A mobile training group from the United States was involved in its implementation. Through the study of the management process of training departments and the program of training centers, we expect that NSU will be able to improve its abilities and institutionalize a systematic approach to training
- said the representative of the group of advisers on doctrine and education (DEAG) of the Department of Defense Cooperation of the US Embassy in Ukraine, Major Harry Kwosh.