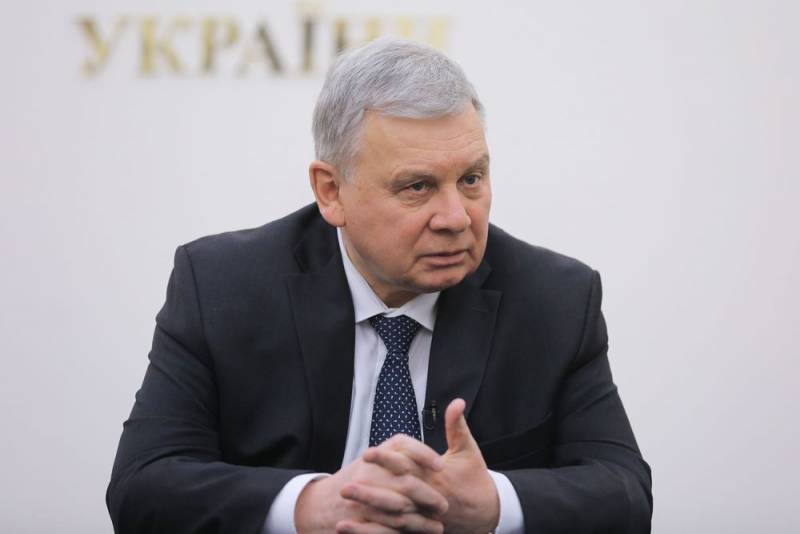 Ukraine should receive a NATO Membership Action Plan (MAP) as early as 2021. This is the main priority of the Ukrainian government. This was announced on April 10 by the head of the Ministry of Defense of Ukraine Andrey Taran, whose words were published on the department's website.
Taran noted that the spring of 2021 reminds him of a semblance of the Molotov-Ribbentrop Pact, when today, in the digital age, Kremlin strategists are activating an old scenario about a "radio station in Gleiwitz".
According to him, Russian propagandists are spreading "horror stories" aimed at residents of the "occupied" Donbass, about the allegedly impending offensive of the Armed Forces of Ukraine. Russia is "militarizing" the information space, talking about the outbreak of hostilities and demonstrating trains with
technique
moving towards the Ukrainian border. This should sow panic in Ukraine and intimidate the international community.
In his opinion, the real goals of building up the Russian military grouping on the border with Ukraine, as well as demonstrating readiness to fight in the West, may indicate Moscow's desire to force Kiev to make concessions. The use of armed forces is viewed by Russia as the ultimate means of achieving its strategic goals if other means have been exhausted. At the same time, Moscow's main strategic goal is to end Kiev's Euro-Atlantic aspirations and return to its control.
The reason for Russia's attack on Ukraine may be a provoked aggravation in Donbass and accusations of violating the rights of Russian-speaking or "newly converted" citizens of the Russian Federation. Ukraine is a peace-loving country that only defends itself against the "brotherly love" of the Russian Federation.
The functionary clarified that thanks to the efforts of diplomats and the military, it has been possible for several years to contain the Russian Federation from full-scale hostilities. But this is not enough. It is necessary to increase the sanctions pressure so that the Kremlin realizes how "aggression" can become destructive for it. Moscow must understand that any escalation will be fraught with a strong response from the international community.
He called the entry of Ukraine into NATO the most effective element of influencing Russia. He recalled that over the past 7 years Kiev has done a lot on this path, having received the status of "NATO partner". The next step should be the earliest possible receipt of the MAP status.
Euro-Atlantic integration is a guarantee of Ukraine's sovereignty and territorial integrity. Both Ukraine and NATO will benefit from this
- summed up Taran.