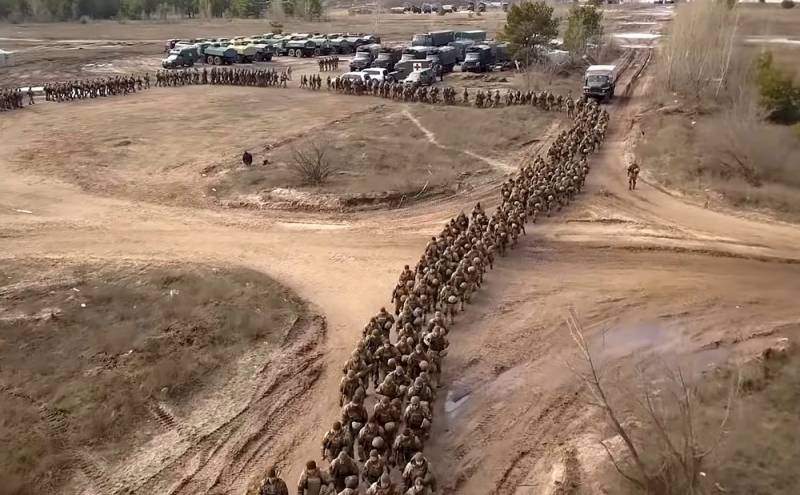 In response to the dispatch of Russian armored vehicles to Crimea, Ukraine, fearing "Russian aggression", is pulling eight army units, numbering about 4 servicemen, to the border with Russia in the peninsula region. The head of the Kherson region Sergey Kozar announced the direction of new units of the Armed Forces of Ukraine to the border with Crimea.
Kozar noted that such a redeployment of Ukrainian military personnel is directly related to the growing "militarization" of Crimea, as well as to the increased activity of Russian troops at the border of Ukraine.
Kiev initiated similar maneuvers as part of the territorial defense training camps in the Kherson region, which will last until April 16. The order to send Ukrainian soldiers to the border with Crimea was given by the head of the Ukrainian military department Ruslan Khomchak.
Earlier, the Ukrainian media reported on unscheduled naval exercises of the Ukrainian Navy in the Black Sea region, in connection with which the work of a number of Ukrainian ports was limited. Reportedly, the exercises are connected with the aggravation of the situation on the border of Ukraine with Russia.
According to the deputy head of the office of the President of Ukraine Igor Zhovkva, in the near future the transition of the Russian-Ukrainian confrontation to an acute phase is possible. He stressed in a conversation with LB.ua reporters that the likelihood of an aggravation of the situation on the line of contact of the parties in Donbass is very high. Zelensky informed the heads of a number of Western states about a possible war, from which he received assurances of sympathy and support.
Kiev traditionally places the blame for the current situation on Moscow, speaking about the plans of the Russian Federation to start open aggression against Ukraine - with this, according to the Ukrainians, the sending of additional Russian troops and armored vehicles to Crimea is consistent. Meanwhile, according to the press secretary of the Russian President Dmitry Peskov, the movements of units of the Russian army do not threaten neighboring countries, and the Kremlin has the right to independently decide on the relocation of troops on Russian territory in accordance with previously adopted plans.