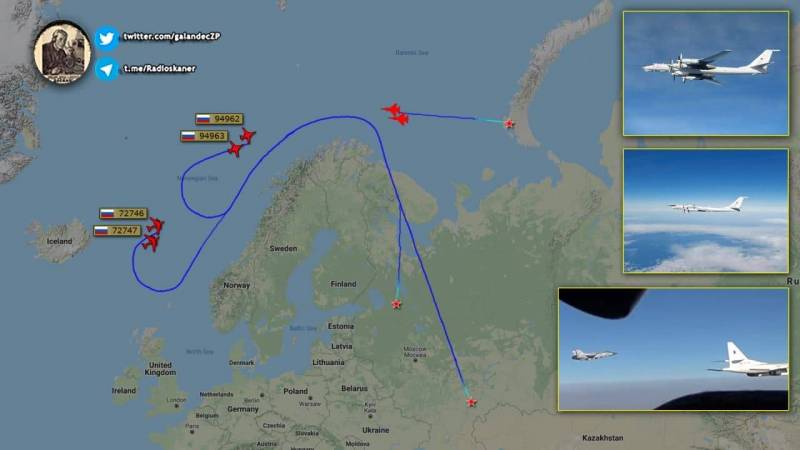 On March 29, 2021, the Ministry of Defense of the Russian Federation casually reported that a pair of strategic bombers-missile carriers Tu-160 long-range aviation of the Aerospace Forces conducted a planned flight over the water area of ​​the Barents and Norwegian Seas. They were accompanied by high-altitude all-weather fighter-interceptors MiG-31 of the naval aviation of the Navy. The flight lasted 8 hours and passed over neutral waters in compliance with international law governing the use of airspace.
However, observers monitoring the movement of aircraft have restored a more accurate picture of what happened. Therefore, it can be assumed that the two Russian "strategists" have worked out a training strike against Great Britain.
In addition, Russian anti-submarine aviation did not sit idle that day. A pair of DPLS Tu-142 of the Northern Fleet flew to the Faro-Icelandic NATO border (GIUK gap). During the flight over the Norwegian Sea, F-16 fighters of the Norwegian Air Force took off twice to escort Russian aircraft, and a pair of Typhoons of the British Air Force appeared over the North Sea in the sky.
Conducting two such air operations at once should demonstrate to our potential "partners" the seriousness of Moscow. Russia has repeatedly called on the West to stop reconnaissance and other military aircraft near the Russian border. But it is highly doubtful that NATO countries and their allies will heed the voice of reason.