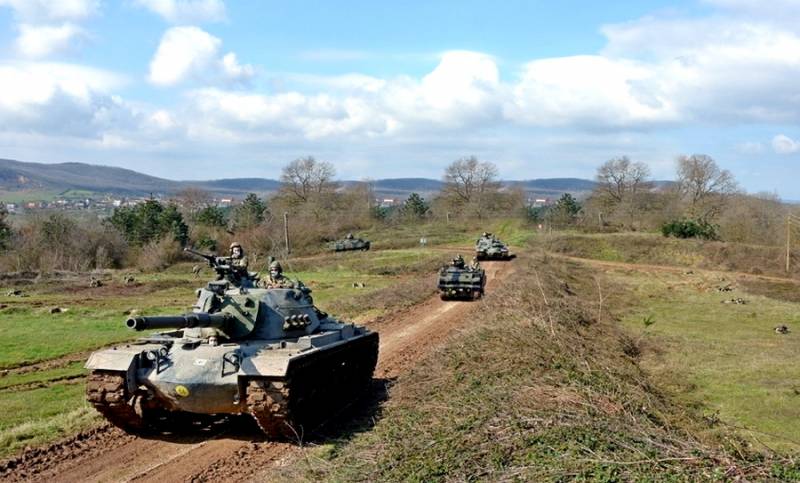 Turkey is transferring its tank units to the border with Armenia to conduct combat maneuvers. According to the Iranian telegram channel Azariha, Turkish armored vehicles and self-propelled guns are being concentrated near the Armenian border, which were probably used earlier in military operations in Syria.
Azariha also expresses the opinion that Turkey and Azerbaijan with the help of a "tank fist" are preparing to occupy the Syunik region on the border with Iran, which separates the main part of Azerbaijani territory from Nakhichevan.
On Tuesday, March 23, the heads of the military departments of Russia and Armenia Sergei Shoigu and Vagharshak Harutyunyan discussed by phone the issue of ensuring the security of the Syunik region. The meeting of ministers was also attended by the chief of the Russian General Staff Valery Gerasimov.
Tehran, for which changing the borders of states in its immediate vicinity is a "red line", can hinder the implementation of the likely plans of Ankara and Baku. According to Azariha, in order to prevent a major military conflict in the region, the Iranian armed forces should deploy along the border between Armenia and Nakhichevan.
In January, the head of the Iranian Foreign Ministry, Mohammad Javad Zarif, during his visit to Yerevan, noted that Iran would not allow violation of the territorial integrity of Armenia. Zarif also stressed that the Armenian-Iranian border lines have always been "borders of friendship and cooperation", and this will continue to be so.