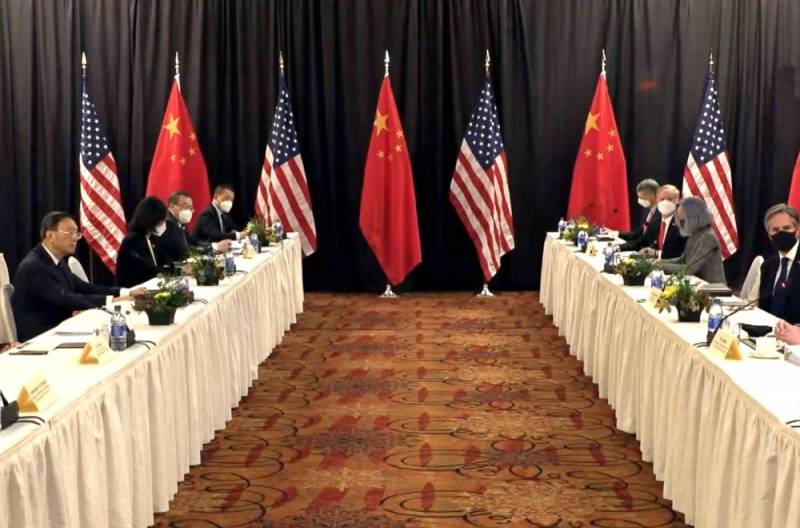 Beijing accused Washington of inappropriate behavior during a bilateral meeting in Alaska, as well as the fact that the hosts of the event deliberately "broke" the protocol by attacking China with accusations. The conflict between American and Chinese diplomats is reported by the PRC television, referring in its report to a representative of the Chinese delegation.
Anchorage hosts a meeting between American Secretary of State Anthony Blinken and Biden's National Security Advisor Jake Sullivan with Yang Jiechi, Head of the Office of the Central Committee of the Chinese Communist Party's Foreign Affairs Commission, and Wang Yi, Head of the PRC's Foreign Ministry.
According to a Chinese participant in the meeting, members of a delegation from Beijing traveled to Alaska to conduct an important strategic dialogue with partners from the United States, however, American diplomats went beyond the previously agreed protocol by launching groundless attacks on foreign
policies
PRC, planning thereby to provoke a conflict. The Chinese participants reacted strongly to this.
We thought too well of you. We assumed that you would observe diplomatic etiquette. However, now we are forced to clearly define our position: we want to remind you that you do not have the right to negotiate with China from a position of strength. It won't work with us
- said Yang Jiechi in the face of the head of the US State Department.
The Americans, in turn, accused the Chinese partners of "working for the public" and of unwillingness to constructively discuss pressing problems in relations between the two countries. The American publication Politico referred to the words of a high-ranking member of the delegation, who accused the Chinese delegates of deviating from the protocol.