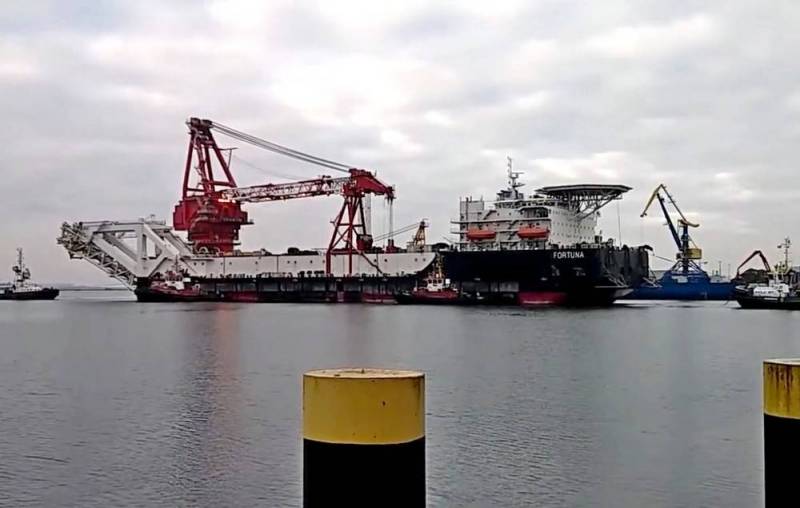 While the pipe-laying barge Fortuna is completing one of the lines of Nord Stream 2 in Danish waters, the Germans have found a clever way to avoid US sanctions. German companies bypass US restrictions and continue to actively participate in the gas transmission project, causing discontent among Russophobes, "environmentalists" and other pro-American activists.
It became known that on February 23, 2021, the self-government body of the German city of Rostock approved the lease of a part of the municipal embankment to ROKAI GmbH. This was reported by the Russian Internet publication
EADaily
, referring to the story of the German TV channel NDR.
According to the announced data, the lease, worth 3 million euros, was concluded by the end of February 2022 with the possibility of extension for another six months. Officially, the territory was needed for various vessels involved in the maintenance of wind turbines at sea. But in early March, the supply vessel Artemis offshore was spotted there, which is participating in the completion of Nord Stream 2.
The journalists also found out that a container warehouse was organized on the rented territory. In addition, NDR claims that ROKAI GmbH was created by a former employee of the Krebs company, which participated in the re-equipment of the KMTUS Akademik Chersky, was engaged in the change of crews of pipelayers and controlled the security zones of the pipeline construction.
The Soyuz-90 / Greens of Germany party became interested in the plot, which is doing its best to harm the pipeline running along the bottom of the Baltic. However, as it turned out, ROKAI GmbH is not subject to US sanctions, as it cooperates with Nord Stream 2 through the Climate and Environmental Protection Fund, created by the government of the federal state of Mecklenburg-Western Pomerania.
The point is that American restrictions do not apply to German state and municipal authorities. On the website of the regional parliament, it was directly stated that the created structure (fund) would become a kind of "seal" protecting business from overseas extraterritorial impact.
Following the NDR telecast, the mayor of Rostock, Klaus Ruche Madsen, organized a background check to secure himself against accusations.
Note that TUB "Fortuna" has already completed 30% of one of the threads and in May it can start working on the second one.