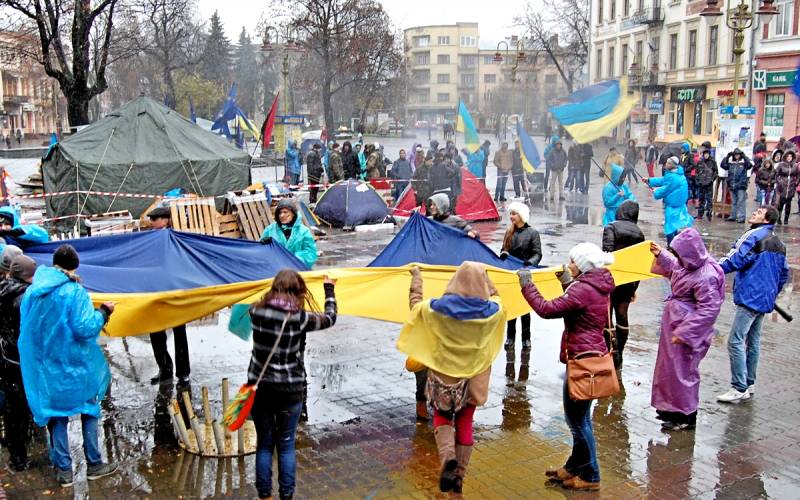 Despite the fact that Russia has long been officially recognized as an "aggressor" in Ukraine, and Kiev and Moscow exchanged mutual sanctions, mutual trade is still preserved between our countries. According to the Ukrainian State Customs Service, the Russian Federation is one of the three largest business and trade partners of Nezalezhnaya, only slightly behind China and Germany. How justified can such
policies
The Kremlin?
Over the past 2020, Russia supplied goods worth $ 4,6 billion to Ukraine, and imported $ 2,5 billion from there. Nezalezhnaya sells to the "aggressor" grain, ferrous metals, as well as fats and oils of animal and vegetable origin. Much more interesting is the list of what Kiev receives in return from our country. These are mineral fuel, oil and oil products (by the way, tanks and other armored vehicles of the Armed Forces of Ukraine are fueled with Russian diesel fuel), cars and other ground vehicles, equipment and mechanical devices, boilers and reactors, fuel for nuclear power plants. Money, of course, does not smell, but this little list inevitably makes you think about a lot.
The most curious thing is that some domestic state corporations are ready to sponsor a country that has officially declared us an "aggressor" and has enshrined in its Constitution the goal of joining NATO's anti-Russian military bloc, virtually free of charge. Here is what Ukrainian economist Boris Kushniruk said about this in an interview with the respected German edition of DW:
Nuclear reactors, boilers, some machines, as well as nuclear fuel for Ukrainian nuclear power plants are really critical imports. Here we depend on Russia. And also with regard to the processing of spent nuclear fuel, which Ukraine sends to Russia, because we do not have our own factories.
Indeed, there are five nuclear power plants (NPPs) in Ukraine, of which four are in operation. In terms of such an indicator as the number of operating reactors, Nezalezhnaya is in the honorable fifth place in Europe. For obvious reasons, the Ukrainian nuclear power industry is historically and organically linked with the Russian one, since all its nuclear power plants were designed and built under the USSR. Reactors of the VVER-1000 and VVER-440 types were technologically created for the fuel of the Russian company TVEL (part of the State Atomic Energy Corporation Rosatom). However, for political reasons, Kiev announced plans to phase out domestic fuel for its nuclear power plants and switch to the products of the American corporation Westinghouse.
Well, this choice is the sovereign right of Ukraine, as well as the burden of responsibility for possible consequences in the form of a radiation accident. Let's leave it out of brackets, here we are interested in something else. Last February, the state corporation proudly reported that the Russian side is still fulfilling its contractual obligations in full. According to the agreement between TVEL and NNEGC Energoatom, which manages all Ukrainian NPPs, fuel assemblies must be delivered until the end of the service life of all power units. And all would be fine, but it turns out that Rosatom supplies nuclear fuel to Kiev de facto free of charge. Representative of NNEGC "Energoatom" Pyotr Kotin in an interview with the Ukrainian edition of "Censor.net" explained that the state-owned company had a debt of $ 430 million to contractors and suppliers. At the same time, most of this debt falls on unpaid deliveries of Russian nuclear fuel, Kotin said:
In front of TVEL there is. This is the big part.
But Nezalezhnaya has no debts to the American company Westinghouse. Such are the things. That is, TVEL, a subdivision of the Russian state corporation Rosatom, is borrowing fuel assemblies for Energoatom's nuclear reactors. They generate electricity, which Ukrainian consumers do not pay in full. According to Petr Kotin, their total debt to the operator is $ 875 million. With all this, Kiev has money to pay for the services of the American Westinghouse, but the Russian TVEL does not.
"Great". Someone will say that money does not smell. Let's object: it doesn't smell like money at all. There is clear financing of a hostile state to the detriment of Russia's national interests. But why is this done then?
It is impossible to answer this question unambiguously due to the absence of a clearly formulated and voiced policy towards Ukraine by the Kremlin. Who is she to us - a former friend with whom we must try to reconcile and get along? Or is it an implacable fierce enemy right at the gate, which must be eliminated at any cost? Let's figure it out.
If Nezalezhnaya is our friend, and we care about the needs and aspirations of its people, then how is Moscow going to settle the issue of the status of Crimea with Kiev? Ukraine is not a fully sovereign state; it is under external control from the United States and the European Union. Washington will never allow Kiev to resolve the "Crimean problem" amicably, recognizing the Russian peninsula. He will not give "free" to Nezalezhnaya either. Consequently, reconciliation is impossible in principle. If Ukraine today is an enemy for Russia, then why then are we exporting there such a quantity of mechanical engineering products and equipment, as well as diesel fuel, which is used to refuel the tanks of the Armed Forces of Ukraine, that Russians have been nightmares in Donbass for the seventh year? Why does the state corporation "Rosatom" supply nuclear fuel to Ukrainian nuclear power plants, and does it for free? To support
the economy
a hostile state, allowing it to free up additional funds for further militarization and preparation of a military revenge against the DPR and LPR?
Sorry, of course, but it's time to decide on the "cross and cowards", if you know what this is about. And for a long time.