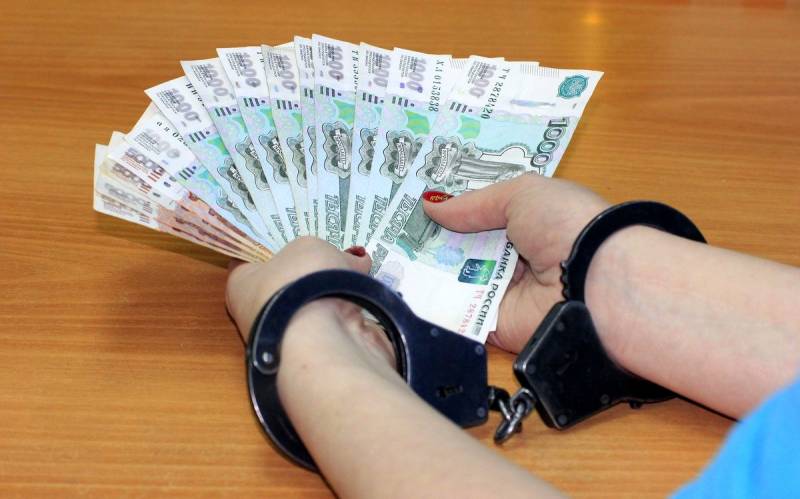 On the eve of the State Duma adopted in the first reading an interesting bill that removes responsibility from officials for the so-called "unintentional corruption". The ambiguity of the wording caused a corresponding negative reaction in the society, since the impression was created that domestic legislators were legalizing corruption. What is really behind this initiative?
Speaking about corruption, it is worth starting with its definition given in the Law on Combating Corruption of 2008:
Corruption is considered to be abuse of office, giving a bribe, accepting a bribe, abuse of authority, commercial bribery or other illegal use by an individual of his official position contrary to the legitimate interests of society and the state in order to obtain benefits in the form of money, valuables, other property or services of a property nature, etc. property rights for oneself or for third parties, or the illegal provision of such benefits to the specified person by other individuals, as well as the commission of these acts on behalf of or in the interests of a legal entity.
After reading it, a natural question immediately arises: what can be "accidental" here, what needs to be legalized? Corruption is one of the main problems of Russia, which is included in the list of the 50 most corrupt countries in the world. Many Russians in one way or another have come across its manifestations in real life. This is the extortion of bribes by officials for the performance of their official duties, and the employment of "thieves" children of officials for "bread" positions, and unheard of business preferences provided to relatives and friends of high-ranking civil servants, on which assets are then re-registered, etc. It should also be noted those generally accepted methods that are considered necessary for the fight against corruption. These include: real separation of the branches of government, real independence of the judiciary, creation of a real socially oriented state, reduction of the "secret" share of the federal budget, as well as getting rid of legislation from "holes", loopholes and ambiguities. With this input, we go further.
So, what did the State Duma deputies vote for on the eve? From the explanatory note to the draft law, it follows that a certain individual may be exempted from liability for violation of anti-corruption laws if the failure to comply with the restrictions and prohibitions imposed by them was the result of circumstances beyond his control. The latter are understood as natural disasters, earthquakes, hurricanes and floods, fires and strikes, terrorist attacks and military operations, as well as mass diseases, in other words, force majeure. The new law "covers" a wide range of state and municipal employees, which include: deputies, prosecutors, judges, military personnel, police officers, customs officers, employees of the Federal Penitentiary Service, the Security Council, the Accounts Chamber and the Bank of Russia. In accordance with the legislative novelty, all of them can be exempted from responsibility for "unintentional corruption".
It sounds extremely intriguing and, at first glance, completely incomprehensible. However, State Duma deputy Ernest Valeev still explained what exactly was meant. According to him, some citizens of the Russian Federation living in Crimea and Sevastopol cannot get access to information about their bank accounts left in Ukraine, which is why they are unable to comply with the requirements of the anti-corruption legislation of Russia to submit a tax return. Now it became a little clearer what was meant. True, the example with Ukraine seems a little far-fetched. The increased risk of government officials to fall under Western sanctions seems somewhat more realistic. For example, a "servant of the people" has some real estate in Italy or an account in a Swiss bank, but he himself was included in the sanctions lists of the European Union and the United States and is not able to personally fly to get a certificate, and local lawyers are afraid to work with him. Thus, the "sovereign's husband", who does not provide the declaration of property in a timely manner, turns into a violator of anti-corruption legislation. The new law on "unintentional corruption" is designed to cover it up.
Let's also pay attention to this type of force majeure as a mass disease. Obviously, certain conclusions were drawn from the forced "lockdown" when state bodies and institutions could not function normally. All officials listed in the bill are given a month to eliminate violations after the termination of force majeure circumstances. Is that all, is this an acute question settled?
No, not at all. The fact is that this legislative initiative is clearly redundant. Legal norms requiring disciplinary commissions to take into account all the circumstances, reasons and factors that led to the violation of anti-corruption legislation when determining punishment, existed before. Instead of helping to eliminate loopholes and ambiguities, the new law can only add them. In addition to the requirements for timely submission of declarations, there is, for example, the problem of conflict of interest. This is a situation in which the direct or indirect interest of an official affects the proper performance of his official duties. Here is what the State Duma website says about this:
The draft law stipulates that an individual is released from liability in the event that failure to comply with restrictions and prohibitions, requirements for the prevention or settlement of conflicts of interest and failure to fulfill obligations established in order to combat corruption is recognized as a consequence of circumstances beyond his control.
Let's try to imagine not only a positive but also a negative scenario. During force majeure, a wide space for the flight of creative imagination will open up for "knowledgeable" people. In case of fires and floods, hurricanes and earthquakes, strikes and mass diseases, all kinds of "corrupt" documents can be "accidentally" signed, but the "sovereigns" who have allowed a conflict of interests will now have something to cover up "one place" for themselves. Therefore, I would like to ask our legislators, why do they write about the "conflict of interest" separated by commas with "failure to fulfill the duties established in order to combat corruption"?