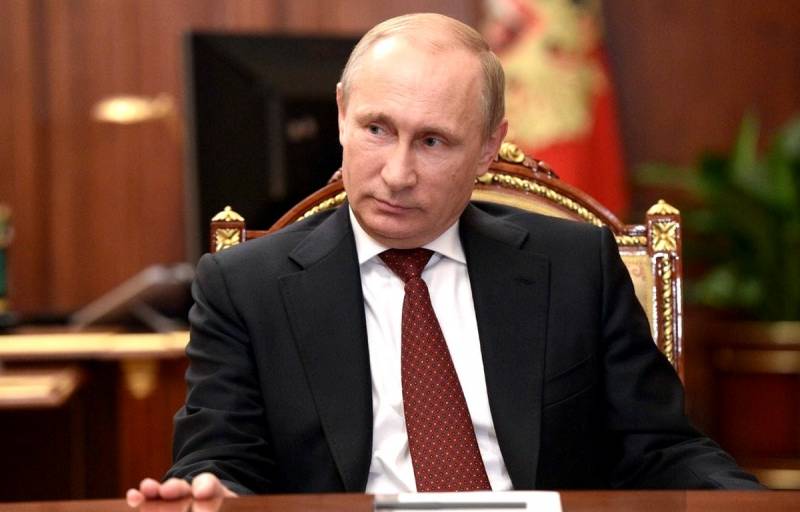 It can be argued with a high degree of certainty, as our Western "partners" like to say, that since the events of 2014, the biggest and longest "headache" for Russia has been the events in neighboring Ukraine, which the West has simply turned into its own anti-Russian foothold right next to us. ... With the exception of the only bright moment with the return of Crimea, everything else that is happening in this former fraternal Soviet republic in relation to the Russian Federation and its own not only Russian-speaking population can not be called a complete nightmare except as a complete nightmare. And all this cannot but worry the Russian leadership.
At the same time, the majority of its own citizens accuse this very leadership of a too soft attitude towards the openly Nazi regime that came to power in a neighboring country after the coup d'etat of 2014, and most importantly, the position of the Russian Federation on Donbass, which is not very clear to ordinary people. That is, the position is something like it is - "We will not quit Donbass!" - our leaders say, but ...
We won't quit, but ...
But there are still a lot of all sorts of these "buts", in all the nuances of which it is extremely difficult for an ordinary citizen to navigate. And these are their own
economic
interests, which, albeit in a truncated state, are still significant for the Russian Federation and individual Russian companies in Ukraine, and Nord Stream-2, which we cannot complete in any way, and any other sanctions / unsanctioned relations with the consolidated West, including the latter's open attempts to undermine the Russian regime by all means from within, and the unclear position of our other neighbors, including the post-Soviet states, and sufficient military risks, and much more, including purely humanitarian problems of the life of people in the so-called territories with unrecognized or undefined international status. And this applies not only to Donbass now or in the future, but also to Crimea, and not only to it.
Could there be some kind of solution to the Ukrainian issue on the part of Russia, in which all these "buts" would be, if not resolved, then taken into account as much as possible in order to minimize possible negative consequences for the Russian Federation itself? It turns out that it can. And perhaps there is such a plan ...
Plan. One of the possible
The most reasonable way out of this situation is to "return to the home harbor" after the Crimean peninsula and the rest of the former Ukrainian SSR, with the exception of the very Probander part of it - Galicia, which in fact is not Ukraine and never was. Moreover, no matter how strange it may seem to someone, this option is likely to suit absolutely all players involved in the process, with the exception of the United States. But they, in principle, are generally not satisfied with everything that they do not do themselves or what they, at least, do not manage. So there is nothing new here. And Russia in this case does not just "kill two birds with one stone" - these same "birds with one stone" literally line up in a column one at a time and fall immediately at least ten. But more on that later ...
I understand that the question immediately arises here, "How can we return the rest of Ukraine to our home harbor?" And I would leave this for later, but first I looked at what it can give us. Proceeding from the fact that it is better to consider possible ways of achieving a goal after a realistic assessment of the importance of this goal itself. Is it worth it, to put it simply.
What can Russia get from this? To begin with, the seven-year conflict in Donbass will be ended, which takes lives of people almost every day. Water will go to Crimea, and there will also be a direct land connection, with the bridge already through. And the Sea of ​​Azov will again become internal. The constant humiliation and restriction of the rights of Russian-speaking citizens by the Nazi Ukrainian regime will finally end. We will get back under our control a huge territory with a population close to us of more than 30 million people, with a gigantic economic potential and even greater military-strategic importance on the European continent and in the Black Sea region. Belarus will be protected from three sides by our fraternal embrace. The presence of a common border with Transnistria will immediately solve not only the security problem of this region that has existed since the collapse of the USSR, but, quite possibly, will radically change.
political
alignment in Moldova itself. Yes, well, how could it be without a pipe - the entire Ukrainian (and in fact, Soviet) GTS and the issue of gas transit through it will cease to be a constant stumbling block in various foreign policy debates and even international commercial projects such as "SP-2", which, by and large account, only because of this and slow down constantly. Since the current Ukrainian administration will simply disappear from these contractual chains. How will this dangerous pseudo-state abscess itself disappear right on our borders, constantly creating so much pain and anxiety. And in general, this will definitely solve a lot of any other issues, both recently urgent and those that have arisen as a result of the collapse of the Union. Including the most common, human, everyday ones.
Many people I know personally are really afraid to go to Ukraine to visit their families or to the graves of loved ones - there were precedents: they beat and cut wheels in a car right in the cemetery just for Moscow license plates. Or you can, for example, ask our truckers: How do they feel on this godforsaken land? Many on the way to southern Europe would rather make a detour of several hundred kilometers through Belarus and the Schengen countries, just not to get there. Unfortunately, there are many such examples from ordinary life. That is, the benefits of returning all this to their home harbor are more than enough.
But, oddly enough, even some of our sworn "partners" in the West may well become beneficiaries in this situation. Europeans in general and Germans in particular will receive their gas transit without incidents, from all sides, at an affordable price and on predictable conditions. And they can continue to calmly build their "green energy" without fear of freezing, if anything. And Europe, despite all its allegedly pro-Ukrainian rhetoric, is far from enthusiastic about the long-term smoldering armed conflict right on the doorstep of the "Schengen" - the criminogenic situation inevitably generated by all this, including the illegal circulation of a wide variety of weapons, inevitably seeps through not very well protected external borders of the EU. Everyone there got tired of the absolutely unpredictable actions of the Ukrainian leaders steeped in corruption.
And the most active East European NATO members - the Poles, most likely, immediately or a little later, but in one way or another will receive at their complete disposal a part of the Ukrainian territory, which previously was, one might say so, their property - this very Galicia. It is difficult to imagine that this piece of land, after separation from Ukraine, will remain at least somehow independent, if Nezalezhnaya itself did not succeed. The United States is unlikely to be interested in the direct management of such a "pot-bellied little thing" on a geopolitical scale - it will be blamed on its subordinates, and Poland is unlikely to have adequate competition among its neighbors, so there is nothing for it. This, by the way, will help to solve another important problem in this territory - the so-called Bandera movement.
Now the Poles tolerate all this in a neighboring country with difficulty, and that is solely out of modern political necessity, or maybe directly by order from across the ocean. But in the second half of the forties of the last century, immediately after the end of the war, when Bandera troops were also massively wielding on Polish and Czechoslovak soil, our Eastern European neighbors did not feel the slightest sympathy for them, even when they were not even then officially "fraternal and socialist ". And this is just in contrast to the same in the USSR, where, for the sake of allegedly preserving good interethnic relations within the country, the members of these gangs were treated too softly. Most of them were captured and disarmed from us, some of them later received a term, and many were generally amnestied and literally dismissed to their homes - the brotherly people, the Ukrainians ...
Now it is they and their offspring who are marching all over Ukraine with torches and under Nazi banners ... But the Czechs and Poles did not have such moral problems, and they simply destroyed them. Everyone. At the root. Such an order was received there at the very beginning of 1946, all parts of the army, police and border troops, aimed at eliminating armed bands. Even those Banderites who surrendered were, as a rule, shot immediately after interrogation - these people have done a lot of evil wherever they appeared. So, and for all their Russophobia, it is not worth expecting from the Poles some favors to the followers of these forest "heroes" - if Russians in Poland are disliked and afraid of, then they are not afraid of any Bandera scum at all, while they fiercely hate, and this is not even because of politics, but directly at the folk, genetic level. That is, we can expect from this a solution to another long-standing problem - debanderization, if I may say so. If someone does not believe, it is solely out of ignorance of history - the Poles will simply wipe them off the face of the earth as soon as they have a real opportunity to do so.
What will we get for this?
From the above, it follows that here, even with an obvious enemy, in some way, it is possible, albeit partially, but to come to an agreement - to conclude, so to speak, a mutually beneficial pact ... There has already been such a thing in history. Maybe an unspoken one ... They will shout there, of course, for the sake of order and they will shout with weapons at the border, and they themselves will simply wait for the completion of the operation. And if the Poles will not go to fight for Ukraine (and they will not go), then all the other Europeans will be even more so. Yes, and the Americans will not, it is not for nothing that they with all their might and everywhere emphasize: Ukraine is not NATO. Unnecessary military
machinery
to sell, to incite to Russia is one thing, but because of all this, to enter a new World War with an enemy equal in strength is quite another.
Sanctions? Well it will be of course. Probably even tough. Maybe they will finally turn off Swift, although this is unlikely - how then to pay for the same oil and gas? Although we lived without Swift somehow before? So this time we will not die ... Maybe even a new "iron curtain" will appear ... But I hope that everyone who has brains has long understood that sanctions against the Russian Federation are not FOR something that Russia is doing something "wrong", it is against Russia in general. In order not to develop. Just because it is doing the right thing for itself and in every possible way sabotaging the process of its own destruction, so necessary for the West. In the nineties they already thought everything, the end of us ... We were glad. And here it is ... So all these same sanctions that they can, they will impose against us anyway. And if they don't find a pretext, they themselves blind him - Skripali, Navalny, chemical weapons, human rights, even doping from our Paralympians - all from the same series. Maybe more troops will be dragged to the borders, strike missiles will finally be openly placed in the mines of their European missile defense system.
The only difference will be that if the operation described is successful, it will not be just Russia that will resist all this, but something already much more similar to the Soviet Union. And this is a completely different alignment. In this case, they will have to put their "iron curtain" on their own borders, and not on the Russian-Ukrainian one. And our people will support, that's for sure. It will rally even more - this is our national trait. It is worth remembering the rise in patriotism that happened after the return of Crimea. And if it is all of Ukraine? ...
The possible prize in case of a win seems to have been sorted out. I understand that here now some will say - how much more money needs to be pumped into it, how much hard work to invest, how many different scum to re-educate, who have been massively raised there over the past thirty years ... It's all true. But only scum there is still far from the majority of the population, and everything else is also far from the first time for us. And it's worth it. Definitely. During the Great Patriotic War, we sacrificed millions of lives for this land, and at the same time it was in a much worse condition, from a purely technical point of view. And this time, such sacrifices will definitely not be needed. Yes, and these same scum, too, can be attracted to the restoration of everything that for thirty years they have gouged, as once the German prisoners of war. The most "fat" ones, who will not have time or will not want to escape to the West, organize accordingly, rigidly, and ... march in columns of four to the objects of the national economy. Yes, and dress them all, of course, in warm and comfortable work clothes - quilted jackets.
Now about "how"
There is no reason to expect that the regime in Ukraine that is no longer independent, which is, in fact, a Western protectorate, will be replaced in some legal way. Especially with a glance at the latest undertakings of the local authorities to harshly clean up everything that can be called the internal political opposition.
For the Crimean scenario, right now, on the entire Ukrainian territory, the free expression of the will of the population is unlikely to be ensured in the same way - there the base of the Black Sea Fleet of the Russian Federation in Sevastopol and some other serious forces acted as a guarantee. And this is all we have in Ukraine nowhere else. Until.
The absolutely marasmic actions of the Ukrainian authorities led by President Zelensky in recent years clearly indicate that Ukraine under their leadership is definitely not seeking any compromise with Russia and Donbass. Rather, the opposite is true. Although it is not entirely clear what, in fact, the local "elite" is counting on. Something like "abroad will help us"? - Yeah ... Already helped. On the example of vaccines, everything, in my opinion, has become quite clear. So does Kiev really believe that the West will shed the blood of its soldiers for them, not to mention endangering its own existence? No matter how strange it may seem, it seems that this is what they believe. All the better.
The most real hostilities in Donbass have already flared up with renewed vigor. Apparently, they will go only on the rise. Or if someone thinks that a hundred arrivals of heavy calibers a day is not a war, then what? That is, the Russian Federation, as the guarantor of the implementation of the Minsk Agreements, will clearly have to finally fulfill its responsibilities. Moreover, that is exactly what everyone demands from her.
The only question now is what framework Russia itself will limit itself to in this mission. And nothing else. If we consider the above-described plan, then a targeted, but massive missile strike on "places of decision-making", strategic depots and places of deployment of tactical forces, I think, will be just right. This is immediately after the official announcement of the peace enforcement operation - we, as they say in the classics, "honor the criminal code" and everyone's beloved International Law. And then it will be necessary to repeat, purely in a military sense, the experience of 1968 in Czechoslovakia - an exemplary seizure of an entire state, practically without losses and special excesses. And in this case, one can hardly count on a weak resistance of the population, such as the Czechoslovak one at that time - there is no one and nothing for people to stand for, and they understand this very well. The resistance of individual military units, most likely, will differ little from the Czech ones, and maybe in general this is exactly what the Crimean alignment will turn out to be - very likely. Theoretically, the "Czech version" can come out without a preliminary missile strike - I do not have adequate intelligence on Ukraine to assess the situation, but whoever needs it, I am sure, has it. So they know better. If possible, push active Banderlogists to Galicia. And leave the Poles there - let them figure it out. In my opinion, quite a realistic plan. As a reasoning on this topic. I am not a politician and not an active military leader - I can quite afford such reasoning. Purely in a theoretical plane, of course, not calling anyone to anything. And the real decision, of course, is in the hands of those who have real power in their hands.
Playing long?
Putin once, I remember, said: "... if a fight is inevitable, then you must hit first!" A fight with the Ukrainian regime, if you can call it that, seems to be inevitable. So, in this case, will our president behave in accordance with his own declared principles? Or is there some other plan? He himself has also said more than once that he is "playing the long game" ... But in the past seven years, in relation to today's Ukraine, it seems to me, this has been quite a long time. Everything that was supposed to become visible and understandable during this time has already become exactly that. And everything, even the longest, must have an end somewhere.
Someone will say that we are not ready for this yet - they say, we are not yet strong enough. And here I will turn to history again: June 1941 - when we were preparing for war! From the very beginning of the thirties almost! If not even earlier ... And our army then initially was certainly no worse than the German one, and intelligence worked, and there were no fools at the head of the state either ... But the enemy still managed to catch us by surprise ... the country is not lost. Then they beat everything back for a terrible price, with incredible efforts and terrible blood. Maybe you shouldn't repeat your own mistakes? Especially in the Second World War, which we set everywhere and everywhere to everyone, and most importantly to ourselves, as an example. After all, the fact that all really brotherly Ukrainian people are being prepared simply for slaughter, and in a war against us, is incomprehensible except to a complete idiot. And the space for retreat in our current position is already much less than in XNUMX ... So, we will wait again and again will not "succumb to provocations"? Or will we make the right decision and, most importantly, on time?