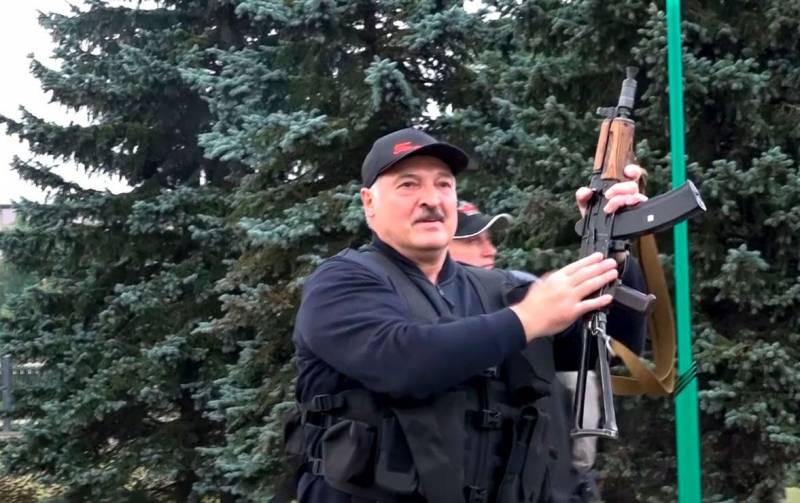 The self-styled "president" of Belarus Svetlana Tikhanovskaya, who will soon surpass even many "stars" of show business in the number of interviews she gives to the Western media, during one of those - the German edition of Bild am Sonntag, once again "sentenced" the legitimate government of Minsk. She stated that the "regime" will not only "fall during this year," but named an even more precise date, specifying that "Lukashenka will leave this spring," that is, literally in the next three months. They say that "the pressure inside the country will grow day by day" with such force that it will become "unbearable" for the "dad" and he will finally release the coveted presidential chair for citizen Tikhanovskaya.
Alas and ah - the first spring day brought an event that makes one think that the current loud words of the main Belarusian "Maidan woman" will suffer the fate of her previous "predictions". That is, they will come true exactly the opposite. On March 1, 2021, not just amendments to the Code of Administrative Offenses came into force in Belarus, but a new version of this legal document, which is very noticeably different from the previous one. Upon closer examination, it becomes clear - at the legislative level, the plans of the "zmagars" and their masters have been dealt a fatal blow.
"Antimaydan" in monetary terms
No, we are not even close to talking about any "repressions" and bloody horrors like shootings on the spot or mass "plantings" of dissatisfied people. The work done by Belarusian lawyers, whose lawmaking was probably inspired by the fatherly instructions of Lukashenka himself and was corrected by the advice of practitioners who have been opposing the "whitemaidan" for several months in a row, arouses a sincere desire to applaud from the bottom of their hearts. Nicely done - you will not say anything! Subtle, elegant and at the same time extremely practical. As a matter of fact, Minsk is following exactly the path of Europe, so adoring to reproach it for "totalitarianism" and "tyranny". They do not intend to beat the heads or other parts of their delicate organisms with gnarled clubs, they do not intend to rot in the gloomy prison dungeons of homegrown boozoters and loitering whips who have taken it into their heads to play with "revolution". They will simply be forced to pay for every disgrace they create! But to pay, as they say, at the highest level.
To tell the truth, the specific amounts of fines that are now awaiting the "Maidan" are very impressive. Let's "go through" at least the main points - really, it's worth it! So, participation in unauthorized mass events (processions, rallies and the like) itself can now cost 2900 Belarusian rubles (83 Russian). This is the maximum amount of the fine. The minimum is three times less. But only for the first time. Repeated prosecution under the same article will already cost the culprit up to 5800 Belarusian rubles (about 165 thousand Russian rubles, respectively). At the same time, you can also get yourself under the administrative rest - for a 15-day imprisonment. If, again, within a year there is a desire to repeat this exciting experience, you can "land" on the bunk for the entire 30 days.
Particular disappointment awaits the monasteries to tease law enforcement officers and other representatives of the authorities with "revolutionary" white-red-white symbols (mockingly called "lard-meat-lard" by opponents of the "Maidan" in Belarus itself). The General Prosecutor's Office of the country intends to recognize this as "extremist", and there is no doubt that it does. In any case, the corresponding article of the Code was clearly prescribed for this. So - the use of prohibited symbols (not to mention its distribution, and, moreover, manufacturing) will become a very costly business. For an ordinary citizen, it will cost a fine from 145 to 580 Belarusian rubles (4 - 16.5 thousand Russian rubles). An individual entrepreneur indulging in the same tricks will pay twice as much, a legal entity caught on a similar one - four times. It should be noted that, in fact, all penalties for those acts that are especially characteristic of "revolutionaries" have been increased at least twice.
For example, the maximum amount that will have to be paid for disobeying a police officer is now also 2900 Belarusian rubles. And this, by the way, does not at all guarantee the absence of a "bonus" in the form of the same 15 days or not too burdensome, but very shameful public works. Not left unattended and those citizens who are eager to "Maidan" without leaving the comfortable salons of their own cars. For blocking traffic in places of mass events under the new Code, you can pay up to 1450 Belarusian rubles (more than 40 thousand Russian rubles) and even be left without a license for a year or two. For encouraging the "protesters" by giving a sound signal to the motorist, a fine of 290 Belarusian rubles (8.3 thousand Russian rubles) is "shone". He will also be given an excellent opportunity to take part in the "protest marches" himself, but this time exclusively on foot. Rights for "beeping" out of place and at the wrong time can easily be deprived for a year.
Will pay all
It was not by chance that I suggested that the amendments to the Code were adopted after serious consultations with law enforcement officers who have been dealing with the Maidan for a long time, who have thoroughly studied its strategy, tactics, and, most importantly, weaknesses. Because it is precisely on the most important "pain points" that the blows are delivered. It's not a secret for anyone that the organizers and leaders of every "color revolution", wherever they take place, rely, first of all, on young people and adolescents. They are easy-going, love noisy gatherings, and it's much easier to fool their heads than people with any kind of life experience. Belarus is not an exception to this rule. But now there are parents whose beloved "onizhedets" instead of studying or normal rest decided to join the ranks of "zmagars", will have quite tangible financial problems. The child caught at the "protests" will cost the family a substantial sum - up to 870 Belarusian rubles (almost 25 thousand Russian rubles). But this is in the event that it itself went there. As the deputy head of the presidential administration of Belarus Olga Chupris said, would-be parents who themselves involve children in taking part in unauthorized mass events will bear additional responsibility, as they pose a threat to their health and life. More than fair, in my opinion ...
Generally speaking, those who developed the new edition of the Code did it taking into account all modern realities and subtleties of our life. For example, an extremely unpleasant (for someone who manages to please) article on insulting an official provides for responsibility not only for literal spitting in the face, but also for damage to honor and dignity inflicted in a public speech. What is important, from now on, speaking not only in the media, but also on the Internet is equated with this. Amounts - oh-she-she ... Up to 5800 Belarusian rubles, which "for our money" is, as I said, almost 165 thousand. For legal entities, by the way, the responsibility is even tougher.
Of particular note is the sharp increase in liability for "deliberate illegal collection, processing and disclosure" of personal data of citizens. I remember that "President Sveta" called on Belarusian police officers to "collect evidence of crimes" from their own colleagues and even promised to launch a special "Report" system for such Judas on the Internet. There were no traitors in the militia ranks, but Mikalai Autukhovich, who was later detained by the KGB for arson and explosions of the property of law enforcement officers, frankly admitted that he had obtained the addresses of the victims in the materials of Telegram channels like NEXTA, which were precisely engaged in activities that fully fell under the above article.
Let me clarify that earlier it, in fact, extended only to those who were entrusted with personal data due to their professional activities and those who did not provide reliable protection of such information. Now a fine of 1450 Belarusian rubles awaits anyone who allows himself to get into the personal data of compatriots, and even more so, to distribute them wherever and in any way. With regard to the media, including electronic media, Belarusian lawyers, clearly inheriting our domestic experience, introduced responsibility not only for receiving assistance from foreign states, but also for sponsoring from "anonymous benefactors". The penalties here are very impressive, and the funds received in such dubious ways are also subject to confiscation. Alternatively - along with other property. The punishment has also been toughened (even for resources not registered as online publications) for "disseminating prohibited information," which means, first of all, all sorts of extremist calls.
Someone might say, "Nightmare! Terror! Tightening the nuts to the limit! So that's why the Belarusians rebelled! " Let me disagree, and in the most categorical way. People who are "downtrodden", "crushed", "intimidated" and so on do not like the "Maidans" ever and in any case. The history of such examples does not know. If the citizens were drawn to "pamidanate", then this means just that they have too many rights and free time. And the new laws are not so "draconian" either. They simply embody the famous principle that everything in this life must be paid for. And, by the way, in the new edition of the Belarusian Code, attention is paid not only to one trick of the "zmagars". For example, it will be very upsetting for the drivers who allowed themselves to get behind the wheel "drunk". The "old" punishment in the form of a fine of 2900 Belarusian rubles and deprivation of rights for three years now applies only to those whose blood alcohol content does not exceed 0.8 ppm. Those who "took on the chest" a more serious dose will have to pay twice and walk a whole five years on foot. As you can see - no
policy
... And, by the way, in the new version of the Administrative Code, all its violations are for the first time divided into three categories - misdemeanors, significant and gross offenses. For those whose actions will be attributed to the first part, the responsibility is likely to be limited to verbal suggestion (for the first time). Well, the rest will have to answer in full.
What can you say here? Keep it up, Alexander Grigorievich! No need to beat the "zmagars" with truncheons - beat them with a ruble, but it hurts! It will come out more mercifully, and certainly more effective.