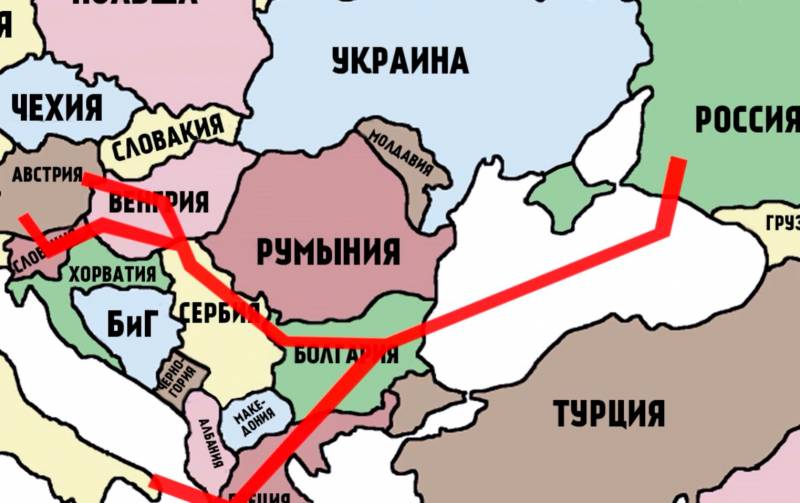 Since the beginning of this year, the Russian Balkan Stream gas pipeline has been operational in southern Europe. The history of its construction and the consequences for some countries of the failure of the South Stream project should be a lesson for those who are now carrying out the orders of the United States. In particular, for Germany, where the fate of the completion of Nord Stream 2 is being decided.
But back to our southern highways. Since October 2021, the EU countries have booked increased volumes of gas supplies through the Turkish Stream. This will compensate for the losses that Russia could have incurred due to a decrease in the consumption of our gas by Turkey.
In turn, through the Balkan Stream, which started operating this year, blue fuel will be delivered through Serbia to Hungary and then to Slovakia and Austria. At the same time, the Serbs, cooperating with Russia, receive enormous benefits. From January this year, gas for this country will cost $ 155 per 1000 cubic meters instead of $ 240. In addition, supplies to Hungary will begin in autumn, and Serbia will start earning additional money on transit.
Bulgaria was much less fortunate. Yes, the "Balkan Stream" also passes through its territory. However, the country could have received an immeasurably great benefit if the South Stream project had not been abandoned in due time.
The sabotage was caused by the recommendations of the European Parliament and Washington. The latter lobbied for the construction of the Nabucco pipeline, through which gas from the Caspian Sea would flow to Bulgaria, and then to the EU, bypassing Russia.
Have you built it? Yes, but a stripped-down version and, ironically, not through the territory of Bulgaria. As a result, the country lost almost a decade and spoiled relations with Russia, receiving nothing in return. Therefore, the Germans should pay attention to this story before making decisions to please Washington.