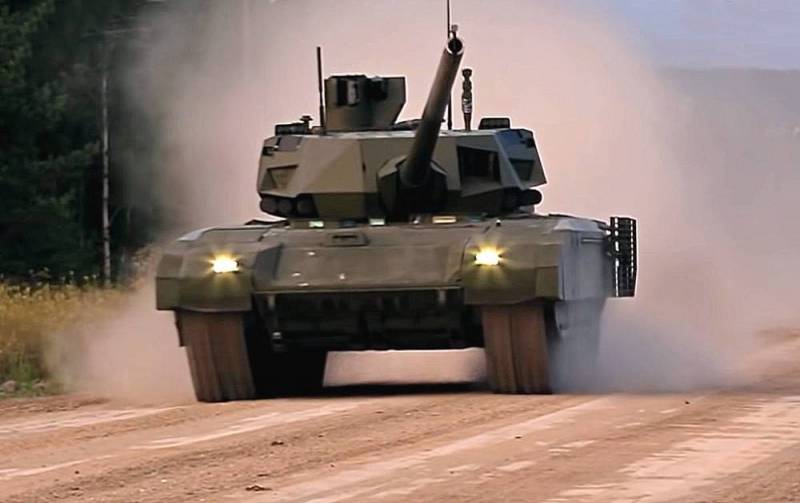 Beijing is currently deploying its latest Type 15 light tanks (ZTQ-15 - weight 33-36 tons) in Ladakh and is increasing pressure in this mountainous region. Against the background of the strengthening of the PRC, New Delhi should pay attention to the Russian T-14 Armata tanks and buy them, writes the Indian edition of the EurAsian Times.
Over the past nine months, two Asian neighbors have been in confrontation for the high-mountain plateau of East Ladakh (up to 7672 m). It is extremely cold and very little oxygen, but New Delhi and Beijing stubbornly keep their soldiers there with cannons and tanks. For example, India sent a large number of T-90 and T-72 tanks there.
Tanks T-14 "Armata" are capable of operating at temperatures down to -50 degrees Celsius. This is extremely attractive for India, given the climatic features of the area. The combat vehicle is equipped with an armored capsule for the crew, life support systems and even a mini power plant. But is India interested in buying the T-14?
According to American analysts, about 86% of all weapons in India are of Russian origin. Moreover, they call the "Armata" a unique universal heavy combat platform.
The Indian authorities have not yet made any official statements on this matter. However, military observer Peter Suciu believes that India's interest in purchasing advanced T-14 tanks will not come as a big surprise. He noted the traditional military-technical cooperation partnership between New Delhi and Moscow.
Suciu is confident that the purchase of "Armata" will be a profitable and correct investment for India. The T-14 will be a major deterrent for China. At the same time, the Chinese are unlikely to dare to buy tanks from Russia. Now is the best time for Indians to acquire the latest development in the field of tank building, because the Russians are just looking for clients. The main thing is not to miss the moment.