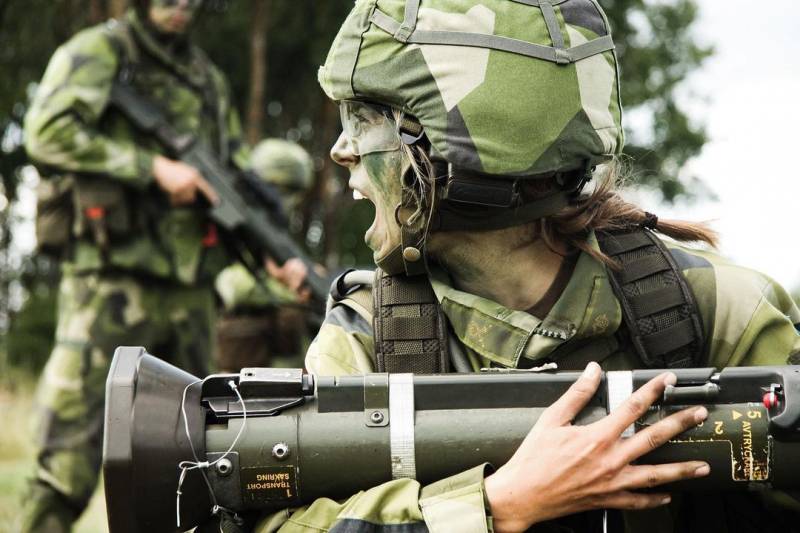 For several years in a row, Stockholm has been strengthening its defense potential, preparing for an armed conflict with Moscow, writes the Polish website Konflikty.pl.
It is obvious that these actions are a response to Russia's aggressive position in the region. In recent years, Moscow has carried out a series of provocations against neutral Sweden. In 2013, during a training exercise, she simulated an attack on her territory, while the sea borders and airspace of Sweden were repeatedly violated.

- approved in the text.
It is noted that the Swedish authorities are alarmed by the actions of the Russian Federation in Ukraine, and now, according to their plan, the number of armed forces will rise from the current 60 to 000 soldiers.
By 2025, the Navy will receive two A26 submarines. Five Visby-class corvettes will also be upgraded, carrying new anti-ship missiles, torpedoes and an air defense system. This will allow them to remain in service until 2040. In addition, by the end of 2030, the next generation Visby is to be commissioned.
Sweden extended the service life of the Gripen C and D versions due to the high cost of the Gripen E, which was originally intended to replace older aircraft.
Among other things, the Swedes have recreated an extensive project of the so-called total defense (Totalförsvaret), consisting of a bunch of regular armed forces and civil defense. It can involve all citizens between the ages of 16 and 70, who can be entrusted with various tasks.
Of particular interest are plans to further expand military infrastructure in Gotland. In 2017, Sweden decided to resume the activities of the Gotland Regiment, which was liquidated in 2005. Two years later it is planned to place an air defense system here.
Due to its location, Gotland is of strategic importance: it allows tracking the movement of ships in the Baltic Sea. In the event of a hypothetical invasion of Swedish territory, Gotland will become one of the landing points

- the article says.
In addition, the Swedes are trying to strengthen their military potential in the northern part of the country, where cooperation with Norway and Finland is strengthening.
In Stockholm and Helsinki, meanwhile, debate continues on the possibility of ending neutrality and joining the North Atlantic Alliance.
Stockholm understands that it is not in a position to resist possible aggression from Russia alone. Therefore, it is more and more important to closely cooperate with NATO countries, including the United States.

- the analysis says.