On January 23, 2021, the USS Donald Cook ("Donald Cook", DDG-75) destroyer entered the Black Sea. He was immediately taken under observation by the Black Sea Fleet of the Russian Navy.
On the same day, the aviation of the Russian Aerospace Forces carried out testing of the conditional destruction of the specified American warship. Twitter
Cyber ​​Diver
published a diagram of approximate flight routes for Russian aircraft participating in the training operation.
In total, six aircraft were involved from two air bases in the Crimea: a pair of Su-27 and Su-30SM fighters, as well as two Su-24M front-line bombers. It is shown that first the Su-27 and Su-30SM go into the attack, and the Su-24M is carrying out the finishing off of a potential enemy.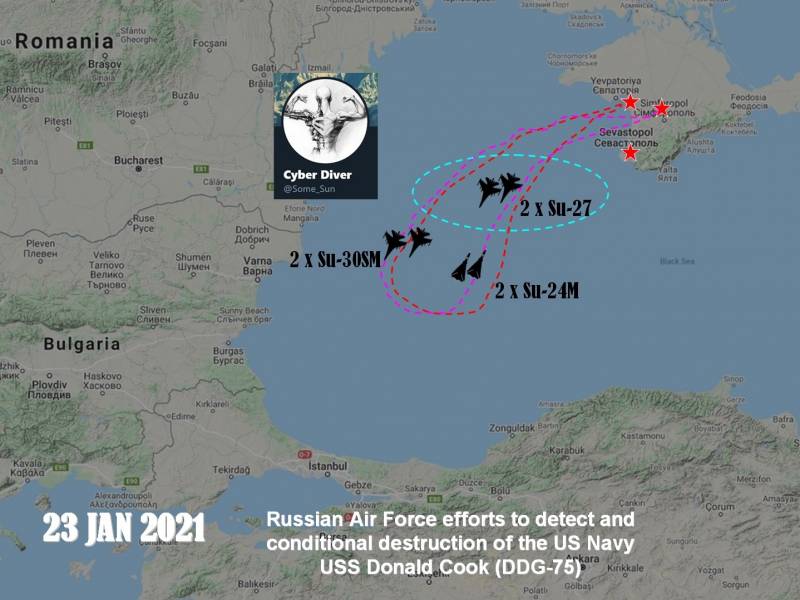 It should be noted that "Donald Cook" (in service since 1998) since 2014 has been in the 6th Fleet of the US Navy. He often appears at the borders of the Russian Federation in the Black and Baltic Seas, so he had to experience the attention of the Russian military more than once.
The Americans call their voyages to these seas useful for their allies and for "ensuring the safety of navigation." According to the Montreux Convention, "Donald Cook" can stay in the Black Sea for no more than 21 days in order to return again after some time. The last time before this, the ship entered the Black Sea in November 2020.