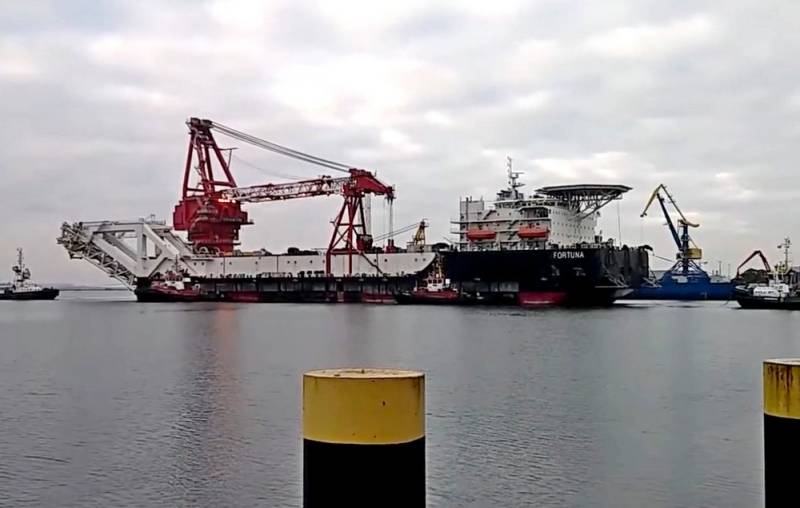 The Russian pipe-laying vessels Akademik Chersky and Fortuna have arrived in the area of ​​the section of the Nord Stream-2 pipeline, which is yet to be completed in the waters near Germany and Denmark. According to the Danish military department, work on the pipeline was supposed to resume on January 15, but a representative of the operator Nord Stream 2 AG pointed out to Handelsblatt a delay due to the study of the equipment.
Barge Fortuna is approaching a site off the coast of Denmark. Prior to this, the pipe-laying vessel was in the port of Wismar, and then for six days in Rostock.
Next on "Fortuna" from Muran to the place of work on the SP-2, the supply ship Venie is sent. Four other supply vessels are stationed in Mukran to support the construction of the Russian pipeline.
On the territory of work on the "Nord Stream-2" there are already ships "Baltic Researcher", as well as the pipe-laying vessel "Akademik Chersky". At the end of September, "Chersky" was equipped with additional equipment, and in October it underwent new sea trials, but did not start work - it is assumed that this is due to the new sanctions of the United States Congress against the certifiers of SP-2 vessels and their equipment, after which the project left Norwegian DNV.
To complete the construction of the pipeline in Danish waters, it remains to build another 47 km along one branch and 70 km along the other. These areas are smaller near the German coast - 13,9 and 16,5 km. Apparently, the Russian vessels are determined to complete work on the SP-2.