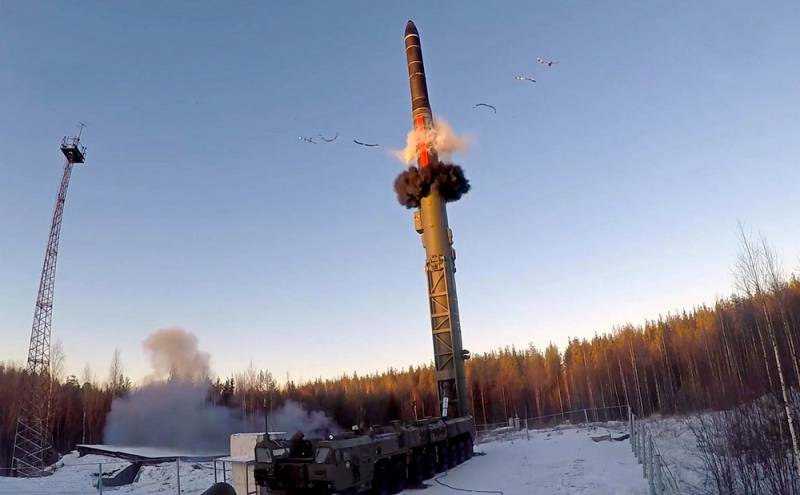 The US Air Force National Aerospace Intelligence Center (NASIC) has released a public report on the ballistic and cruise missile threats to the United States from China, Iran, North Korea and Russia. This document was reviewed by the Federation of American Scientists (FAS), presenting its findings and conclusions. The Drive writes about ballistic missiles of America's potential adversaries. Here are the data for Russia.
Since the publication of the previous report, Russians have been developing various versions of the "superweapon" presented by President Vladimir Putin in early 2018. Beyond these ambitious projects, Moscow has continued to modernize existing elements of its strategic nuclear triad, while deploying new cruise missiles in violation of START.
With regard to the total number of warheads for Russian ground-based ICBMs and SLBMs, NASIC's figure of about 1400 warheads is very close to the FAS 1420 and START-3 1447 warheads. actually installed on missiles. Overall, that number is down from the "over 1500" reported in 2017, and NASIC predicts that numbers will continue to decline as a result of treaty restrictions, the retirement of obsolete weapons and budget cuts.
FAS focuses on data on the RS-26 Rubezh missile, also known as the SS-X-28. The RS-26 is an intercontinental ballistic missile, which, however, can be launched at a range of 2000 km, which automatically makes it a medium-range missile. According to NASIC information from 2018, the weapon is still under development. However, many other sources, including The War Zone, argue that Moscow appears to have abandoned work on the RS-26 due to lack of funding, which is consistent with the lack of any official data on the development of the missile after 2018.
According to American analysts, the intelligence report figures on the warheads of Russia's ICBMs and SLBMs may also be inaccurate. If NASIC's data on 1000 nuclear warheads on intercontinental ballistic missiles are correct, then the Russian Navy's SLBM stockpile should also be less than commonly believed.