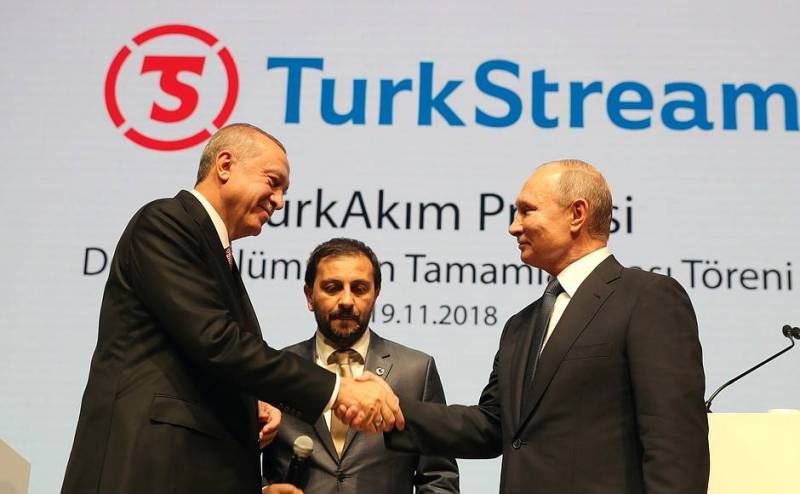 Russia, Bulgaria and Serbia have demonstrated how to build gas pipelines bypassing the EU legislation, which de facto strengthened Moscow's monopoly control in Southeast Europe, writes the Polish online edition Biznes Alert.
The European (land) part of the Turkish Stream was named the Balkan Stream. This is how they managed to disguise the gas pipeline, mislead the public and, as a result, skillfully deceive EU officials with their revised gas directive extending the requirements of the Third Energy Package to offshore pipelines.
7 years ago, Brussels managed to prevent the construction of the South Stream. The new pipeline is the second embodiment of South Stream, which, together with Nord Stream and Nord Stream 2, should free Gazprom from Ukrainian transit.
The section of the "Balkan Stream" on the Bulgarian territory is 474 km, its capacity is 15,8 billion kom. meters of gas per year. From Bulgaria, Russian energy raw materials are sent to Serbia, Greece and Macedonia.
On January 1, 2021, Serbian President Aleksandar Vucic inaugurated the Serbian section of the European section of the gas pipeline near the city of Novi Sad. In fact, this is the second string of the Turkish Stream, the first is dedicated to the needs of Turkey.
The Serbian section is 403 km long and has a capacity of 13,88 billion cubic meters. m per year. Serbia will still consume 2,2 billion cubic meters. m of gas per year (planned to grow to 4 billion cubic meters per year), and the cost of raw materials for Belgrade will amount to $ 155 per 1 cubic meters. m, plus another $ 12- $ 14 for transit. From Serbia, "blue fuel" will be sent to Bosnia and Herzegovina (0,3 billion cubic meters per year), Hungary (6 billion cubic meters per year) and Austria (3,75 billion cubic meters per year).
After that, Serbia was in the center of attention of the whole of Europe, although in reality this country should be Bulgaria, an EU member. Sofia was a key element, she reached an agreement with Moscow and, without attracting attention, quietly implemented the most important part of the project.
Russia and the Balkan countries have reached a gentlemen's agreement. Unlike South Stream, Gazprom did not formally participate in the construction of the continuation of the Turkish Stream in Europe. The investments were made by Bulgaria and Serbia themselves, who called this enterprise not a transit gas pipeline, but an expansion of their internal transit network. This is how the Russian Federation and the Balkans outwitted the EU, and at the same time deprived Ukraine of transit.
The United States has pledged sanctions against companies involved in the Turkish Stream and Nord Stream 2 projects. But 90% of the capacity of the Balkan Stream has already been reserved for 20 years ahead and hardly anyone can prevent Gazprom from implementing its plans, the media from Poland summed up.