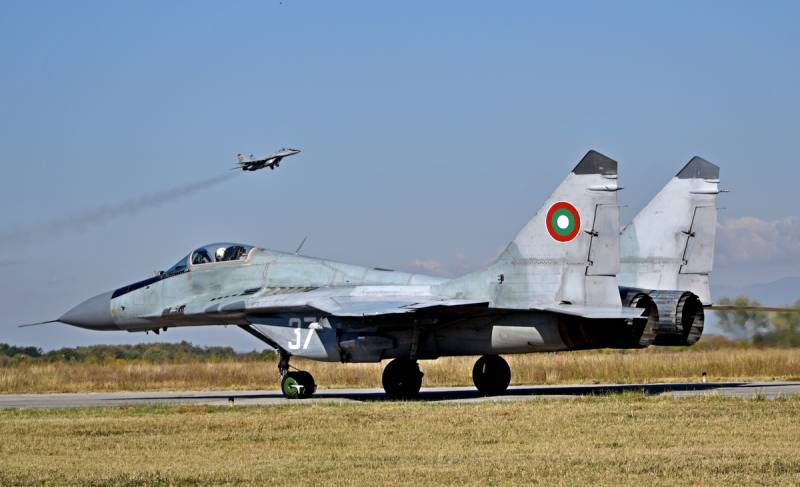 The aircraft building company RSK MiG JSC will pay Sofia a millionth fine. The Russians did not have enough time and they failed the repair of eight MiG-29 units of the Bulgarian Air Force, writes the Ukrainian portal Defense Express.
At the end of November 2018, the Bulgarian government allocated about 80 million leva (almost 40,5 million euros) for the modernization of these aircraft, which were in an unsatisfactory technical condition and could not operate. In total, the Bulgarian Air Force has 15 MiG-29 units.
At present, JSC RSK MiG has paid the Bulgarians 186 thousand euros in compensation for delays, and the Russians must pay about 650 thousand euros by the end of March 2021. The total sum will be about 836 thousand euros (about $ 1 million).
The reason for the penalties is simple - RSK MiG JSC violated the terms stipulated in the agreement. The contractor must complete all the work by mid-2021, but in fact the Russians will not be able to cope in the remaining time. The upgraded MiG-29s are to become part of the NATO air police force under the Bulgarian quota.
The renovation of the Bulgarian Air Force fleet is planned to be carried out in 2023-2024. By this time, Sofia is to receive eight F-16 Block 70s from Washington, the delivery of which will cost the Bulgarians $ 1,2 billion. After receiving these aircraft from the United States, the Bulgarian government expects to sell part of the existing MiG-29s.
By the end of February 2021, the Bulgarian Air Force will receive eight Su-25s that have undergone overhaul and refurbishment at the 558th Aviation Repair Plant OJSC in Baranovichi (Belarus). The Bulgarians also ordered these works in November 2018, paying the Belarusians $ 49,2 million.
The agreement with Belarus also provides for an option to repair six more Su-25s of the Bulgarian Air Force. However, it will not be possible to implement it because of the EU sanctions against Minsk, the online publication from Ukraine summed up.