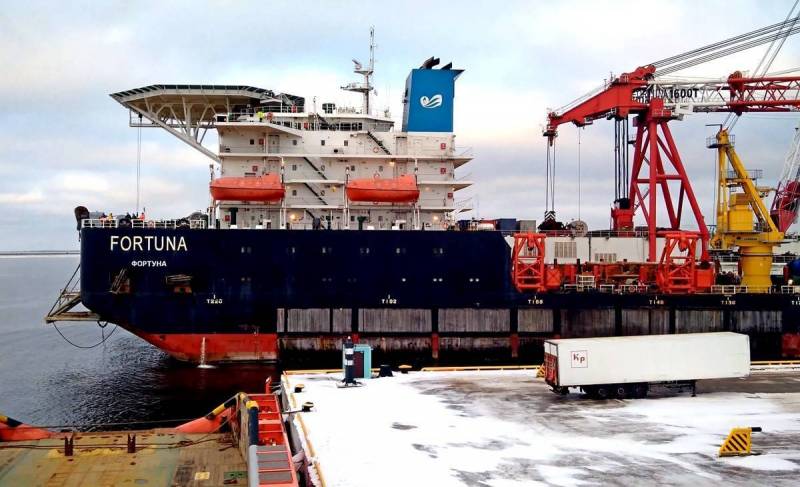 The United States notified Germany that from January 19, 2021, it will impose sanctions against the owner of the pipe-laying barge Fortuna, which is to begin the completion of the Nord Stream 2 gas pipeline in Danish waters, the German newspaper Handelsblatt writes.
A spokesman for the US Embassy in Berlin said that Washington "will continue to take all necessary and reasonable measures" to terminate the implementation of the Nord Stream 2 gas transmission project. He expressed the hope that the FRG authorities will change their attitude towards the said pipeline. The diplomat stressed that Nord Stream 2 poses a threat to "the vital national security interests of European partners and the United States."
KVT-Rus LLC (authorized capital of 1 thousand rubles), which became the ship owner in October 2020, having bought the TUB from Universal Transport Group LLC, will fall under American restrictions. Prior to that, the ship belonged to the Luxembourg company Maritime Construction Services and was in bareboat charter (charter or lease agreement) with Mezhregiontruboprovodstroy JSC.
According to the Russian International Register of Ships, KBT-Rus LLC has only one staff member, its head is Sergey Viktorovich Malkov. It is not clear how a practically non-leading business firm could buy a ship that, according to information from Edison Capital Partners SA, costs more than $ 150 million.
Thus, the Russians have resold Fortuna several times in a short period of time and have minimized the possible consequences of the American influence. It is obvious that Russia has taken the ship and the former owners out of the US strike in advance. At present, a whole fleet of supply vessels is in the area of ​​the resumption of work in the Baltic, the publication concluded.