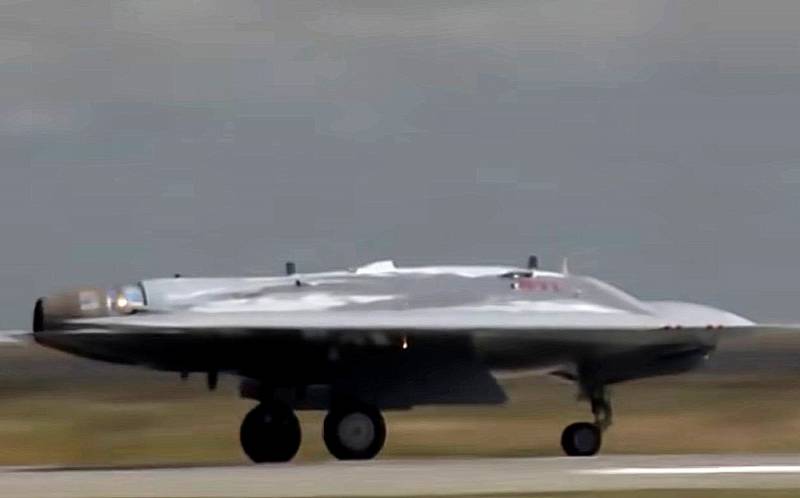 Last week, the Russian heavy attack UAV S-70 Okhotnik successfully bombed ground targets with 500-kilogram bombs. The tests took place at the Ashuluk test site in the Astrakhan region.
Work on a promising drone started in 2012. For a long time, information about the strike drone was strictly classified.
The first photographs of the Hunter appeared only in 2019. Around the same time, some information about the newest device became available. So, the length of the S-70 is 14 meters with a wingspan of 19 meters and a take-off weight of 25 tons.
The combat load of our UAV can reach 8 tons, which is almost five times higher than that of the American competitor MQ-9A Reaper.
By the way, the Russian "Hunter" surpasses the western "Reaper" not only in terms of "carrying capacity". So, the cruising and maximum speed of the S-70 is 600 and 1000 km / h, respectively. For the MQ-9A, these figures are 310 and 480 km / h.
Below the "Riper" and the ceiling. A fully armed "Hunter" is capable of operating at an altitude of 18 km, while a Reaper in a reconnaissance configuration will not be able to rise above 14 km.
But that's not all. The bombing accuracy demonstrated by the S-70 in past tests indirectly indicates that it is equipped with an SVP-24 Hephaestus sighting and navigation system. The latter allows the use of conventional ammunition with the effectiveness of precision weapons.
Based on the foregoing, our "Hunter", among other things, is also much more economical. By comparison, the AGM-114 Hellfire high-precision missiles, which are the Reaper's main armament, cost $ 66 per unit. In turn, the OFAB-500 aerial bomb, which the S-70 used during the tests, costs about 4 thousand dollars.
However, our strike UAV can also use high-precision weapons. At the same time, the publication The National Interest states that there is a possibility of equipping the "Hunter" with tactical nuclear weapons.