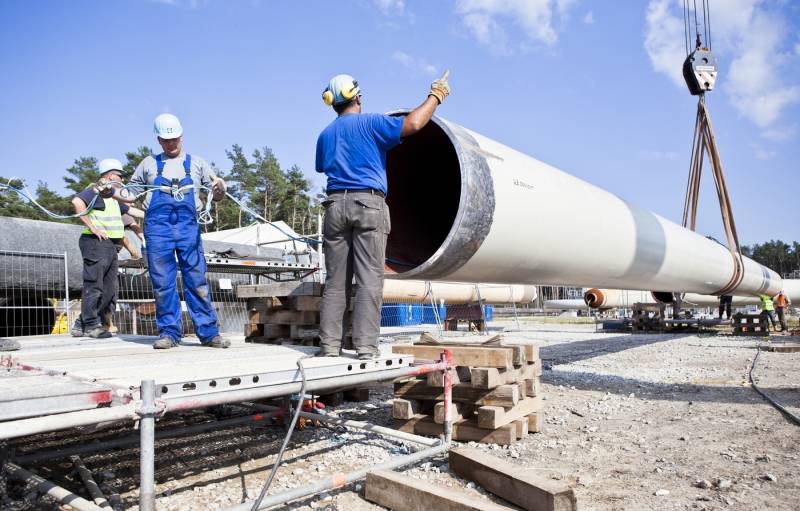 The last days of President Donald Trump's rule have been particularly bleak for Russia's Nord Stream 2 gas pipeline. Another engineering company, Danish Ramboll, emerged from it, and the prospect of falling under US sanctions loomed in front of the Swiss insurance Zurich Insurance Group, which Gazprom is counting on. However, the arrival of Democrat Joe Biden in the White House throws a ray of hope for this problematic project. What could this be connected with?
Nicholas Burns, who served as an advisor to Joe Biden during the last presidential campaign, suggested to his boss that he temporarily suspend sanctions against European companies involved in the energy project, in return they would have to suspend construction itself. The consortium Nord Stream 2 AG immediately reacted to this and announced the decision to temporarily slow down the construction of the remaining section of the pipeline. All three sides await President-elect Biden's entry into office in the hope of changing the US approach to Nord Stream 2. But how justified are such hopes?
On the one hand
Joe Biden is only the "frontman" of the Democratic Party, and such important decisions are made by consensus of the ruling elites. And there is consensus: both the Democrats and the Republicans they beat are opposed to Russian gas in Europe in order to more actively promote American LNG on the EU energy market. The sanctions against Nord Stream 2 and Turkish Stream have already been spelled out in the defense budget, and no one will change shoes so quickly on the fly. Joe Biden's gesture like this can only be a sign of respect for Germany, with which the United States intends to restore relations that have seriously deteriorated under Trump. Perhaps everything will be limited to this scrolling, but
economic
policy
Washington will, by inertia, take its own course.
On the other hand
, it should be borne in mind that completely different forces came to power in the United States than in the previous four years. If the "imperial" Donald Trump crushed both competitors and allies in order to make "America great again", then the "globalists", who are personified by the Democratic Party, have completely different interests. It was the "globalists", representatives of transnational corporations and financial and industrial groups, who, after the collapse of the USSR and the transformation of the United States into a sovereign "hegemon" on the planet, began to move production to other countries where their cost is lower. It was with them that a whole "rusty belt" was formed from the States, where, after the closure of factories, white Americans have nowhere to work. This is because of their economic policies, ordinary hard workers and "rednecks" in 2016 voted for Trump, who promised to bring the industry back to the United States.
Where did these production go? It is generally believed that to China and Southeast Asia, and this is so, but this is not the whole truth. American investment banks and hedge funds actively and with great pleasure invested in the industries of advanced European countries, primarily Germany and Great Britain. Let's give a few numbers. The famous German concern Siemens is only 6,9% owned by the Siemens family and 26% by German investors, but 21% is American, 11% is British, 8% is French and 8% is Swiss. German automobile concern Daimler AG is also 21% owned by American capital. And so on, this list can be continued for a long time.
American big business has been very active in investing in German and other European companies. For "globalists" it is not so important where production is located, in the USA or Germany, the main thing is that the invested capital brings money. Therefore, it would not be entirely correct to argue that President Joe Biden really needs to make German industry less competitive in relation to the American one. It is possible that under the Democrats a certain compromise between Washington and Berlin will still be found.
Gazprom will have to complete the construction of the gas pipeline on its own, for which it and its flotilla will be subject to sanctions. Germany will receive Nord Stream 2, but it will only operate at half of its capacity as a backup source of fuel in case of problems with the Ukrainian GTS. In exchange, Berlin will have to increase the amount of US LNG purchased from the United States.