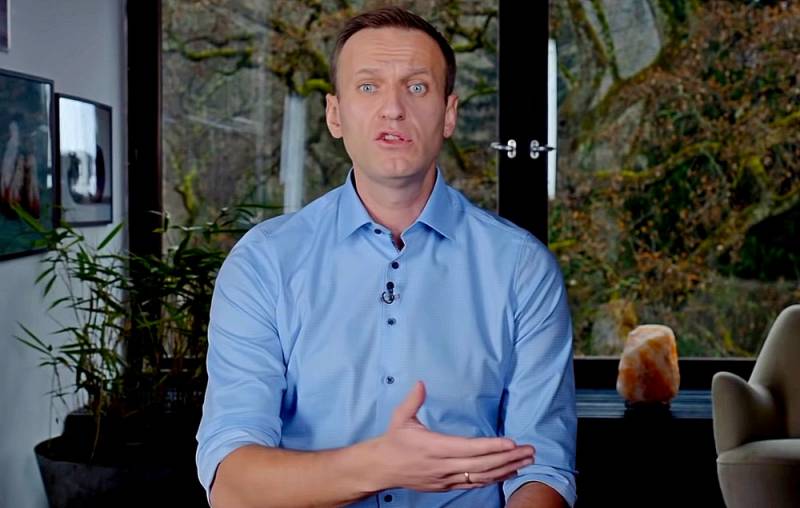 His "triumphant" (as he believes) return to Russia, announced the other day by the "beacon of national democracy", was quite expectedly one of the main topics for
News
and comments from the expert community. And, which is typical, in the West much more attention is paid to this "epoch-making event" than in Russia. Basically, the discussion goes on two main topics: "if he arrives, he will not come" and "if he is put in jail, he will not be jailed."
Nevertheless, it is necessary to look at this event much more broadly. The Navalny case, which has recently undergone a serious transformation, poses a number of questions both to the Russian society and, first of all, to the authorities of our country, which will have to be answered one way or another. Preferably - correct.
Herr Navalny! With things - on the way out!
The dispute as to whether the steel "bracelets" will snap into the sleek little arms of the "prominent oppositionist" immediately after passing through customs and passport control at the airport, or whether the cynical and calculating "Putin satraps" will nevertheless decide to wait and pause for a day or two, turned around after Navalny's statement in many Western media. "Voice of America", "Radio Liberty", Deutsche Welle and others, and others ... And the domestic liberals are pouring out "absolutely accurate forecasts", "predictions" and recommendations to their own friend. Some moan: "Do not go, Leshenka to Rashka, it will be bad!" Others, on the contrary, are trying to prove that the arrival of a thieving blogger to his native land (albeit only in accordance with passport data) will certainly "put the regime in a stalemate," in which, whatever the Kremlin does not do, everything will lose. Dreams, dreams ... What is your sweetness?
There is no "stalemate", "zugzwang" and other things that are trying to describe the situation, gentlemen who are not very versed in chess theory and practice (with the exception of one of their representatives), in fact, do not exist. This becomes especially clear when one comes across allegations that employees of the Federal Penitentiary Service of Russia, who have not 100%, but all 1000% of absolutely legal grounds for placing Mr. Navalny on the bunk immediately after crossing the state border, "will be afraid to do this in order to avoid possible protests and riots ". What kind of disorder, good gentlemen? What "wave of popular anger" ?! Where did you see her from? Yes, if our un-poisoned character possessed at least a hundredth part of the popularity attributed to himself, demonstrations in his support and protection would have shaken the country for several months now. So after all, nothing like this happens. And it won't happen.
Moreover, it is the rapid loss of interest in Navalny, the final depreciation of the cheap staging of his "poisoning" in the global information space that is the reason that this character is literally shoved into his native land by his curators. Events in the USA are in the focus of everyone's attention today, and, apparently, they will also attract the interest of the global audience for a long time to come. In our country, the main event is the mass vaccination against coronavirus promised by the president literally next week. By the way, don't you find the "coincidence" of its beginning and the expected arrival of the "martyr of Russian democracy" too strange?
However, how the war is being waged against Russia on the "coronavirus front" is a separate topic and I intend to touch on it in another publication. In the meantime, let me state: Navalny, who clearly intends to settle down comfortably in Germany that has foolishly sheltered him and undergo "rehabilitation procedures" there at someone else's expense in the next five years (if not more), the West does not need this role even once. Periodic spitting and making various allegorical gestures towards the safely distant Kremlin are not counted and cannot be grounds for continuing funding. The "effectiveness" as "opposition leaders" of various Russian "defectors", in the eyes of compatriots who instantly acquire their true essence - traitors to the Motherland, is well known to those who work with this public on duty. It is zero. Therefore, it is precisely because of this that Navalny is given the command: "Marshirt nakht vaterlyand!" Maybe, in the end, you will be jailed or beaten there! At least some benefit from the money invested will be ...
Who will put him in prison ?! He's an oppositionist!
Should Navalny sit down? In the sense - not on the airfield, but on hard bunks ... In fact, the question, in principle, should not be posed in this way. There is a specific criminal case, a court verdict and legislatively approved rules of conduct for a person sentenced to a suspended sentence. The "malicious violation of the regime" committed, according to the official data of the Federal Penitentiary Service, at least 6 times is not a joke to you. Another for such cases would have long ago received the substitution of a suspended sentence for a real one provided by the Law and would gobble up a low-calorie gruel on both cheeks. It turns out that Navalny can? Because he is an "oppositionist"? Because Putin is rude? Because they were "poisoned"? Such things give rise to the most terrible thing - the confidence of certain subjects in their own impunity and, most importantly, a large number of their followers. The articles according to which our "hero" was accused and convicted, are not at all "
political
", But through and through criminal. The existence of such individuals, by and large, in itself is a fraud from start to finish. As it is said in one good book: "he played himself for money" ... And the fact that at the same time, over and over again, "miraculously" all the time from the funds and cash desks entrusted to them, large sums "evaporate" - none of them "politically motivated fiction ", but the most authentic reality. Psychology is the same kind of character.
This I mean that for sure not only the "Yves Roshen case", because of which the "prominent oppositionist" is now facing imprisonment, but also a new criminal case initiated against the Navalny Investigative Committee of Russia on the fact of large-scale fraud and appropriation of more than 350 million rubles, collected by FBK and related "offices" from gullible citizens in the form of donations, have quite real grounds. And this is not to mention the fact that the cooperation of this citizen with foreign special services, as well as his actions against Russia, have recently become not just obvious, but downright demonstrative. They, in their minds, should also receive a proper legal assessment.
Whether Navalny will bear responsibility for his actions or hide behind the "support of the world community" is a dilemma that concerns not only himself and those whom he accuses of "persecution", "poisoning" and so on. This is a test, an exam, a Rubicon for the entire national government. It was about the same not so long ago, when many in all seriousness believed that swearing rhymes, popular in the domestic liberal get-together, would save a "creative person" from responsibility for a drunken life. They didn't save ... But how will it be now? Regarding the fact that Navalny, if he has the audacity to return to Russia, no one should dare to touch a finger, the director of Human Rights Watch Kenneth Roth, the deputies of the German Bundestag and other figures are already spilling into nightingales. You see, they believe that "his fate has long ceased to be an internal affair of Russia." Why is this, may I ask? How to deal with our own naughty crooks, even if representatives of other states voluntarily or involuntarily were involved in a significant part of their adventures, this is just our very, that neither is an internal affair. We have the absolute right to do so - like any sovereign state.
Proceeding from this, Navalny, of course, needs to be held accountable with exactly the same severity as it would be with any Russian citizen if he did not come with poison on YouTube, would not declare himself a "fighter against corruption" and would not be treated in Shary not clear from what. But there are very big doubts about this. It was Iosif Vissarionovich who could listen to the cries of "tyranny" and "repression" from the West, with magnificent, absolute indifference. There is a suspicion that this will not be the case today. The maximum that can happen is the isolation of the returned "oppositionist" for a short time to ensure his own safety, in case someone decides to transfer him to the rank of "sacred victim on the altar of democracy" without delay, right at the airport or in the coming days upon arrival.
If after that Navalny is once again at large, getting off with another "conditional" or completely getting rid of most of the charges, the long-term effect of such actions will be very negative. Passions in Washington will soon subside, and then the globalist-democrats who came to power there will take Russia seriously. The fact that the Kremlin seems to be aware of this says a lot. In particular, the adoption by the State Duma of a number of laws that seriously complicate the life and work of various foreign agents of influence, who, alas, have bred a lot in our Fatherland and feel quite at ease in it. Some of the deputies, with fright, even called them "the laws of wartime." Although ... In general, it is said correctly - in front of our country is exactly a war with an external enemy who will try to make the most of the local "fifth column" to achieve its own goals. The problem is that inappropriate "mercy", if it is shown to one of the main representatives of such, will erase all these laws in one fell swoop, making it clear that, in full accordance with Russian traditions, "their strictness is compensated for by non-compliance with them".
After all, if it is so important for the Russian authorities not to fall under the fire of yet another accusations from the West, plunging the "oppositionist" into a gloomy prison (as he deserves), why not then recall the practice of expelling especially insatiable people from the country. her spiteful critics? Nowadays, it would be nice to combine it with the deprivation of citizenship for obvious anti-Russian activities and a ban on returning under the threat of full-fledged departure of everything that is due to such under domestic law. In any case, by their actions regarding Navalny, the authorities must demonstrate anything - except their own weakness and indecision.